Save the Children aid arrives in Gaza, nowhere near meeting scale of need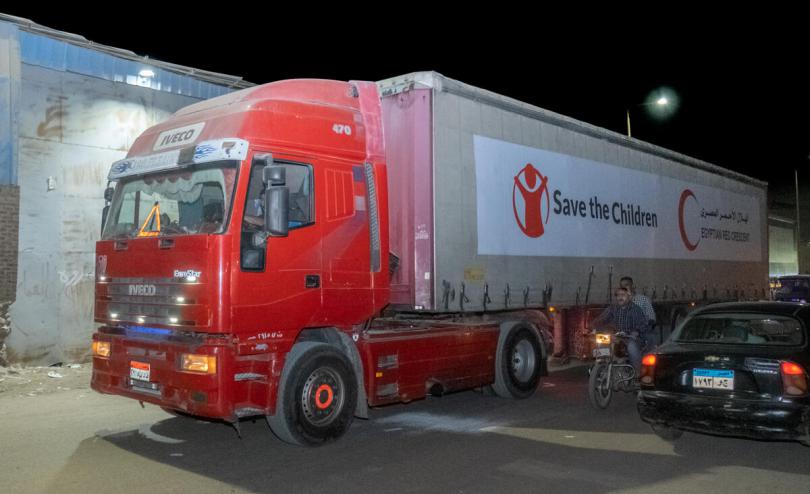 RAMALLAH, 29 October – One truck carrying 45,000 bottles of water from Save the Children has arrived in Gaza today, as part of the small group of aid trucks which have been approved entry through the Rafah crossing.
Another truck carrying another 45,000 bottles of water is likely to cross in the coming day. These two trucks carrying aid from Save the Children have been waiting to cross into Gaza since October 16.
While every possible opportunity to respond to the urgent needs in Gaza is important, these two trucks – part of only a limited group that are permitted - will in no way meet the colossal scale of needs. According to the UN, around 100 trucks of humanitarian supplies per day are needed to meet the needs of the more than two million residents of Gaza. So far, the total number of trucks that have entered Gaza is below that daily requirement.
The availability of water, food, fuel, and medical supplies is critically low in Gaza. The lack of fuel poses a significant challenge to the distribution of aid, even once additional trucks have crossed the border.
Jason Lee, Save the Children's Country Director for the occupied Palestinian territory, said:
"While every piece of aid reaching families in Gaza matters, the current rate of delivery is nowhere near enough. Even before the current escalation, 80% of Gaza's population relied on humanitarian aid to meet basic needs. Children and their families desperately need food, water and medical supplies, as well as fuel, shelter, and hygiene items.
"Historically, the vast majority of aid to Gaza has come through the two crossings with Israel, for humanitarian workers and humanitarian supplies - Erez and Kerem Shalom respectively, - which are currently closed. Even if all crossings were open, it is unlikely that the huge severity and scale of children and families' needs would be met, particularly given the impact the 16-year blockade has had on the environment, infrastructure, services, and basic life prospects for those in the Gaza Strip.
"There must be consistent safe passage for humanitarian aid and personnel, and it must happen now. Time is costing lives."
-ENDS-
Save the Children has been providing essential services and support to Palestinian children since 1953. Save the Children's team in the occupied Palestinian territory has been working around the clock, prepositioning vital supplies to support people in need, and working to find ways to get assistance into Gaza.
Save the Children has been working in Egypt since 1982 and we currently have 280 staff and a large network of local and international partners. Through our current programme, we provide protection support, health services, education, mental health and psychosocial support (MHPPS), livelihood interventions and support children and youth campaigning.
*******************************************************************************************************************
For further enquiries please contact:
- Our media out of hours (BST) contact is media@savethechildren.org.uk / +44(0)7831 650409
Please also check our Twitter account @Save_GlobalNews for news alerts, quotes, statements and location Vlogs.