Save the Children, UNHCR and Pearson join forces to tackle refugee education crisis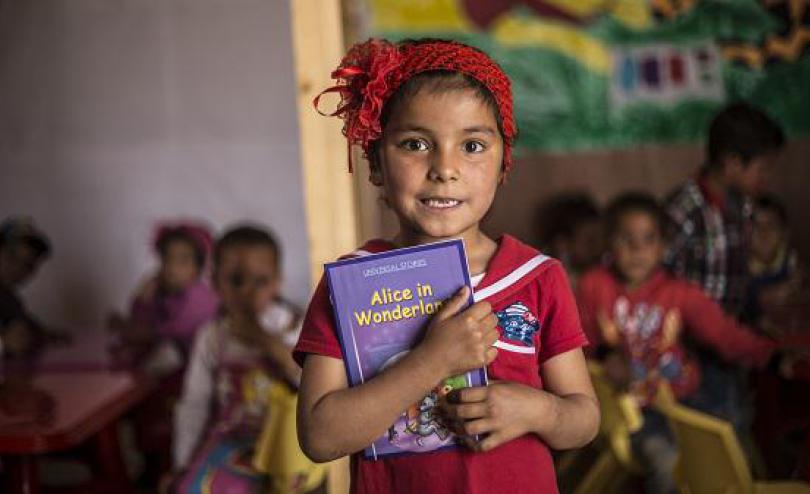 LONDON: September 2017: Save the Children, UNHCR, and Pearson have launched a new report, called Promising Practices in Refugee Education, which sets out 10 critical recommendations for improving global refugee education policy and practice to ensure vulnerable refugee children and young people can access the quality education they desperately need. Amongst the recommendations are practical solutions including:
Commit to predictable multi-year funding for education in refugee responses
Improve collaboration and develop innovative partnerships
Use technology as an enabling tool in pursuit of education outcomes
The full list of recommendations can be found in the report.
The aim of the report is to increase awareness of existing efforts and to demonstrate the diverse ways in which organisations, businesses, government and individuals across the globe are responding to the challenge of providing quality education for refugees. Twenty case studies are documented in the report, which demonstrate effective and innovative practices that if scaled up could help close the education gap for refugees around the world.. The aim is to enhance understanding of what works, and use the experiences and insights gained to inform policy and practice.
"Education is a fundamental right. When children living in crisis are asked what they need most, time and time again they say they want to continue their education," said Kevin Watkins CEO of Save the Children UK. "Having lost everything, refugee children see learning as the one asset no one can take away. Education is their passport to a better future. We must work together to ensure every child gets that passport."
"The disturbingly low level of school enrolment for refugee children living in low-income regions clearly points to a need to invest in these host countries, which are often overlooked. We have a shared responsibility to ensure that refugees have the same access to quality education as other children. It is time for all of us to put words into action," said Filippo Grandi, UN High Commissioner for Refugees.
"Refugee children are the doctors, farmers, teachers, and scientists of the future – jobs that hinge critically on gaining the skills we know quality education delivers," said Kate James, Chief Corporate Affairs and Global Marketing Officer of Pearson. "We all have a responsibility to build awareness and advocacy of refugee displacement as a global humanitarian crisis, and ultimately, reach the learners who need our help the most."
The number of those forcibly displaced worldwide is higher than in decades.. An estimated 65.6 million people around the world have been forced from their homes. Among them are nearly 22.5 million refugees: people who have fled their country seeking protection from violence or persecution. And over half of the world's refugees are children. Refugee children are five times less likely to attend school than other children, with 40% of primary school-aged refugee children and 77% of secondary school-aged refugee children completely left out of the education system.
The initiative aims to highlight the need to educate these children and young people to fulfil their right to an education. Education gives children a place of safety, and can also reduce early marriage, child labour, and military recruitment by armed groups. It enables refugees to fulfil their potential improving their job prospects, as well as boosting their confidence and self-esteem. It is also central to building peaceful and prosperous communities, either where they seek refuge, or on their return to their country of origin.
The case study collection, the synthesis report, and the supporting thought leadershipblog series can all be found online at https://www.promisingpractices.online/.
Leaving behind their homes refugees must start again. To make matters worse the majority of refugee children experience the double jeopardy of losing both their homes and their education. Of the 6.4 million school-aged refugees under the mandate of UNHCR, almost 3.5 million are out of school.
The time has come for world leaders to listen to children. It is now two years since the adoption of the 2030 Agenda for Sustainable Development, and one year on from the 2016 Leaders' Summit on Refugees where the international community promised to provide child refugees with an education within a few months of arrival. This recognition of the importance of refugee education brings real hope and possibility for change. Refugee children have the same right to access education as other children and need the skills and knowledge that education provides to help them adjust to their new circumstances, integrate into communities and ultimately to thrive.
-Ends-
About Pearson
Pearson is the world's learning company, with expertise in educational courseware and assessment, and a range of teaching and learning services powered by technology. Our mission is to help people make progress through access to better learning. We believe that learning opens up opportunities, creating fulfilling careers and better lives. For more, visit www.pearson.com.
About Save the Children
Save the Children believes every child deserves a future. In the UK and around the world, we work every day to give children a healthy start in life, the opportunity to learn and protection from harm. We do whatever it takes for children – every day and in times of crisis – transforming their lives and the future we share. For more information visit: www.savethechildren.org.uk
About UNHCR
The United Nations High Commissioner for Refugees is the UN refugee agency with a mandate defined by the 1950 UNHCR Statute. In 2003, the General Assembly extended the organization's mandate "until the refugee problem is solved." UNHCR works to ensure that everybody has the right to seek asylum and find safe refuge, having fled violence, persecution, war or disaster at home.
Since its establishment, UNHCR has provided protection and assistance to refugees, asylum-seekers, internally displaced and stateless people helping to save lives and build better futures for millions forced from their homes.
Press Contacts
Pearson
Tom Steiner (UK)
+44 7787 415 891
Save the Children UK
Jilly Hurley
j.hurley@savethechildren.org.uk
+44 203 763 1066
UNHCR
Dana Sleiman
Notes to editor
Organisations working in refugee settings across the globe, from small grass roots groups to large INGOs, were invited to provide submissions for the Promising Practices in Refugee Education initiative focused on the key themes of access, quality, well-being, equity, technology and system strengthening. The vast number of submissions highlights the range of innovative work being implemented across the globe. A competitive selection process led to 20 promising practices being documented as case studies and 10 recommendations being outlined within the report for improving access to refugee education. The case studies cover geography, age range, organisation type, focus area, and intervention approach.