SOMALIA: TWO IN FIVE CHILDREN TO SUFFER FROM ACUTE MALNUTRITION DESPITE RAINS – Save the Children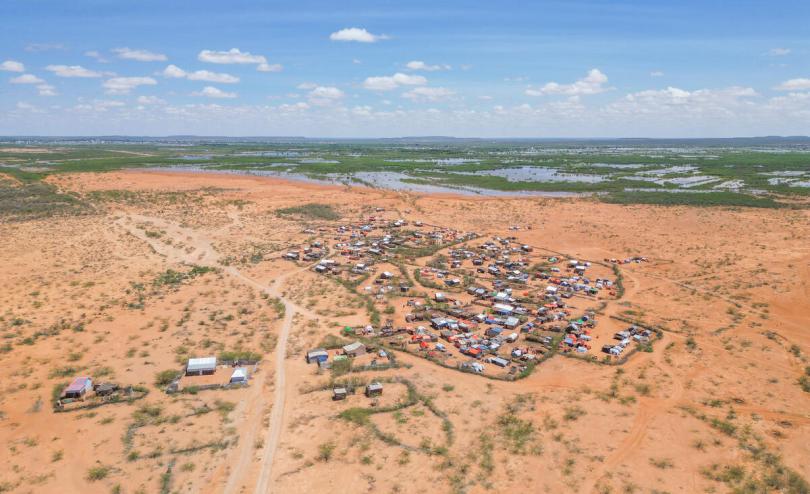 Aerial photos of villages and farms along the River Shebelle show the impact of the devastating floods in southern Somalia earlier this year. Photo Awale Koronto/ Save the Children
MOGADISHU 18 September 2023 – About two in five children under the age of five in Somalia are likely to suffer from acute malnutrition by July 2024, despite initial hopes that rainfall would bring more relief, Save the Children said.
The latest Integrated Food Security Phase Classification (IPC) figures for Somalia shows that more than one-fourth of the population – or 4.3 million people – are expected to be in crisis levels of hunger (IPC3* and above) by December 2023 compared to 3.7 million currently.
The findings show that acute malnutrition has generally improved compared to last year. However, the situation is still extremely worrying with about 1.5 million children – 43% of children under the age of five in Somalia – expected to suffer from acute malnutrition by July 2024.
Banadir, the southeastern region of Somalia that covers the city of Mogadishu, is expected to face the highest level of acute malnutrition among children, affecting 55% of children under the age of five, including nearly 90,000 children who are expected to suffer from severe acute malnutrition, the deadliest form of hunger.
Somalia is experiencing one of the world's worst hunger crises after its worse drought in four decades. While increases in aid at the end of last year diverted fears of a repeat of the famine of 2011 - when an estimated 260,000 people died - the country is still facing crisis levels of hunger. Recent rainfall has not been enough to break the hunger crisis in Somalia.
The prolonged drought has ruined the soil, making it difficult to absorb rain to be able to grow crops and has led to devastating flash floods following heavy rains that destroyed even more homes and livestock. El Nino events are expected to strengthen drying in the second half of 2023, potentially intensifying flooding occurrences. This, in turn, raises alarms about heightened disease risks, including acute watery diarrhea, cholera, malaria, and acute respiratory tract infections, particularly among vulnerable children.
Save the Children's Humanitarian Director for Somalia, Francesca Sangiorgi, said:
"Two in five children under the age of five – or about 1.5 million – are likely to be malnourished by next summer. Hundreds, if not thousands, of children are likely to die of starvation and other hunger-related illnesses. But, behind each statistic is a child, a life teetering on the edge of hunger.
"While the international community was successful in diverting a famine in Somalia at the end of last year, much work is still needed. We are only getting started if we wish to eradicate all forms of malnutrition by 2030 and save lives in Somalia."
Save the children is calling on donors to step up their response to the crisis and ensure lifesaving food, water, health and nutrition services become available immediately to families who desperately need it across Somalia.
The child rights organisation is also calling for action to truly put an end to hunger across Somalia and the Horn of Africa for good by the international community addressing the root causes, including finding a sustainable solution to the global climate crisis and supporting the communities most affected to adapt and prepare for climate shocks.
Save the Children has worked in Somalia since 1951 and is a national and international leader in humanitarian and development programming in water, sanitation and hygiene (WASH), health, nutrition, food security, education, child protection and child rights governance. In 2022 Save the Children provided humanitarian aid to about 4.3 million people, including about 2.5 million children.
ENDS
Notes to Editor:
Acute malnutrition analysis findings show that approximately 1.5 million children aged 6 to 59 months under the age of five years face acute malnutrition between August 2023 and July 2024, including 330,630 who are likely to be severely malnourished.
In the regions where IPC analyzed, there are 3,391,053 children under the age of five.
According to IPC, the key drivers of acute food insecurity and malnutrition in Somalia include the combined effects of blow average and poorly distributed rainfall, flooding, the extended impact of multi-season drought in pastoral areas, limited household access to food due to income constraints and elevated food prices, continued insecurity, and conflict.
In Banadir, 317,520 children under the age of five are expected to face acute malnutrition, 55% of the 574,886 children under five in the region.
*******************************************************************************************************************
For further enquiries please contact:
- Samantha Halyk, Senior Global Media Manager, Samantha.halyk@savethechildren.org (based in London)
- Delfhin Mugo, Regional Media Manager, Delfhin.Mugo@savethechildren.org (based in Kenya)
- Our media out of hours (BST) contact is media@savethechildren.org.uk / +44(0)7831 650409
We have spokespeople available.
Please also check our Twitter account @Save_GlobalNews for news alerts, quotes, statements and location Vlogs.