Syria: thousands of foreign children in Al Hol camp must be repatriated given coronavirus fears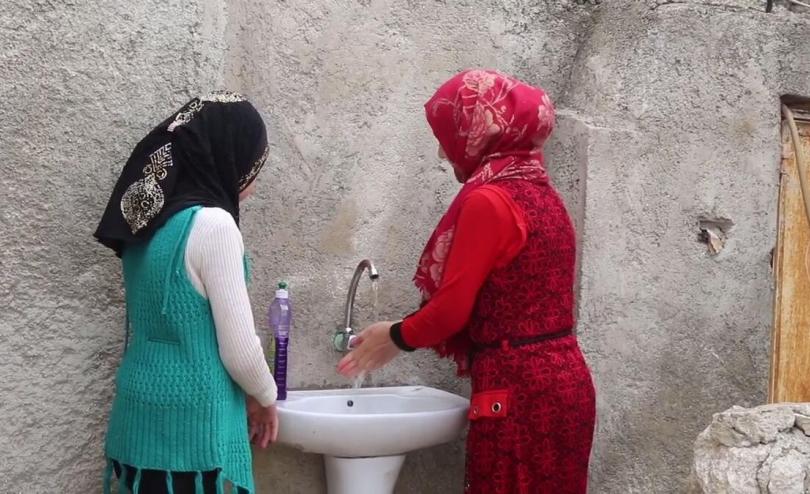 More than 7,000 children of foreign nationality continue to live in unsanitary and overcrowded conditions in Al Hol camp in North East Syria amid fears of a coronavirus outbreak. More than a year has passed since the camp population grew following the battle against ISIS in North East Syria.
As governments evacuate their citizens stranded around the globe due to the pandemic, Save the Children is calling on all states whose nationals are trapped in Syria to take responsibility and repatriate them, given the potentially life-threatening danger children and their families face, Save the Children said in a new report.
A very low level of testing for coronavirus is currently taking place in North East Syria [1]. Approximately 68,000 people - including Syrians and Iraqis as well as those of foreign nationality – live in Al Hol camp, of whom approximately 43,000 are children [2].
Shortages in the supply of water and electricity across the area, and regular cuts from the central water station that supplies the whole of Al Hol camp make it extremely challenging for people to implement best hygiene practises.
The population of Al Hol surged from around 10,000 at the start of 2019 to more than 73,000 [3] people by May 2019 – a 680% increase. Severe overcrowding in the camp – and notably in the Annex where families of foreign nationalities with real or perceived ties to ISIS live – would make social distancing or self-isolation practically impossible in the event of a coronavirus outbreak.
Save the Children is gravely concerned about the impact of a coronavirus outbreak in Al Hol, where children with weakened immune systems or underlying health conditions would be highly vulnerable [4]. As a result of measures designed to stop the spread of coronavirus, children may also lose access to education and healthcare facilities, lose a caregiver, face malnutrition and further isolation.
Sonia Khush, Save the Children's Syria Response Director, said:
"The desperate plight of all children living in limbo in Al Hol is even more alarming given the global pandemic the world is facing. Al Hol was never meant to host as many people as it currently does - especially the high number of children – and the consequences of a coronavirus outbreak there are unthinkable.
"Children in the Annex are even more vulnerable as they have less access to aid, and support. As states evacuate their citizens in an attempt to safeguard them against the potentially deadly virus, we call on all countries of origin to safely repatriate the children of foreign nationalities and their families in line with their international obligations."
Save the Children is calling on countries of origin to safely repatriate these children and their families, in line with their obligations set out in the United Nations Convention on the Rights of the Child. Agreed international standards have established that access to support for rehabilitation is key to the recovery of these children and their families, access which is not currently available in displacement camps inside Syria. States should do everything possible to maintain family unity, and to provide the specialised protection, health, and other rehabilitative support that these children and their families will need upon their return.
To support Save the Children's global COVID-19 emergency appeal, click here.
Spokespeople are available. To arrange an interview please contact Joelle Bassoul in Beirut joelle.bassoul@savethechildren.org 0096 1816 00696 or Davina Hagan in London 0044 7732 601762. During out of office hours, please contact the 24-hour press office in London media@savethechildren.org.uk 0044 7831 650 409.
NOTES TO EDITORS
[1]While some testing for coronavirus is being carried out inNorth East Syria at present, there is no analysis capacity locally and all tests are sent to laboratories outside of the area.
[2] As of May 2020, there are an estimated 30,000 Iraqi nationals (20,000 of whom are children), 25,000 Syrian nationals (17,000 of whom are children) and 10,000 foreign nationals (7,000 of whom are children) living in Al Hol camp.
[3] Between May 2019 and May 2020, the number of Al Hol residents dropped from 73,000 to 65,000 mainly due to returns by Syrian nationals and the repatriations of Iraqi and foreign nationals.
[4]As of 19th April 2020, the total number of COVID19 cases in Syria is 44 with 27 recoveries, and 3 deaths, according to the UN OCHA. According to OCHA, the source of the information is the Syrian Ministry of Health (MoH), and that data does not include areas outside of Government of Syria control. Actual numbers across the country may be higher.