Three children killed in Idlib shelling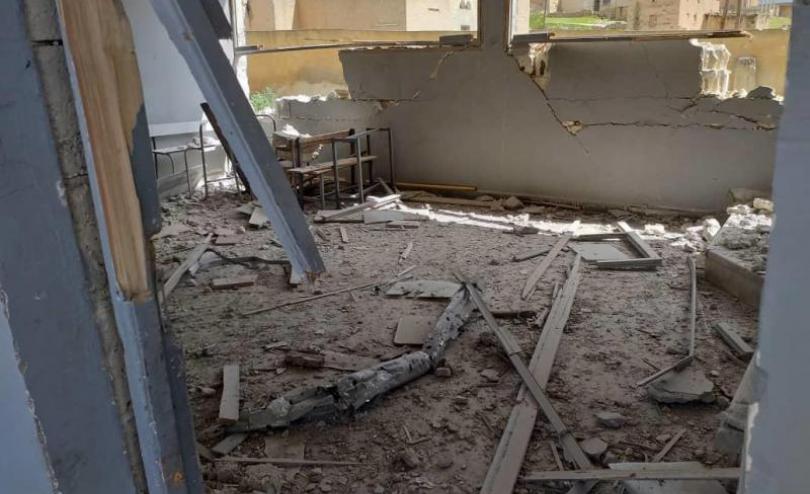 New wave of shelling in northwest Syria hits schools, displaces thousands
Three children were killed on Monday in a new wave of shelling across Idlib, in North West Syria, that hit schools, infrastructure and displacement camps over the past few days, driving thousands of people out of their homes. Two Save the Children-supported schools were heavily damaged.
The three boys from the same family were killed in their tent in Khan Sheikhoun where they had sought shelter after their school was hit by shells. A second school located in the same area was also damaged. In both schools, no casualties were reported, but the two establishments remain closed. A third school in Saraqib had to suspend classes for the day when shells fell nearby. The three schools catered to more than 500 boys and girls, and received education support from three Save the Children partners.
Several areas in Idlib, home to more than three million people, have been bombarded in the past few days, driving at least 25,000 people out of their homes, according to the United Nations.
"Schools should be a safe place and what we are seeing and hearing is horrific. It is critical that civilians, and especially children, are protected as innocent bystanders of a conflict they had no hand in making"' said Sonia Khush, Save the Children Syria Director.
"A mother living in Khan Sheikhoun told us last week that her children are too afraid to go to school now," she added.
"Families have been leaving their homes to look for shelter in camps during the night, and return to their homes during the day to check on their property and seek aid," Khush said. "The high frequency of movement is putting families at risk and exhausting them physically, emotionally and limiting their ability to seek aid and education for their children".
Rania, a 12-year old girl, told Save the Children last week: "I went to school for one month only, then we had to leave because of the war, and I couldn't make friends because it was such a short period! I have one friend; my cousin, we play together all the time around our tent, we don't have many things to do in the camp, I don't like it here, I wish our life could get better, I wish we could live in safety and be able to go to school!"
Save the Children is calling on all sides to respect International Humanitarian Law and protect schools, hospitals and other vital civilian infrastructure. Children are particularly vulnerable to the impact of explosive weapons, and warring parties should make a particular effort to protect them.
Across Syria, 2.1 million children are out of school and 1.3 million are at risk of dropping out. One in three schools is either damaged or destroyed and attacks on educational facilities and personnel have increased, with damage or destruction estimated to have affected 40% of school infrastructure.
Any further hostilities in Idlib will have a devastating impact on civilians. Every effort should be made to avoid the use of explosive weapons in populated areas, and all parties to the conflict must comply with their obligations under International Humanitarian Law to spare civilians from the worst impact of the fighting. It is vital that the international community works collectively to avoid a further military escalation in Northwest Syria.
Spokespeople are available. If you wish to arrange an interview, please contact Joelle Bassoul in Beirut joelle.bassoul@savethechildren.org 0096 1816 00696 or Davina Hagan in London davina.hagan@savethechildren.org 0044 7732 601762. During out of office hours, please contact media@savethechildren.org.uk 0044 7831 650409.
Notes to Editors:
1. In early April, the UN had reported the death of at least 19 civilians in hostilities in Idlib and Hama governorates over 48 hours (13 people killed, among them women and children, in airstrikes in southern and eastern rural Idleb governorate, and 6 killed in artillery shelling in northern and north-western Hama governorate).
2. In February and March, the surge in violence in Hama, southern Idleb and western Aleppo had displaced at least 90,000 people, according to the UN
3. Save the Children has supported 3.1 million people, including 2 million children to date, providing health and hygiene services, food and nutrition support, psychosocial support and child protection activities, and restoring children's access to education and adults' access to a sustainable income. Save the Children supports:
• Seven fixed primary health care clinics with integrated nutrition services and a maternity hospital
• 125 education facilities, including formal schools, informal learning centers and tents, Early Childhood Care and Development centers and vocational training schools to support education at all levels
• Child Friendly Spaces, child protection awareness raising and psychosocial support, Case Management for the most marginalized and vulnerable children including unaccompanied and separated children, and Family Tracing and Reunification
• Food Security & Livelihood activities, such as agricultural support and kitchen garden training for vulnerable families in Syria, particularly targeting female-headed households
• Emergency response activities to regular rapid-onset emergencies and displacement crises including unconditional cash distribution, Ready to Eat Rations, New Arrival Kits (blankets, solar power lamps, kitchen kits), and child protection activities.