UKRAINE: ONE SCHOOL DESTROYED EVERY OTHER DAY SINCE SEPTEMBER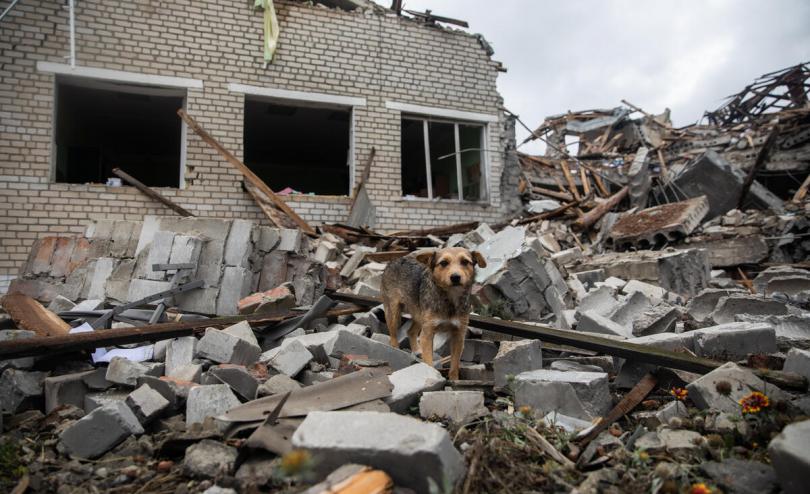 A stray dog on the rubble of a school in Kharkiv, Ukraine (Oleksandr Khomenko/Save the Children)
KYIV, January 24 – One school has been destroyed every other day in Ukraine since the start of the academic year last September, Save the Children said today.
Reports from Ukraine's Ministry of Education and Science show that 48 schools were completely destroyed by active combat, shelling and missile strikes from September to mid-December 2022 – that's nearly a quarter of all schools destroyed since the escalation of war last February. A further 133 were damaged in the first semester of this academic year.
In September, just one in three schools in Ukraine was able to start in-person learning as only buildings with protective shelters are cleared to accept students. According to the latest report by the Ministry of Education, one million children are now attending schools, with about 1.2 million more combining online and offline classes.
While in-person learning is more beneficial for children, many of them feel unsafe at school due to the threat of missile strikes and necessity to take shelter.
When missile attacks started escalating last October, a mother told Save the Children that the air alerts were frightening her children on their way to school. "They are growing more and more frequent," she said. "My child is distressed and cannot concentrate on education. How do you learn from the basement?"
Continuous school closures in areas with active fighting mean many girls and boys have not set foot in a classroom for nearly a year.
Sonia Khush, Save the Children Ukraine Country Director, said:
"This war has made it incredibly difficult for children in Ukraine to access education. Millions of students have been forced to learn from home due to the ever-present threat of shelling and missile strikes, and now their ability to study online is further impaired by frequent electricity and internet cuts."
"Those who enjoy attending school, meeting their friends, and studying with teachers are forced daily to leave their classrooms for damp and cold basements to the sound of sirens."
"School should be a happy and safe place for children, and an essential tool for them to become successful and accomplished individuals. We must ensure they have unhindered access to education and are totally protected whilst learning. Daily attacks on schools in Ukraine must not be tolerated, as they compromise not only children's opportunity to learn, but their lives as well."
Save the Children demands that International Humanitarian Law and International Human Rights Law must be respected, and for the UN Security Council to fulfil its mandate in maintaining peace and security. Perpetrators of violations against children must be held to account.
In Ukraine, Save the Children helps to rehabilitate damaged schools, kindergartens, and shelters, and has established a network of Digital Learning Centres to help children access online education. The aid organisation also trains teachers, develops offline applications so children can enjoy reading at any time, and distributes Education Kits which contain pens, colouring pencils, notepads, and educational materials.
Methodology: Data by Ukraine's Ministry of Education and Science suggest that, as of September 2, a total of 166 schools in Ukraine have been destroyed in warfare, shelling, or missile strikes. This number increased to 214 by December 16, which gives 48 schools destroyed throughout 105 calendar days of the first semester, which gives 48/105=0,46 schools destroyed per day, or 48/75=0,64 schools destroyed per day if only business/academic days are counted. Bank holidays in Ukraine have been cancelled in accordance with martial law.
Since February 24, a total of 3,025 educational institutions have suffered bombing and shelling. That includes kindergartens, general secondary, special education schools, and colleges. Among them, 406 educational institutions have been completely destroyed.
Spokespeople are available.
Multimedia content available: https://www.contenthubsavethechildren.org/Package/2O4C2SDQO85P
For further enquiries and interview requests please contact:
Our media out-of-hours (BST) contact is media@savethechildren.org.uk / +44(0)7831 650409
Please also check our Twitter account @Save_GlobalNews for news alerts, quotes, statements and location Vlogs.