Health and Nutrition
Every year, almost 7 million children die before their fifth birthday, mostly from preventable causes. Millions of children become ill or die because they lack access to health services or an adequate diet. The world can save these children's lives. The time to act is now.
Save the Children is a global leader in improving children's health. We use evidence-based approaches to tackle life-threatening conditions, reaching as many children as possible. Since 2010, we have trained nearly 400,000 health workers and in 2013 we reached over 50 million children and mothers through health, nutrition, and HIV and AIDS programmes.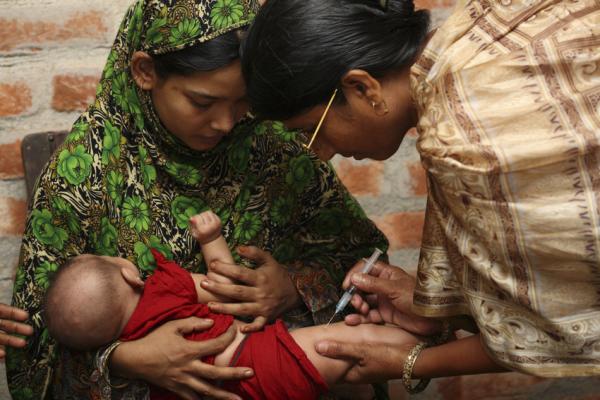 We are strengthening community-based health systems in more than 30 countries. In Afghanistan, we work with the Ministry of Health to train local women as community health workers so they can save the lives of mothers and babies cheaply and simply. Working with others to scale up this kind of innovation has helped halve child mortality in Afghanistan in less than 10 years. This year we have supported th training of 116,000 health workers and since 2010, we've helped train nearly 500,000 health workers around the world.
Children are most at risk in the first month of life. That is why we are implementing our Saving Newborn Lives programme in 18 countries. In Nepal, we helped to develop a model of community-based newborn care that is now being adopted nationally by the government.
In 2014, our work led to 7.5 million life-saving health interventions for children in over 30 countires.  This represents a 75% increase compared to 2013.  We also supported the treatment of 5.8 million cases of diarrhoea, pneumonia, malaria and malnutrition in children under the age of five.
We reduce the impact of HIV and AIDS by increasing awareness of safe practices and helping families to access counselling, food, healthcare and education. In 2013, HIV and AIDS programming reached 13.5 million children and adults directly and  was largely contributed by the Bangladesh Global Fund Programme.
In 2013, 48 Save the Children offices in 42 countries around the world reported on 74 advocacy initiatives that supported our global EVERY ONE campaign.
To read more about our health work, download one of the following reports or visit our resources page.