Hunger, Cash Transfers and our Emergency Response to the 2021 Haiti Earthquake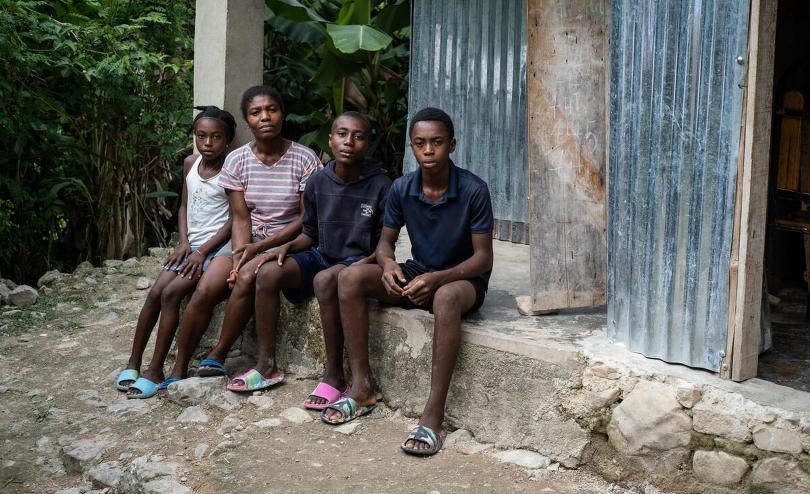 On the 14th August 2021 a fatal 7.2 magnitude earthquake hit Haiti, affecting 800,000 people, including 340,000 children and destroying 137,585 houses. A year on and the country is still in dire state. Haiti is currently experiencing a major economic crisis, with inflation at 26%, making it difficult for families to afford food and other essentials, or to sell crops at local markets.  As a result, 4.5 million people are estimated to be food insecure – 40% of the population.
In the earthquake families lost their homes, livelihoods and even family members, worsening the already countrywide precarious situation caused by economic and political instability. As a result, families have found it very hard to recover from it.
In response to the earthquake, Save the Children implemented a multi-sector response to attend the urgent needs in the most affected areas. They distributed cash transfers to 1,000 families to reach more than 2,000 children. Cash transfers have allowed families like Ginette's or Edlene's to cover their urgent needs for them and their children.
Ginette's family story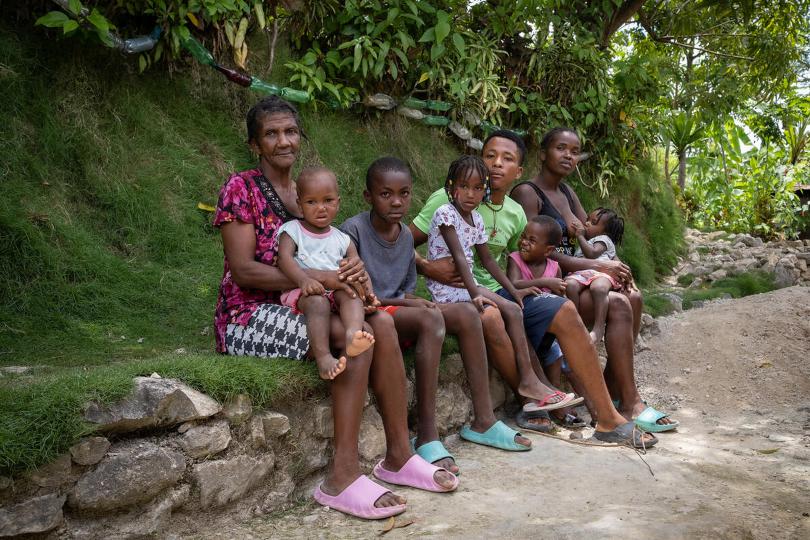 Ginette and her family at their home in South West Haiti.
Ginette lives with her three children Christelle, 5 years old, Loisa, 18 months, and Wood, 12 years old, as well as the children's grandmother in the Les Cayes area of Haiti. The earthquake left the family homeless, so Ginette first took refuge with her family at a local school and then built a house with her remaining possessions.
They live in the mountains where access is difficult. After the earthquake some of the roads were blocked due to landslides so they have had little to no access to basic services, water or electricity. Life is difficult and they manage to survive day-to-day because friends and family share food with them. Ginette tells us:
"Before the earthquake, we used to have a small business. We didn't have great resources, but with the crops we had, we found food to eat in the fields and we also bought other food. We used to eat twice a day: yam, plantain, corn, and all kinds of food."
"We used to grow beans, corn, plantain, yams, cassava...and everything we could find. Even if people bought and didn't really pay, we managed to sell something. But the earthquake destroyed the crops, everything and left nothing. So, we accepted our fate and continued life."
We supported Ginette's family with three multi-purpose cash transfers, the final one in April 2022. With that she was able to buy tools to rebuild her destroyed house, to pay fees so the children can go to school, and food. She continues:
"When Save the Children gave us the cash transfers, it was a blessing for us. I had enough money to pay school tuition fees for the children, to eat, to buy carpets and metal sheets just to build a house to live in...because we were living in the streets. The situation for the children got better because they were suffering, they were able to eat and drink and they didn't suffer during these times."
Edlène's family story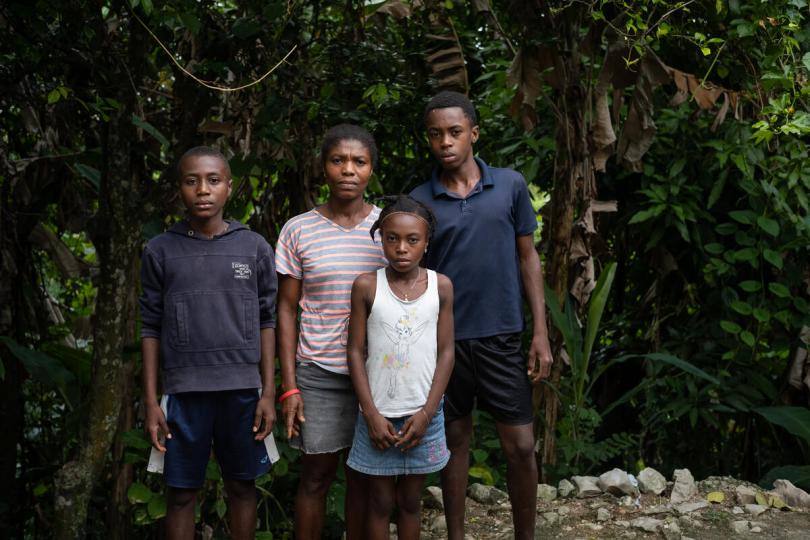 Edlène and her children outside their home in south west Haiti.
Entha, 7 years old, lives with her two brothers and her mother Edlène in the mountains of South-West Haiti. During the earthquake, the village where they live was also completely destroyed and her family lost all their crops and belongings. Edlène, who used to run a small shop, lost all her goods for her business. The family wasn´t able to earn an income, meaning they started to confront other challenges such as hunger. Edlène tells us:
"The earthquake took everything from me. The business I had collapsed, and I did not have money to buy more goods."
"It was hard because I had nothing. And since this happened, I couldn't buy any goods because I didn't have the means. Nothing is working. Clients buy on credit, and I'm not able to find money to buy more. I don't have the means to do this anymore. So, I do nothing more (as I used)."
"The earthquake also destroyed all our crop fields. We could save nothing. The roads were destroyed. It was very hard!"
We supported Entha and her family, the same way we supported Ginette's. We provided the family with three multi-purpose cash transfers, the final one in April 2022. Her mother Edlène was able to buy tools to rebuild her destroyed house, to pay fees so the children can go to school, and food. They also received a hygiene kit.
In coordination with community leaders, we are running a Child Friendly Space equipped with toys and learning materials. Here, children like Entha and her siblings can get psychosocial support, so they can recover from the earthquake trauma, feel better and more confident. We are also providing meals for the children in this area.
"Save the Children helped my mother and my father. Save the Children gave cash transfers and my mother bought metal sheets and wood to rebuild the house. Save the Children also sent cash transfer to my mother, so she was able to buy food. The food made me happy." said Entha.
Related articles
13 November 2023

- Colombia
3 November 2023

- occupied Palestinian territory
3 November 2023

- South Sudan