Jihad's Story: Landmine Survivor turned Psychosocial Specialist for Children in Yemen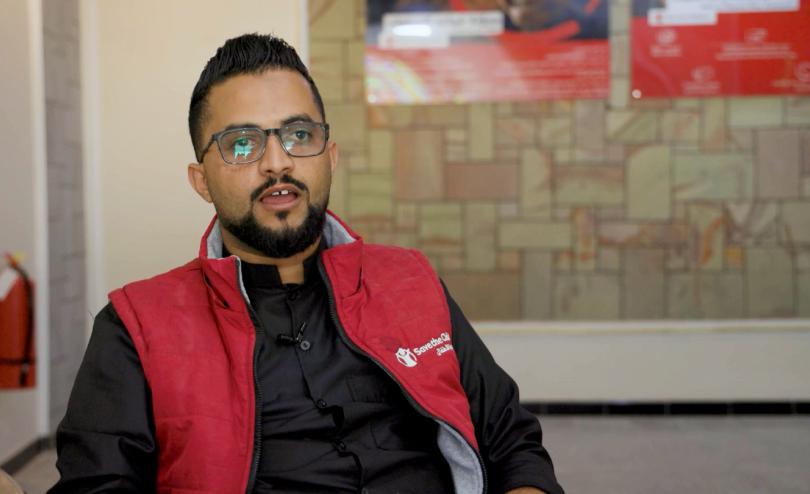 Jihad is a student of history and political science from Taiz in Yemen. War has had a profound impact on his life. Jihad has lost his brother, has been shot in the head and was injured by a landmine. Ever since he has lived with a physical disability and now uses a prosthetic leg.
When he witnessed eight children become injured by a mortar shell, Jihad decided to dedicate his life to helping children affected by war. He started working as a psychosocial specialist volunteer with Save the Children in 2020, and through his work, he has been able to help many children. Some of those children are sisters Maha* and Maya*, who were severely injured in a landmine incident. 12-year-old Maha* lost her hand and her eye became severely damaged, and her sister, 16-year-old Maya* badly damaged her leg and her body became full of shrapnel.
Jihad understands how difficult it is to live with a disability and is working to restore the confidence of children who have been affected by this war. He works to empower landmine child survivors to overcome societal barriers and to believe in their potential to contribute fully to their communities. His dream is to see a future where children's laughter is the only medicine the people of his country will ever need.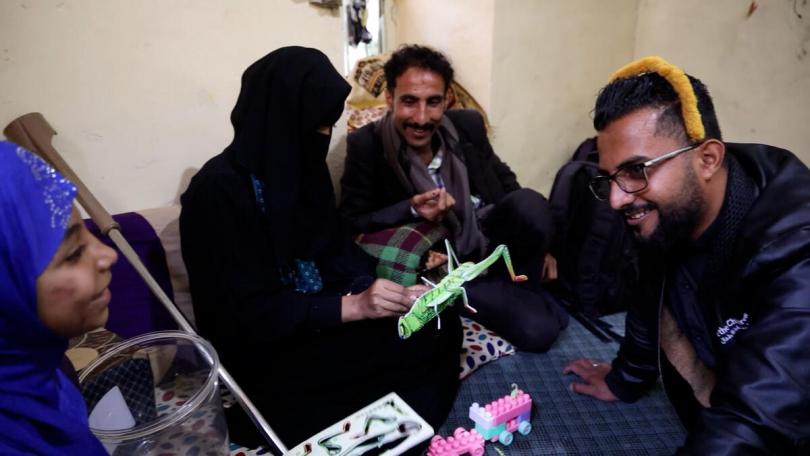 Maha*, 10, Maya*, 16, & Jamal*, 38, play with Jihad, a Save the Children psychosocial support volunteer who survived a landmine incident too, at their home in Taiz Yemen. Photo: Al-Baraa Mansoor / Save the Children
Jihad's story in his own words
After one year of living away from home, I decided to travel to my hometown, Taiz, to check on my family's house. In fact, it was more than checking on walls and furniture; I missed my home!
I missed that street and the small alley that takes me home, and I felt the urge to walk back home once again and allow myself to wander where I left my childhood in a hurry to run for safety. However, fate had other plans for me.
The minibus dropped me at the same corner where it dropped me countless of times before but, an intense feeling of alienation overwhelmed my heart as I looked around to see nothing I could relate to. That unforgiving face of war was literally everywhere around me, and a grey layer of dust was covering everything making it colourless and even soulless.
I walked unconsciously the same steps I took thousands of times, but this was not another time, this was wartime, and one must look where they step in wartime. I didn't.
I found myself on the ground, and a thick wall of dust surrounded me in a way -strangely enough- that felt sort of comforting. Sounds were muted, and I was suddenly alone, without a single memory of who, or even what, I was. I found myself touching the ground and pushing against it trying to stand up, but something was not right. The sounds of people screaming and crying out for help were getting louder and louder, and the ground I was pushing against turned into a pool of blood.
I looked at my hands and down at my legs to realise it was my blood, and that my leg was separated from my body. It was a landmine.
I don't remember much from the scene around me as I fainted several times after losing so much blood, but my mind didn't stop thinking about what had just happened.
Am I a liability now? What about my education? Will I need someone else's help to climb the stairs or even to get out of my bed? Will I ever have a family? Will I fulfil my childhood dreams?
Difficult questions, raging thirst, and an excruciating pain kept my mind awake at all times. I felt like I was floating between life and death, but somehow, I was sort of confident I would survive.
The following few weeks were some of the most difficult, as I slowly came to realise what it meant to live with my new disability. Everything I took for granted was a struggle:
I had to learn how to walk, how to sit, and how to stand up. Most importantly, I had to learn how to accept my fate, and this was the trickiest one.
War has been very unforgiving and especially cruel to me. Two years before this incident, I was shot in the head while walking back home. I lost my right eye and a year later, I lost my elder brother in a shelling incident. I stepped on a landmine and lost my leg the year after, and a few months later, my younger brother stepped on a landmine, and he lost his life.
Time passed slowly, and no matter how much my family and friends tried to support me, something inside me was missing. I went back to college and tried to show strength, but that look of sympathy on everyone's face was suffocating me. My ambitions and dreams which used to motivate me seemed so far away they had no effect on me anymore.
I felt broken, defeated, and lost. Even waking up in the morning took a lot of energy and felt like the most difficult task to do.
Then, another mortar shell hit the street where I lived. I was inside, but eight children were playing outside, and they all got injured. With my prosthetic leg, I ran to help and was able to take one girl to the nearby hospital, but she didn't make it. I cried like never before, and I promised myself that from then on, I would dedicate my life to the children who fall victim to this vicious war.
In the hospital, I heard about Save the Children, and got to understand the work they do with injured children and how they provide them with the support they need. The next day, I went to their office and volunteered to help injured children and especially those who lost their limbs to the war. I felt I was right where I was supposed to be.
Helping Landmine Survivors Recover
After working with Save the Children for some time, I was called to the hospital to assist with a new case. Two sisters, Maha* and Maya*, had suffered severe injuries from stepping on a landmine while collecting firewood for cooking. Maya, 16 years old, was covered with shrapnel and had her leg broken really badly, while her little 10-year-old sister, Maha, had lost her eye and her hand.
When I arrived in the hospital room, I saw Maha lying on the bed with her eye covered and her hand missing, and the pain of my own experiences flooded back to me. Maha's morale was terribly low, and her sorrowful cries echoed throughout the room as she cried heartily, asking God:
"Why have you spared me in such a terrible condition!? Why haven't you taken me to heaven!?".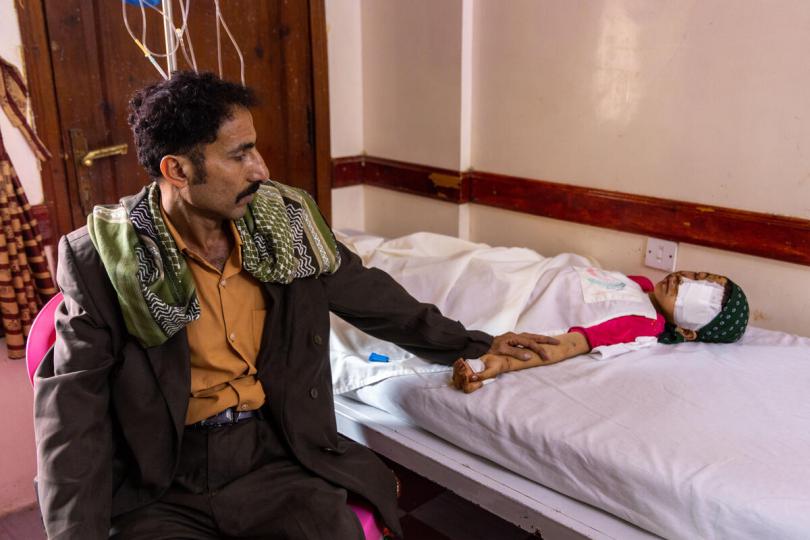 Jamal*, 38, sits in a hospital holding the hand of his 10-year-old daughter, Maha*, who was severely injured by a landmine in Taiz, Yemen. Photo: Al-Baraa Mansoor / Save the Children
The family, too, was beside themselves with grief, which only served to compound the girls' already overwhelming pain. So, I made a point to take the family aside and speak with them, being careful not to convey a feeling of despair to the girls. The enormity of the tragedy had blinded them to how their own despair was fueling the girls' suffering. Very little could be said to the girls' mother that day, but with my prosthetic leg as an example, I explained that I've been there too, and even though I've also lost my eye, much like Maha, but I am here today, standing and ready to share everything I've learnt with her and her daughters.
As I sat with the sisters, I recounted the day of my incident and how I had awoken in the hospital to the reality of my injuries. I shared how I had felt later and how my days had gone on. I kept emphasizing the importance of looking at me and seeing how I was still able to walk, work, and do everything I wanted, despite initially believing that I would be unable to live a normal life. I assured them that, just like me, they too would live and enjoy life once again.
We enrolled the sisters in our psychosocial support programme, and I visited them until they showed tangible improvement and were able to go back to school. Throughout the weeks following the incident, I made sure their family was fully aware of the different phases of the physical, emotional, and psychological struggles that the girls would be facing and provided guidance on how to deal with each of them. I helped them reconfigure their living environment -as much as possible- to ensure that it was suitable for the girls' new condition, and I met with their friends and neighbours to ensure they were aware of how the girls were feeling and what they could do to support them.
Given the remote location of the family's residence, it was difficult to transport the girls to our social centre. Nevertheless, I endeavoured to organise similar activities at their home with their friends and neighbours, determined to see the sisters flourish.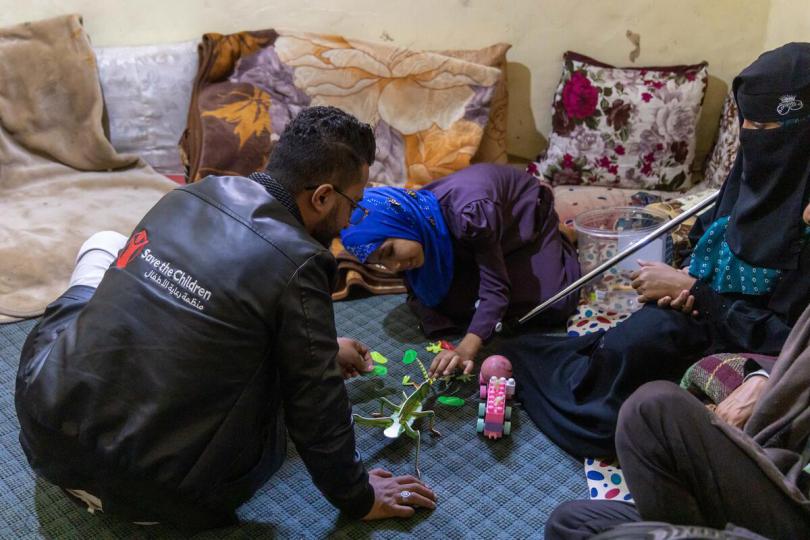 10-year-old Maha* & 16-year-old Maya* play with Jihad, a Save the Children psychosocial support volunteer who survived a landmine. Photo: Al-Baraa Mansoor / Save the Children.
Maha's case was particularly reminiscent of my own experience as she had lost her eye and one hand, similiar to what I experienced. Her struggles, tears, words, and even her wish to have died that day reminded me of my own journey to recovery. Assisting her was not merely a job, but a personal calling. As I shared my own experience with them, I was reminded of one of the most important lessons I've learned in my work with Save the Children:
Children dream big, and their imaginations know no bounds. They teach us to pursue our passions with abandon, no matter the obstacles we face.
With this mindset, I've come to realise that living with a disability is not what makes life difficult. Rather, it's the way others judge and treat those who are different. My work with Save the Children is focused on helping children like Maha and Maya overcome these challenges and restore their confidence. I hope to be an example that proves how wrong people's judgments can be.
The impact of conflict on children in Yemen
The ongoing conflict in Yemen has resulted in the widespread use of landmines and unexploded ordnance (UXOs), causing grave danger to people, and in particular, children. One in five child casualties in Yemen is caused by landmines and UXOs, with a child being killed or injured every two days in 2022. The number of landmine and UXO child casualties have been on the rise since 2018, increasing from 7% to 55% of the overall child casualties in Yemen. This alarming trend indicates that Yemen's children are increasingly at risk of encountering deadly explosives that can cause life-long injury or death.
The physical, psychosocial, educational, and social impacts of landmines and UXOs on children in Yemen are devastating. Children who survived these devices have experienced a plethora of adverse effects such as leg and hand amputations, injuries to the face, eyes, and body, as well as ongoing pain and discomfort, fear, anxiety, nightmares, and sleep problems. This also impacts their learning and performance at school, and can lead to school drop-outs, poor attendance, bullying, isolation from friends, and stigma.
More about Save the Children's work
Save the Children Yemen is dedicated to ensuring that children in Yemen are protected from violence. Save the Children prioritises protection in its humanitarian efforts and collaborates with partners to strengthen monitoring and reporting mechanisms for child protection. Read more about our work in Yemen.
Donate today to help us continue to support children living in the most dangeorus conflict zones.