Locking eyes on recovery by elevating the Universal Health Coverage financing agenda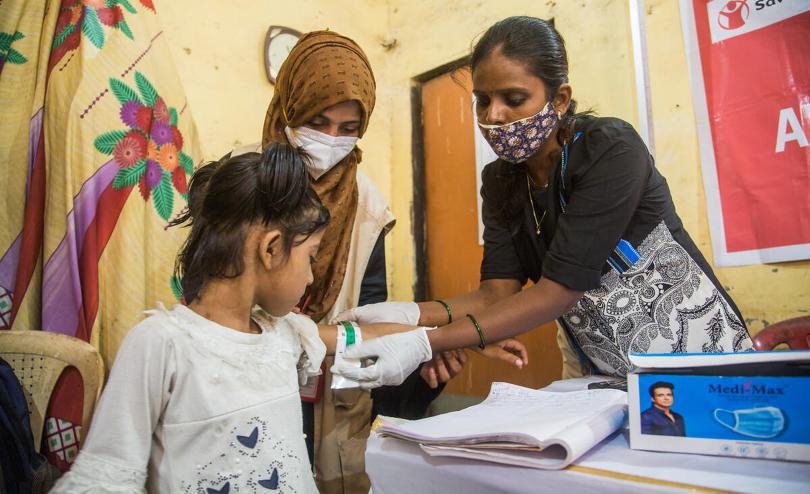 Afreen, 5, has her MUAC measured in India.
This blog post was written in collaboration with the World Bank and originally published on World Bank Blogs.
Healthy people build healthy economies. Investing in health develops human capital and promotes a quicker, more inclusive economic recovery. Progressing universal health coverage (UHC) by elevating health financing in the political and policy agenda will become the single most important element in advancing health and economic outcomes.
Uncertainty, but a glimmer of hope
The macro-fiscal reality is set to deteriorate, constraining public spending envelopes. The latest update in the " From Double Shock to Double Recovery " projects that government health spending will remain lower than before the pandemic in 23% of the 177 countries studied and only marginally increase in 39% of countries.
Recent interest rate hikes are leading to growing public debt burdens. Large debt servicing payments are crowding out government spending on essential services, including health. As an example, pre-pandemic, South Africa regularly met its own commitment to the Abuja Declaration of allocating 15% of the national budget to health. However, their debt-servicing bill has resulted in a 1.8% annual reduction in the planned health budget through to 2024-25. Other governments are expected to spend approximately 20% of public finances on interest rate payments. In contrast, the share of recent government spending on health averaged only 6.2% in low-income countries. Without intervention, by 2027 health spending could shrink by up to 30% in some countries.
Inflationary pressures and currency fluctuations are inflating the cost of medicines and supplies, making the situation even more complex. Sri Lanka saw drug prices rise by an alarming 40% earlier this year. Not only is less money available for health, but reduced budgets will also buy less.
Despite this bleak look into the future, the World Health Organization's Global Health Expenditure Report 2022 provided a promising picture of the health financing response during the start of the pandemic. In 2020, government health spending per capita rose in low and lower middle-income countries by an impressive 18.6% and 14.9%, respectively. The priority given to health in public budgets rose across most countries. The data provides a glimmer of hope that governments can prioritize health spending during difficult times—something we need to work together to sustain, despite challenges.
Growing demand, shrinking wallets
The incidence of catastrophic health expenditure was rising even before the pandemic. In 2017, between 18% and 25% of the global population was at risk of financial hardship from out-of-pocket health expenditures. Although basic health services were utilized less in 2020 due to the pandemic, out-of-pocket health expenditure as a share of household spending was reported to have increased slightly. In the coming years, with slow economic growth and possibly greater demand for health care, families will likely spend a greater portion of their incomes on out-of-pocket health expenses.
In low-income countries where national health services are insufficient, development assistance for health has long enabled vulnerable populations to access essential health care while reducing reliance on out-of-pocket payments. In 2020, external aid made up 29% of total health expenditure in low-income countries. Recently, some external partners have reduced their commitment to development spending. Without these vital funding flows, some countries' capacity could drop by nearly a third, spelling disaster for the most vulnerable families.
Efforts to expand fiscal space for health need to go hand in hand with ensuring health financing arrangements cover vulnerable families. Earlier this year, Nigeria passed legislation expanding national health insurance coverage to all, including subsidising an additional 83 million vulnerable people. This is an example of an important step taken to protect families from financial hardship while accessing health services.
The road less travelled
Budget prioritization towards health, while deferring noncritical areas of spending, is sound economic policy. Decision-making for prioritizing health in budget allocations could be catalyzed by accelerating sector-wide spending reviews. External partners must support efforts by increasing support to resource-constrained and indebted countries.
Spending efficiently and effectively helps make less go further. This includes prioritizing increased and flexible financing for primary health care to build resilient health systems. Effective alignment between domestic and donor-funded initiatives is also important for optimizing resources. Priorities must be explored on the national government's terms to sustainably address gaps in health systems.
Design equitable health financing policies that expand health coverage and improve financial protection for vulnerable families. Pro-poor policies must be designed to account for gaps in coverage and assess the feasibility of co-payments. As governments explore how to better protect families from health and economic shocks, complementary social protection policies could support dismantling indirect barriers to accessing services and address socio-economic determinants of health.
Design health financing arrangements for sustainable impact. Spearheaded by strong government leadership, more efforts are needed to tackle bottlenecks and support reforms across the health financing continuum. External partners could assist by providing technical support to strengthen health financing capacities, legislation, policies, governance, and institutions.
Inclusive partnerships between ministries of finance and health, and with civil society and external partners, would facilitate mobilizing and optimizing resources. A participatory approach, while designing and monitoring health financing strategies, should include the voices of children, families, and communities as the end users of the service, and of civil society organizations able to raise awareness and strengthen accountability.
Equitable health financing policies are the foundation of resilient heath systems and universal health coverage. The pandemic highlighted that budget prioritization towards health is possible when political will is high. As we move forward, displaying sound judgement is imperative for economic recovery and health security. This moment may be opportune for combining forces, to ensure that we're moving in the right direction and amplifying each other's voices to elevate the health financing agenda.
Interested in UHC and its importance to achieving equitable health for all? Read our latest report on the topic here.
Related articles
29 November 2023

- Ethiopia
13 November 2023

- Colombia
3 November 2023

- South Sudan