Nine tips for earthquake safety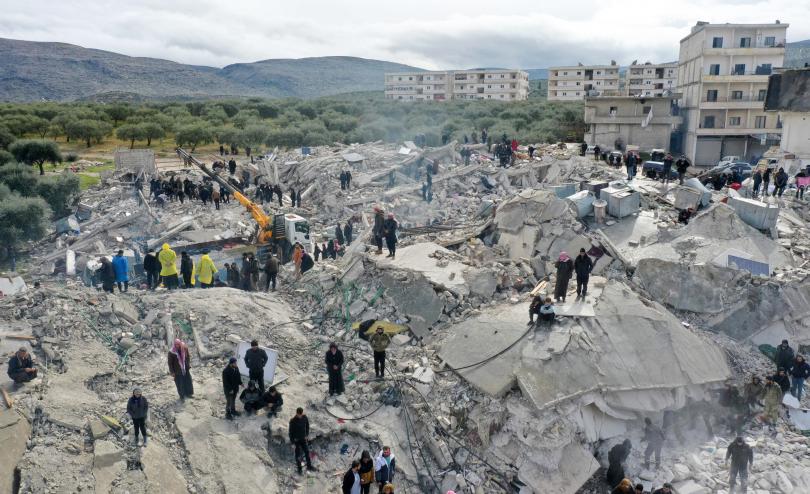 This aerial view shows residents searching for victims and survivors amidst the rubble of collapsed buildings following an earthquake in the village of Besnia near the town of Harim, in Syria's nothwestern Idlib province on the border with Turkey, on February 6, 2022. Photo by OMAR HAJ KADOUR/AFP via Getty Images.
Earthquakes are caused by a sudden, rapid shaking of the earth caused by the breaking and shifting of rock beneath the earth's surface. They can strike suddenly, without warning and occur at any time of the year and at any time of the day or night.
Save the Children has been supporting children and their families when disaster strikes for over 100 years. We have helped children through the Sulawesi earthqauke in 2018, Haiti earthquake in 2021 and are now ready to help families that have been impacted by the Türkiye and Syria earthquake that struck on 6th February 2023. Donate to our Children's Emergency Fund and help children in crisis in countries like Türkiye and Syria.
Here are 9 simple steps families can take to help stay safe before, during and after an earthquake.
What to do before an earthquake:
1. Talk to your children about earthquakes.
Spend time with your family discussing how and why earthquakes occur.
Explain that an earthquake is a natural event and they are not anyone's fault.
Explain to your child what could happen, using simple that even young children can understand.
Outline an earthquake emergency plan for the whole family, with an evacuation plan and meeting location.
Emphasise and reassure children that their safety is your utmost priority.
2. Find safe spots in your home.
Identify and discuss safe spots in each room of your home so that you can go there immediately if you feel an earthquake. The safest place is an interior room of your house without any windows, such as a bathroom. If possible, take cover under something sturdy, like a heavy table, desk or doorway.
3. Practice earthquake drills.
Once you've created your earthquake evacuation plan and talked with your children about it, it's time to practice! Practicing earthquake drills will help children understand what to do and how to stay safe during an earthquake.
4. Learn your child's school or caregivers' disaster plans.
If your child's school or childcare is in an area at risk from earthquakes, find out how their emergency plan addresses earthquakes. Ask about evacuation plans and if you would be required to pick up your children from the site or from another location.
5. Keep your contact information up to date.
This includes phone numbers, addresses and relationship changes. Keep your children's school or childcare emergency information up to date, so that if an earthquake strikes, you'll know where your child is and who can pick them up.
What to do during an earthquake:
6. Drop, Cover, and Hold On.
If you're inside, drop to the ground and take cover under something sturdy like a desk or table if you feel an earthquake. With one hand hold on to the object and with your other arm protect your head and neck. If you don't have anything sturdy to take cover under, crouch down next to an interior wall. Stay indoors until the shaking stops and you're sure it's safe to leave. If you or someone you are with is hurt or injured, contact your local authorities for help.
7. Find an open space.
If you're outside, the safest place in an earthquake is a clear and open space away from buildings, trees, streetlights and power lines. Drop to the ground and stay there until the shaking stops.
8. If you are in a vehicle, stop moving.
Pull over to a clear location when it is safe to do. Stop and stay there with your seatbelt fastened until the shaking stops.
What to do after an earthquake:
9. Listen to children.
Encourage your child to express their feelings of fear, anxiety or anger. Listen carefully, show understanding, and offer reassurance. Tell your child that this situation is not permanent. Provide physical reassurance through time spent together and displays of affection. You can contact local organisations, voluntary organisations, or professionals for counselling if extra help or support is needed.
Our teams in Syria and Türkiye are moving quickly to respond to the emergency, working with partner organisations to ensure children are getting the crucial support they need. Donate to our Children's Emergency Fund and help children in crisis.
Information originally posted on savethechildren.org.
Related articles
9 March 2023

- Syria, Türkiye