TO PRIORITISE EDUCATION IS TO PRIORITISE THE FUTURE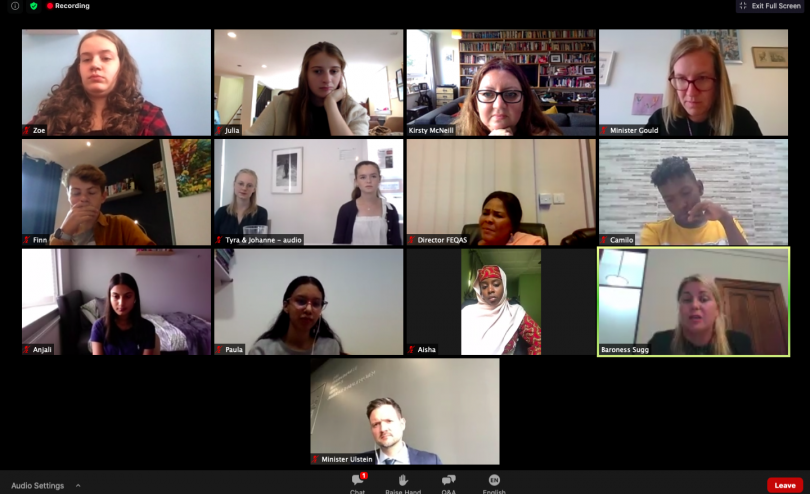 Children from around the world speak with leaders in our Global Digital Hangout

Earlier this month, we brought children from around the world together online in digital hangouts to tell their leaders what they think should happen with regards to their education and COVID-19.
HERE'S WHAT THE CHILDREN HAD TO SAY:
Maja*, 14 and Haya*, 16, who are living in Jordan, expressed their concerns about the negative impacts of coronavirus on girls, such as increased child marriages, and urged governments to let the girls choose who they want to marry and be decision makers.
Following them, Anjali, 15, and Finn, 14, from the UK told the leaders that it is governments' responsibilities to protect all children's right to education, to address the impact of the accelerating climate catastrophe on education and to take serious action to address the inequality between the students of rich families and all other children, particularly marginalised groups such as girls.
Next up, Purity, 15, and Aisha, 17, asked for their government in Nigeria to improve online learning platforms and provide computers to public schools so that all children can keep on learning. They recommended that the government set a maximum class size to deal with overcrowding and show a greater concern for the education of children.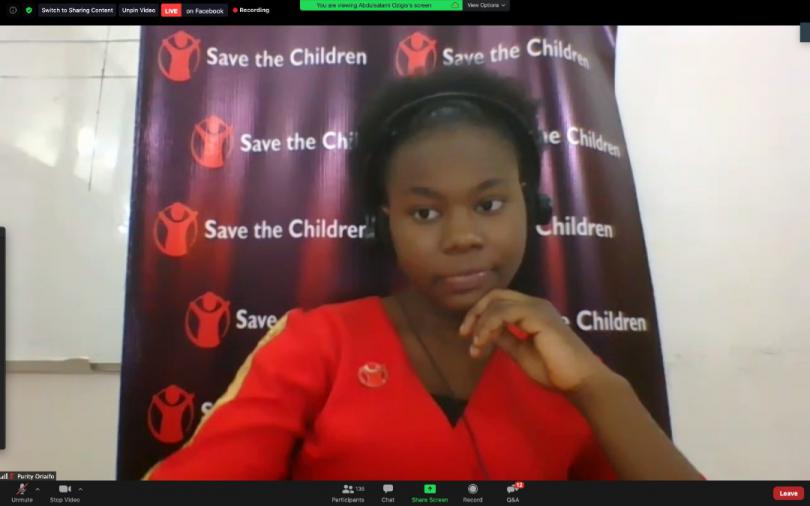 Purity, 15, Nigeria, takes part in our Global Digital Hangout

Julia and Zoé, both 16 and connecting from Canada, set out their demands for more funding from the federal government and a plan for getting back to school. They expressed their concerns for the girls who may never go back to school and urged the Canadian government to lend their assistance to countries around the world where not every child is fortunate to go to school.
Camilo, 16, and Paula, 14, from Colombia called for ministers to eliminate the gaps between rural and urban areas, deal with connectivity issues to improve online learning and bring the education system up to date.
Finally, Tyra, 16, and Johanne, 17, in Norway said that to prioritise education is to prioritise the future, not just of this generation of children but of the planet. They also emphasised the need for governments to do more to support girls and minority groups, who have been made disproportionately vulnerable due to school closures.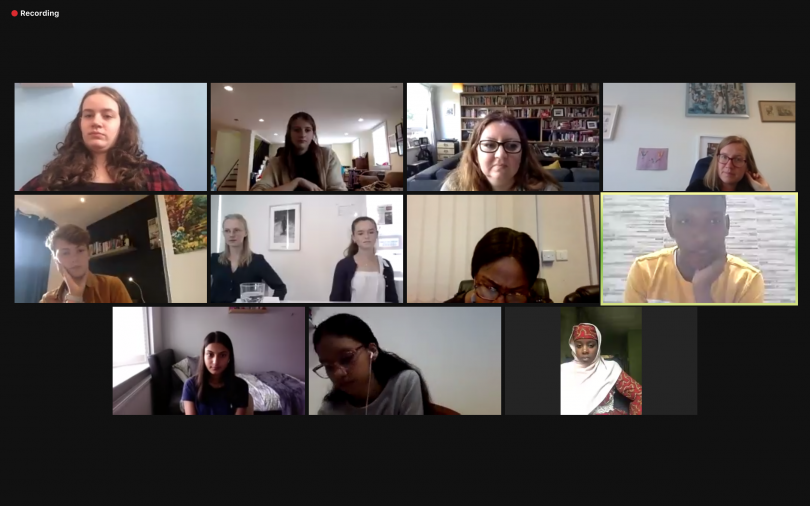 Camilo, 16, Colombia, has the floor in our Global Digital Hangout
THE LEADERS WHO LISTENED
Baroness Sugg, Minister for Foreign and Development Affairs in the UK, responded that as we recover from COVID-19, we must ensure that we build back better – and the best way to do this is to invest in a quality education for every child.
Baroness Sugg agreed that educating girls is one of the most effective ways of combating climate change and emphasised the need to work together with governments like Canada, Norway and others to deliver the right to a quality education for every child.
Dr Ufoegbune, Director of Federal Education Quality Assurance Service, Federal Ministry of Education of Nigeria, spoke about the need to act quickly and make sure all children are returned to school. She stressed the need to know what children want.
Dr Ufoegbune assured Purity and Aisha that all children in Nigeria will be back to school by the end of October and said that the government has tried to integrate vulnerable children in to mainstream education.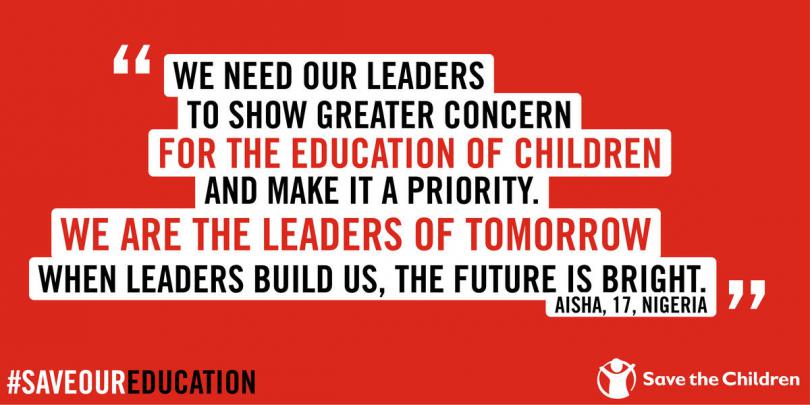 Quote from Aisha, 17, Nigeria.
Minister Gould, Minister of International Development, Canada, highlighted the importance of leaders listening to children who are in the middle of the crisis. She said that youth are not the leaders of tomorrow but the leaders of today. She agreed that a strong plan is needed for getting children back into education, because education is a universal right.
Minister Ulstein, Honourable Minister for International Development, Norway, told the young advocates that their voice and leadership is crucial now, together with partners like Save the Children, to ensure that we do not have a "COVID generation" – we cannot afford that. We cannot allow that.
He shared his disappointment that young people have not been represented enough at key global meetings and committed to push for more youth representation.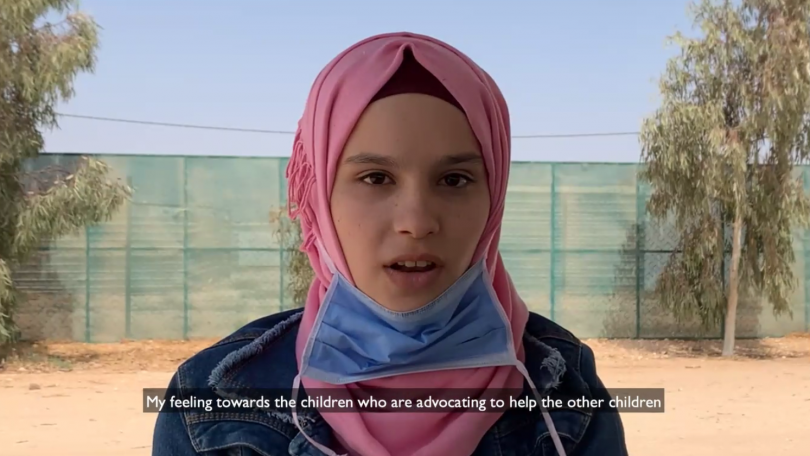 Haya*, 16, Jordan, speaks out on the issues close to her heart
We'd like to thank and congratulate all the children who claimed their right to speak out and influence decision makers – and thank the leaders who joined our digital hangout to listen and respond on the issues that children raised. Save the Children will be holding three further Global Digital Hangouts between October and November.
Children best know the problems that they face. It is more important than ever that we listen, amplify and act on children's own recommendations and hold governments to account to solve the challenges that they are facing.
A generation's survival, safety, education and future depends on it.
Read more about our work to campaign with children.
All over the world, Save the Children is rapidly adapting existing work whilst preparing for outbreaks of coronavirus in countries with limited capacity to respond. We've also launched the #SaveOurEducation campaign to tackle the global education emergency.
Read our global Save Our Education report.
*Names have been changed to protect children's identities
Children Call For Urgent Action on Education.

Related articles
27 September 2022

- Ukraine
5 September 2022

- Pakistan