In Solidarity With All Humanitarian Workers - Today's Real Life Heroes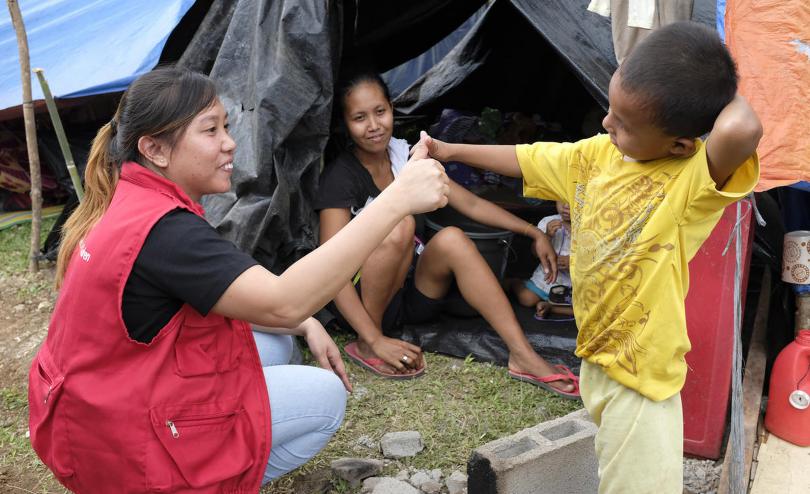 A member of Save the Children staff speaks with evacuees in the town of Makilala, North Cotabato, Philippines, that were affected by the 6.6 magnitude earthquake on 29th October 2019. Photo taken on November 3, 2019. (LJ Pasion/Save the Children).
The aid community is cracking at the seams trying to respond to a rapidly growing global mega-crisis. The devastating combination of conflict, the climate emergency, unstable geopolitics, indefensible and growing inequality and price-rises that hit the poorest the hardest, have caused the number of people who need humanitarian assistance to soar to a record 303 million. Families in every country in the world that not too long ago were considered thriving, have now joined the ranks of the vulnerable in need of assistance.
The people most affected are those with the least choice, influence and power to change their trajectory. They are subjected to political, military and economic choices made by others. As a result, for the first time in decades we see progress towards eliminating preventable child mortality being reversed.
At the same time, access to those in need is getting increasingly difficult. In a recent survey, 63% of our operations globally reported access constrains due to bureaucratic and administrative impediments (such as delays in getting permits to operate), political interference or safety and security related issues. This made 2021 the most dangerous and deadly year for air workers in a decade.
Nobody should have to pay the ultimate price for their right to receive or offer humanitarian assistance. Yet, last year 461 aid workers were caught up in 268 major attacks, when trying to reach people in need. Sadly 141 colleagues lost their lives including beloved colleagues from Save the Children, whom we dearly miss every single day. Their death and the world's inability to hold those that violate this basic humanitarian principle to account is a stain on our collective global conscience.
Protecting a child in need has always been a collective affair. It takes the care, the wealth of support, the knowledge and solutions that neighbours, communities and local providers bring to the table to protect that child. It requires supportive national social protection policies. It requires warring parties to prioritise resolving the conflict and allowing people in need to access available assistance. It requires global policies that address inequality and economic and environmental sustainability. It requires an aid system that appreciates and builds on the community based and local support systems. And it requires people in far flung places to care about what happens to their fellow human beings in different parts of the world, regardless of race, religion, political or sexual orientation or any other adverse distinction. #ItTakesAVillage
While the current situation genuinely feels overwhelming at times, I take solace from the fact that every day, communities continue to share what little they have, supported by millions of people all over the world. It is evidence that global unity and solidarity are still alive and strong. As individuals, our impact is limited, but together we have tremendous power.
So today, on World Humanitarian Day, I salute all those that give whatever is in their means to help protect children in need. And I will burn a special candle tonight for those that ended up giving everything, their future, their family and their lives. To all our amazing teachers, doctors, nurses, protection officers, food security specialists, nutritionists, shelter personnel, water and sanitation specialist, administrators, managers, advocates, and more – to our village – I thank you for your service, your courage, and your duty of care to the children we protect.
In solidarity,
Gabriella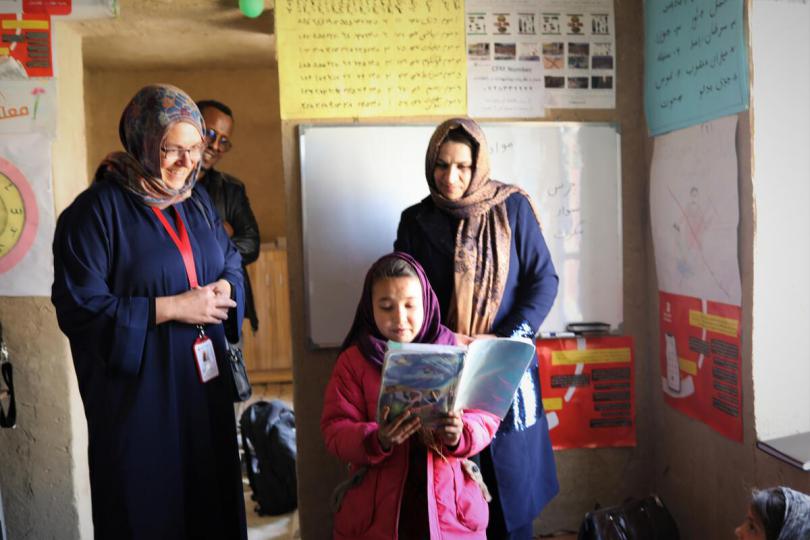 Gabriella Waaijman visits a Community Based Education class for 7-10 year olds in Afghanistan.
Related articles
29 November 2023

- Ethiopia
13 November 2023

- Colombia
3 November 2023

- South Sudan