STAFF ACCOUNT: Curing malnourished children as malnutrition cases skyrocket by 50% in Afghanistan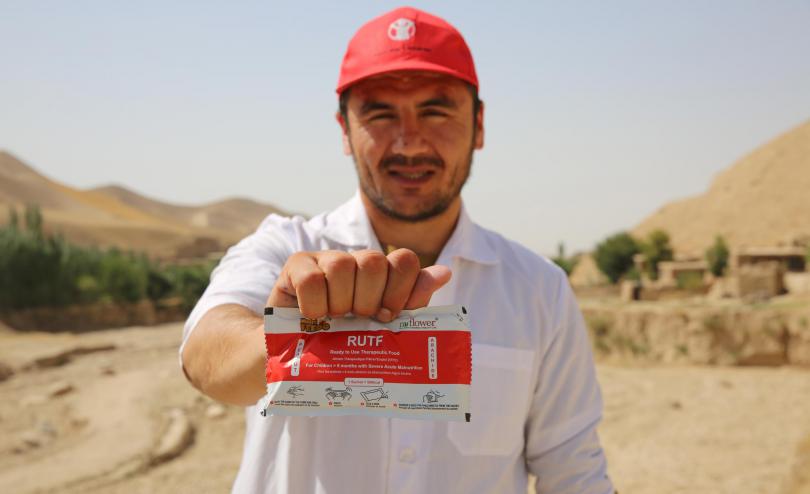 Ahmad* joined Save the Children in 2021. He is a nurse with Save the Children's Mobile Health Team and provides treatment for children and communities in very remote areas. Save the Children.
****
It has been two years since the Taliban regained control in Afghanistan. During this time, Afghans have been pushed further and further off the radar of the rest of the world – despite conditions for children and communities getting more and more severe.
In my job as a nutrition nurse in a Mobile Health Team run by Save the Children, my colleagues and I travel to communities that do not have easy access to healthcare. We screen patients for Severe Acute Malnutrition (SAM) and Moderate Acute Malnutrition (MAM) by measuring their height and weight and provide treatment accordingly – usually ready to use supplementary food (RUTF) once every two weeks.
The number of children I see in our health facilities with malnutrition has skyrocketed by 50% since I started. Over the past two years, the economic crisis and drought have driven families to the brink. Many survive on tea and bread – because it's all they can afford.
Malnutrition is a deadly condition that eats a child up and spits out a frail, lifeless child. If you compare a regular child with one who has malnutrition, you will see what I mean. Malnourished children become weak and thin; they become skin and bone because the condition literally dissolves their muscles.
A regular child can usually get by at school, but this is so hard for a malnourished child. If a mother says to her child, "We don't have anything to eat", this affects their mental health. Even if they grow physically, they often won't have self-confidence and will feel anxious about how to feed. Being told you are poor and hungry is not good for any child.
As a father of three children, this makes me shudder. And while we do what we can in the mobile health team, the scale of this crisis is so vast, and we do not have enough medicine and staff to help everyone in need.
Over the past two years, things have really changed. There are more and more people without jobs in the villages we visit, and poverty has increased. When families cannot afford to provide the food their children need, the children become malnourished.
Before the Taliban regained control, the mobile health team I work with used to register 30-35 malnourished children a month – but this figure is now between 60 and 70.
This really is a plague on children – and one of the biggest causes is the drought. Across Afghanistan, most people earn their living from agriculture, but this is literally drying up due to climate change.
In one village, there is a river that has always been critical to the survival of the entire community. But in recent years, the water has stopped completely.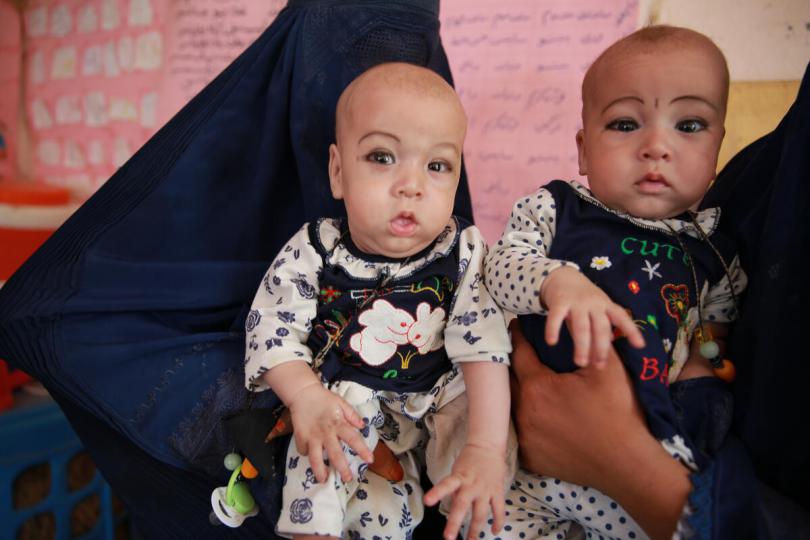 Sahida visiting Save the Children's Mobile Health team with her twins, Nahida and Nadira (8 months old) for a malnutrition screening. Save the Children
This year, people have also had to deal with a horrible locust infestation that has destroyed crops. All these things on top of each other have put basic human needs further and further out of reach for people.
Despite it getting harder for this country to be self-sufficient, we have also seen cuts to lifesaving aid from aid agencies in some of these villages. This means families simply have very little to eat.
One story that I will never forget is of a woman who came to us with two children, both of whom had SAM. One of them we treated, but the other had another medical condition as well, so we referred them to the hospital.
The next time we saw this mother and asked about her child, she replied with her eyes full of tears:
"I lost one of my children. I decided to go to the hospital the next day, but she couldn't make it an extra day and died during the night."
This was the saddest day of my life.
It is also heartbreaking to see how girls, in particular, are most deprived. Because of the very traditional culture of some of the villages we work in, many parents prioritise their sons over their daughters.
It is obvious that parents give their sons more nutritious food than their daughters – if we look at our register, we have more malnourished girls than boys. And there are so many we don't know about: mothers often bring their sons to us for checkups but leave their daughters at home.
But it's not all sad – we cure children on a daily basis, and if they are not malnourished then we support their parents with advice and guidance to keep them healthy.
Of course, in these circumstances, that can be an uphill struggle, but all the same, because we can do this, families in the villages we visit are – on the whole – doing better than other villages that do not have access to our services.
While I have had the saddest days of my life in this job, I have also had the happiest. The same mother whose child tragically died brought her other two children to us and we managed to cure them both.
Life is exceptionally hard in Afghanistan – but we need to remember the precious joy in the changes we can make and the profound impact this has on human lives. If we can do that, we can keep going for the children of tomorrow.
*Name changed to protect identity
Related articles
29 September 2023

- United States
20 September 2023

- Somalia, South Sudan