Why are children living in conflict are more likely to be malnourished?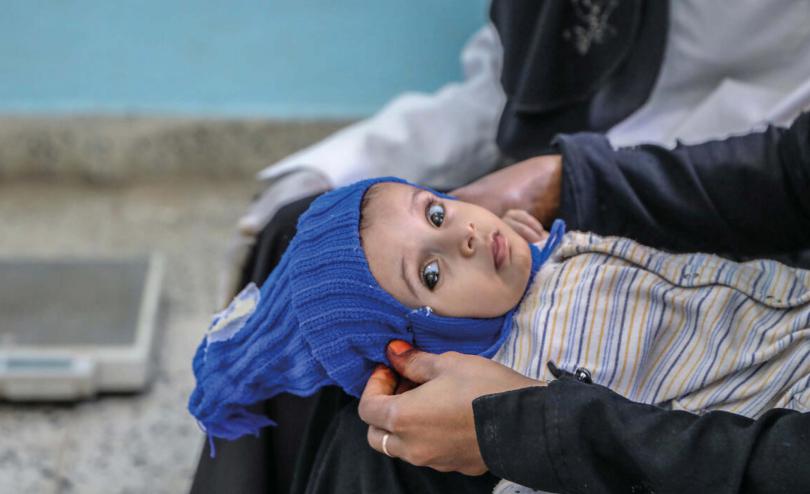 Around the world, we're seeing a huge number of devastating conflicts affecting millions of children and families. War uproots families, destroys economies, ruins infrastructure and gets in the way of agricultural production. Today, 79.5 million people are displaced from their homes, more than any other time in recorded history. With so much movement and change, it's often hard for parents to be able to provide food for their children.
Wars in areas like Burkina Faso, North East Nigeria, Syria, and Yemen are pushing people into famine. As conflicts increase, children will continue to be disproportionally affected by hunger. The UN has warned that without immediate action, we could see 'famines of biblical proportions.'
Research shows that hunger and conflict are hugely intertwined. More than 60% of the people most at risk from hunger live in conflict zones, and 10 of the world's 13 worst food crises are driven by conflict. It is a growing problem – major conflicts have tripled since 2010. In 2019, 77 million people in 22 countries experienced hunger due to armed violence and insecurity.
Children living in a conflict zone are more than twice as likely to suffer from malnourishment than children living in a peaceful setting, and four out of every five children whose growth has been stunted due to malnutrition today live in countries affected by conflict.
In Yemen 80% of people require humanitarian aid due to the country's six-year-long war. 70% of the population does not have enough to eat, and two million children require treatment for severe malnutrition. The health systems were already stretched even before the COVID-19 pandemic, and a declining economy has led to increasing food insecurity.
What are Save the Children doing on the ground to help?
Many children like 8-month-old Suha* are living through the war in Yemen and suffering from severe malnutrition. Suha's mother, Mariam*, 26, has two children, and her husband is unemployed, so getting enough food is a daily struggle. The family's usual meals consist of bread, tea, fried dough and sometimes rice but they can't afford any vegetables.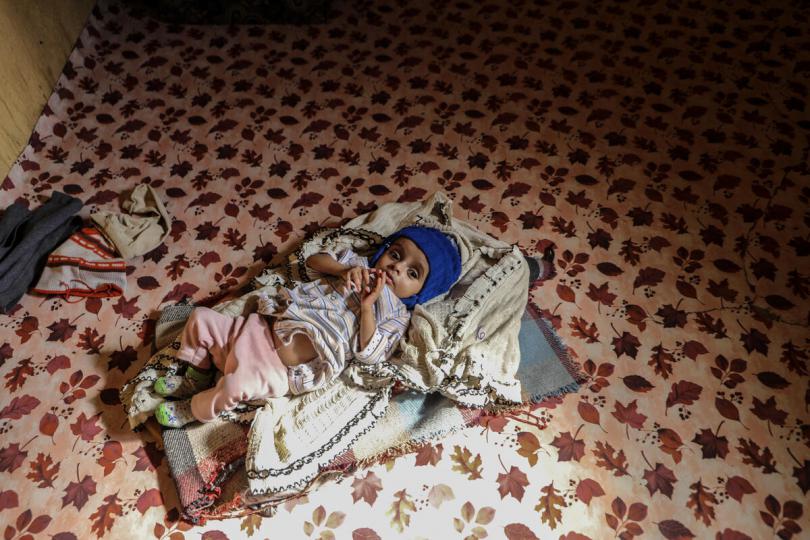 Mariam brought Suha to the healthcare centre supported by Save the Children. There, the health workers examined her, taking her measurements and weighing her to check for malnutrition. Once diagnosed, Mariam was provided with a high-protein peanut paste called Plumpy Nut, nutritional supplement supplies for Suha, and was also given advice on how to support her. Our teams around the world support children and families facing hunger with interventions like these.
It's lucky that Mariam could bring Suha to the healthcare centre, but in many conflict areas, humanitarian aid is hard to come across. With violence against humanitarian workers and essential civilian infrastructure, as well as restrictions on movements, this aid is often severely disrupted. It's critical that governments ensure access for humanitarian aid.
What we're calling for to end hunger
Ensuring humanitarian access will make a huge difference to children living in conflict areas who are at risk of hunger. But it is only a short-term solution.
To improve the situation for children in the long-term, we're calling on the international community to:
Scale up critical humanitarian food, nutrition, health and water assistance.

Fully fund the Global Humanitarian Response Plan (GHRP) and other Humanitarian Response Plans, making sure current funding is flexible and new funding is paid out through fast-track mechanisms. Only 39 per cent of the GHRP is funded, and less than 9 per cent of nutrition needs are funded, so the international community must do more to make sure famine and hunger are not inevitable consequences in conflict-affected settings.

Safeguard and expand humanitarian access, by improving the reporting of when humanitarian access is denied and holding violators to account.
Maintain nutrition and health services that provide a front-line defense to prevent children from dying of preventable diseases in conflict-affected settings based on early action, community-based interventions, and building resilience.
We're also calling on all parties to conflict to:
Respect international humanitarian law and allow and facilitate free humanitarian access to those in need.

Immediately agree to a global ceasefire and work to find durable political solutions to bring armed conflicts to an end.
Related articles
27 September 2022

- Ukraine
5 September 2022

- Pakistan