'You think, you could have been there': Returning home to help amid the rubble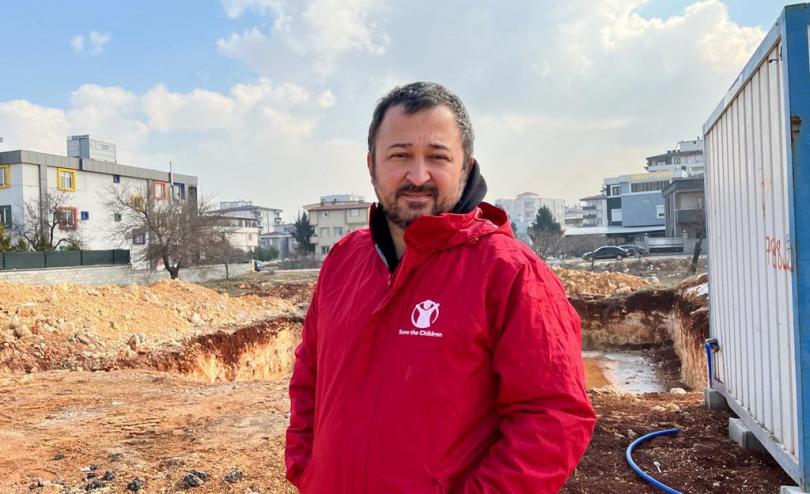 When you receive a call very early in the morning you think the worst has happened. So when my brother called me at 5am in Poland, where I was working to support refugees fleeing Ukraine, I thought something must have happened to my family.
But he just said, 'Have you seen the news? A serious earthquake has happened.'
It's hard to describe, those first moments. For a little while I was too shocked even to speak to anyone. I couldn't sleep for 24 hours.
I'm from the capital Ankara but the earthquake struck an area where I lived for seven years. I moved to Gaziantep at the start of my humanitarian career, to support Syrian refugees, and lived there until late last year.
When I heard the news, I contacted my country director in Poland and volunteered to come back and help. I felt there had to be a way I could serve the community where I had spent years of my life. I could barely sleep until I got back to Türkiye.
When I returned it was a devastating thing to be faced with. To be honest I was not expecting that level of impact from the earthquake.
I have a lot of friends here and my wife is from the region. She lost 13 people from her extended family. One of my close friends lost his entire family. Many of my former colleagues that were living in Hatay, one of the worst hit areas, unfortunately have been lost.
It's not about the total number of deaths. In the end, people have lost their family members - their babies, sisters, brothers, grandparents, friends. They are not just numbers.
In Gaziantep itself a few buildings have been fully damaged, including a bank I was in two months ago. You look at it and think you could have been there. You're thinking that just a few weeks before you were walking those streets, you were hanging out with your friends.
Hatay is the most affected city but there also places like Adiyaman where buildings that aren't totally demolished are highly damaged and not possible to live in – they could collapse at any moment.
When we spoke to people in Adiyaman in the early days they were really struggling to comprehend the situation, it was like you could see the trauma continuing. Many have set up tents next to their damaged homes or are staying in tented settlements until it's possible to rebuild their homes or relocate elsewhere.
Think of a city that has a population of hundreds of thousands, without access to electricity or gas in the middle of winter. No heating, no water and the majority of individuals caught in the earthquake were still under the rubble. You are thinking, that's 10,000 buildings in one area that are completely damaged. You're thinking, how do we provide a response to everyone? The numbers are so huge that no one country in the world could have provided enough support and rescue teams to reach everyone within a few hours.
We visited some tented settlements for an assessment and brought some toys, some balls for the children. We were thinking they might not be interested in them right after the earthquake. But actually it was the opposite. I saw their faces change into a smile. That explains everything to me. Children are in need of being socially and psychologically supported. Even if it's for a few minutes or a few hours. But you're letting them think of something other than the impact of the earthquake. This is just one simple thing which proves the difference it makes to children if they are prioritised.
Public institutions, international and local organisations are on the ground. And what is needed now is obvious. This requires massive distributions - of hygiene items, of warm clothes, of food and shelter. Our teams are already in the hardest hit areas distributing blankets, beds and firewood, as well as providing toys and emotional support to help children start to recover. And in the mid and longer term cash and livelihoods will be vital. We're talking about an area with a total population of around 10 million affected.
People are trying to support each other. Everyone is doing their best and children must not be forgotten amongst everything else.
My biggest concern is for the recovery of children and families who have been through such a traumatic experience, as well as the sustainable establishment of the cities. People are going to want to return back to the areas where they lived before. I do not expect that this can be resolved in a few months. This is going to take years.
We also need sustainable incomes for the communities. That affects everything – your accommodation, your food security, your education.
The response that Save the Children starting is really at a large scale. And we are prioritising reaching areas that have had less help, so far. But bit by bit we will enter the recovery stage. That will need just as much support. It's very important, both for the whole nation and the international community, not to forget what has happened here. This was not a normal earthquake.
You can support the critical life-saving work our colleagues like Ali are carrying out on a daily basis in Syria and Türkiye by donating today to our Children's Emergency Fund.
Related articles
9 March 2023

- Syria, Türkiye