After two weeks of violence, civilians and aid workers must be allowed free movement in North East Syria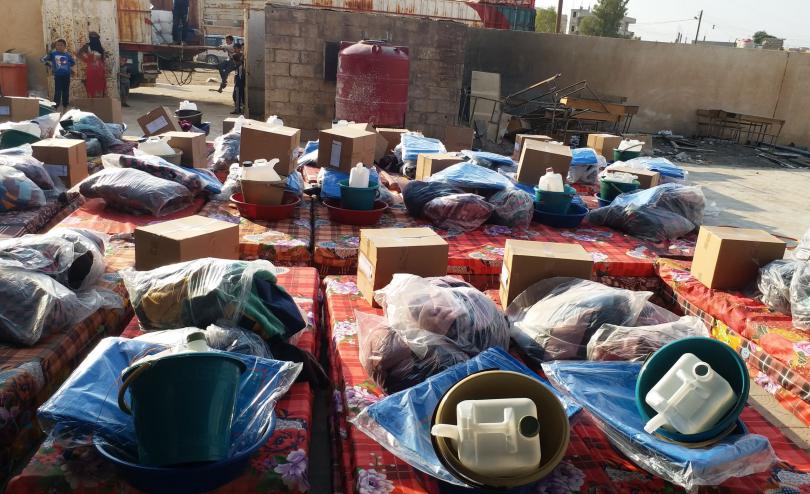 Two weeks after the escalation in violence in North East Syria, thousands of children and families remain in dire need. Save the Children is distributing food, mattresses, blankets and warm clothing to displaced people.
Sonia Khush, Syria Country Director, said:
"The humanitarian needs of the thousands of people displaced since October 9th in North East Syria are multiple and acute, from basic shelter to clean water and food. Today, more than 74,000 children remain away from their homes, with many living in schools, abandoned buildings or even tents set up hastily in open fields.

There are also five main camps for displaced populations people that are home to dozens of nationalities including Syrians, Iraqis and other foreigners who rely almost entirely on humanitarian aid. Some of the camps have been receiving civilians displaced in the past two weeks, which is putting great pressure on the already overstretched resources and tired populations.

In addition to a lasting cessation of hostilities, the free and unimpeded movement of civilians and aid workers in North East Syria is the only way today to avoid a full-scale humanitarian crisis."
30-year old Shahad* has been displaced to a school in Al Hassakeh city. He told Save the Children:
"We fled because of airstrikes and bombing. My mother-in-law was wounded, and my brother-in-law, grandson, and cousin are missing. The airplanes were circling, so we fled to save our lives.

We had little children with us. We left everything behind, we just wanted to save our and our children's lives. We fled barefoot with only our clothes on us.

Now, we're here with nothing: No food, nothing. Look at us. What are we going to do?"
Notes to editors:
• As of October 20th, Save the Children had distributed 204 Non-Food Item kits (each including 3 mattresses, 2 blankets and 2 jackets) and 438 ration packs.
• Save the Children have distributed more than 2,000 boxes with ready-to-eat-rations to date.
• The 5 camps for displaced people are Al Hol, Roj, Areesha, Mahmudil, and Mabruka - although the few families remaining in the latter may be evacuated imminently. A sixth camp, Ein Issa, is now empty.
*Names have been changed to protect identities.
Spokespeople are available. To arrange an interview please contact Joelle Bassoul in Beirut joelle.bassoul@savethechildren.org 0096 1816 00696 or Davina Hagan in London 0044 7732 601762. During out of office hours, please contact the 24-hour press office in London media@savethechildren.org.uk 0044 7831 650 409.