ECOWAS takes another important step towards ending child marriage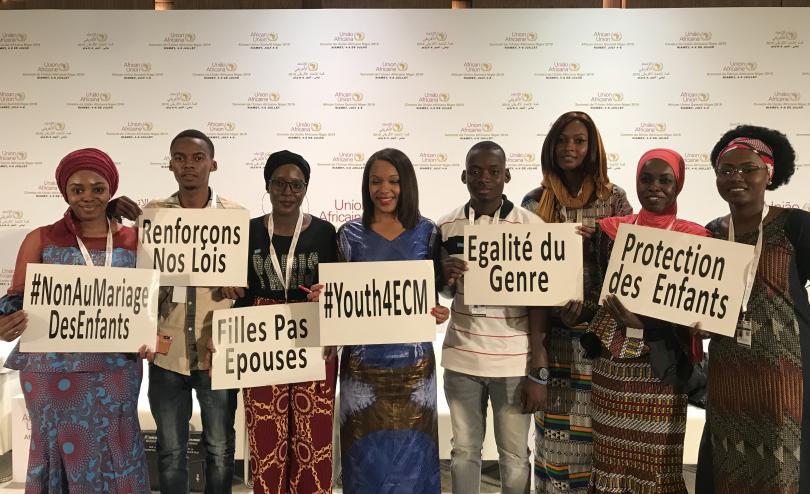 The 33rd summit of the African Union was held from July 6-7 2019 in Niger with a strong participation of delegations from Africa and across the world. ECOWAS (Community of West African States) First Ladies took the opportunity to organize a high-level meeting on child marriage, girls' schooling and women's empowerment.
During this high level event, the ECOWAS First Ladies made a historic appeal to the ECOWAS Heads of State to 'End Child Marriage in West Africa, Promote Schooling for Young Girls and strengthen Girls empowerment'. This call was read by the First Lady of Mali, Keita Aminata Maïga, in the presence of many First Ladies, including, Mrs. Fatima Maada Bio of Sierra Leone, Mrs. Aisha Buhari of Nigeria.
The appeal calls on different stakeholders (including Member States, Regional bodies, traditional and religious leaders, parents, families and technical partners) to play their role in ensuring that the right legislative and budgetary reforms are in place, alongside increase awareness and actions taken to empower girls, favour girls' access to education and End Child Marriage. This appeal was supported by all the traditional Chiefs of Niger, and enhanced by the presence of the President of the Republic of Niger, Issoufou Mahamoudou, who spoke very strongly against child marriage by stating that "the marriage of 12-year-olds is like paedophilia". Other key stakeholders present at the meeting included the President of the ECOWAS Commission, Marcel De Souza, the President of the African Development Bank, Akinwumi Adesina, the Special Representative of the Secretary-General of the United Nations, Amina Mohammed, and the Prime Minister of Niger, Brigi Rafini.
Our girl champion, Maryam Mohamed Noura from Nigeria spoke during the event on behalf of all young people. She called on decision-makers to involve young people in the decisions which concern them.
She demanded more commitment from the leaders by saying, "We urge organizations and institutions such as the African Union and ECOWAS to translate their commitments into national policies in order to achieve gender equality while making access to quality education a priority. We call on ECOWAS First Ladies, to support local actions and to be allies of young people in the implementation of concrete actions for zero child marriage in West Africa"
This High Level meeting and this 'appeal' is the result of several months of collaboration and intense work between the Platform to End Child Marriage in Niger, led by Save the Children (members include INGOs like World Vision, Mercy Corps, Plan and national civil society organisations like CONIDE, FAD, young people and children), the First Lady of Niger Foundation, Dr Lalla Malika Issoufou, and our offices in West Africa.
Since the launch of the AU campaign to End Child Marriage in 2014 and the West and Central Africa High Level Meeting to End Child Marriage in 2017, we have seen a growing momentum across the region to end child marriage. It was just in June this year at the African Summit on Female Genital Mutilation and Child Marriage that the Grand Iman, second in charge of Al-Azhar University in Egypt, said that marriages should be based on mutual consent of persons over 18 years of age- This fatwa of one of the most respected institutions in the Muslim world. In the same month, the Heads of State of the West African Community adopted a declaration and a joint position against child marriage and a roadmap on prevention and response to child marriage.
Overall, the prevalence rate of child marriages in Africa is above the world average and if this trend continues, Africa will become the region with the highest number of child marriages by 2050. Although child marriage exists throughout Africa, its prevalence is more pronounced in Central and West Africa, where it is estimated that four out of ten women aged 20 to 24 married before age 18. This is why there is an urgent need to end child marriage and ensure girls have rights to their future.
Related articles
29 September 2023

- United States