Healing and recovery through education in emergencies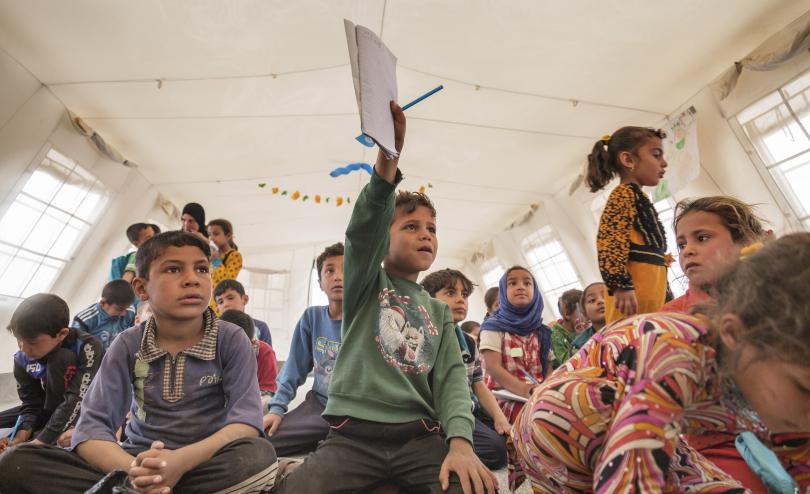 Children at one of Save the Children's temporary learning spaces in Qayyara Airstrip IDP Camp, Iraq © Dario Bosio/DARST/Save the Children
Critical impact of conflict on children's mental health and psychosocial wellbeing
Humanitarian emergencies and protracted crises currently affect millions of children around the world with serious consequences for their ability to learn, grow and develop. 420 million children – nearly one-fifth of children worldwide – are living in a conflict zone.[1] Children are especially vulnerable in conflict situations, because a child's experiences during the earliest years of life have a lasting impact on their physical and mental development.
Save the Children's new research shows just how much bombs and explosives in the world's worst war zones are hurting children both mentally, as well as physically. Suicide bombs, landmines, unexploded ordinance, air strikes and other forms of explosives account for three quarters of child deaths and injuries across the world's deadliest war zones. Our research shows how children are uniquely injured and impacted by explosive weapons compared to adults, and that children exposed to explosive weapons are at increased risk of long-term physical and psychosocial disabilities and mental disorders such as post-traumatic stress disorder, depression, anxiety and agoraphobia[i].
For children in conflict, the combination of exposure to bombs and explosive weapons, grave violations of their human rights and chronic adversity, insecurity and deprivation can lead to "toxic stress".[2] Furthermore, many children impacted by conflict do not have access to the protective environment of schools and to quality education. As a result, conflict imposes yet another significant cost on future generations and severely undermines the potential for peaceful, prosperous societies.
Mental health and psycho-social support in and through education
Mental health and psychosocial support (MHPSS) for children in conflict is essential to overcome the impact of toxic stress and gives children the chance to develop to their full potential. Integrating MHPSS programming into the existing structures that support and protect children, such as educational systems, is essential to ensure children can access opportunities for healing, recovery and learning at larger scale. Education, delivered in safe, nurturing environment, is critically protective for children in conflict, and has the potential to support their healing and recovery.
Diana* is an 8 year old refugee from Afrin in Syria now living in Iraq. Despite huge needs, mental health services for children affected by conflict are very limited, with just one psychologist per one million people in Iraq. © Panos/Save the Children, 2018
Lack of services and support exacerbate children's trauma
However, the huge need borne from protracted crises and mass displacement are not being matched with funding and support to ensure the inclusion of MHPSS services in emergency responses. Mental health care treatment gaps are greater than 90 per cent in the least resourced countries, and for child and family MHPSS, there is a lack of targeted, evidence-based programmes, workforce capacity and sustained funding.[3]
The opportunity to scale up MHPSS for children in crisis: ECW and the MHPSS Collaborative
The MHPSS Collaborative for Children and Families, hosted by Save the Children, serves as a global platform for research, practice, learning and advocacy, that aims to build meaningful partnerships to address the critical MHPSS needs of children and families in fragile contexts at scale. Education Cannot Wait has partnered with the Collaborative in order to support the Global Education Cluster and other interagency partners to mainstream evidence-based, contextualized MHPSS into education in emergency programmes – closing the critical gap in treatment and providing safe and healing learning environments for the millions of children affected by conflict.
Developing and delivering a minimum package of MHPSS services for educational settings
There are practical actions all countries can take to provide the help that children affected by conflict need to make a full recovery. This must include ensuring there is the mental health support on the ground to help children recover both in the immediate aftermath, and through the crucial months afterwards.
Education Cannot Wait, together with the MHPSS Collaborative and its partners, are calling on governments, donors, private sector companies, philanthropic foundations and global leaders to support efforts to increase the provision and quality of MHPSS via education in emergencies with US$50 million in dedicated financing to be channeled through Education Cannot Wait over three years through 2021. Immediate additional funding for MHPSS services will ensure the development and demonstration of the UNICEF and WHO MHPSS 'Minimum Service Package ' within Education, and also support the implementation of the package in five Education Cannot Wait Multi-Year Resilience Programme countries between now and 2021.
The MHPSS Minimum Service Package will build capacity across the education sector to deliver lifesaving MHPSS for an estimated 9 million children by 2021, and ensure educational systems are effectively linked to health, protection and social services, ensuring a critical safety net for children and their caregivers. For the millions of children around the world exposed to bombs, explosive weapons, conflict, insecurity, and toxic stress, this support is urgently needed to ensure their learning and wellbeing.
Read the full briefing Healing and recovery through education in emergencies here.
Blog co-authored by Leslie Snider, Director MHPSS Collaborative for Children and Families and Yasmine Sherif, Director, Education Cannot Wait.
---
[1] Stop the War on Children, Save the Children, 2019 <https://www.stopwaronchildren.org/report.pdf>
[2] Invisible wounds: The Impact of Six Years of War on the Mental Health of Syria's Children, Save the Children, 2017 <https://www.savethechildren.org.uk/content/dam/global/reports/emergency-humanitarian-response/invisible-wounds.pdf>
[3] Reducing the Treatment Gap for Mental Disorders: A WPA Survey, Vikram Patel, Mario Maj, Alan J. Flisher, Mary J. De Silva, Mirja Koschorke, Martin Prince, and WPA Zonal and Member Society Representatives