How teenage mothers and pregnant girls in Uganda have defied tradition and successfully campaigned to return to class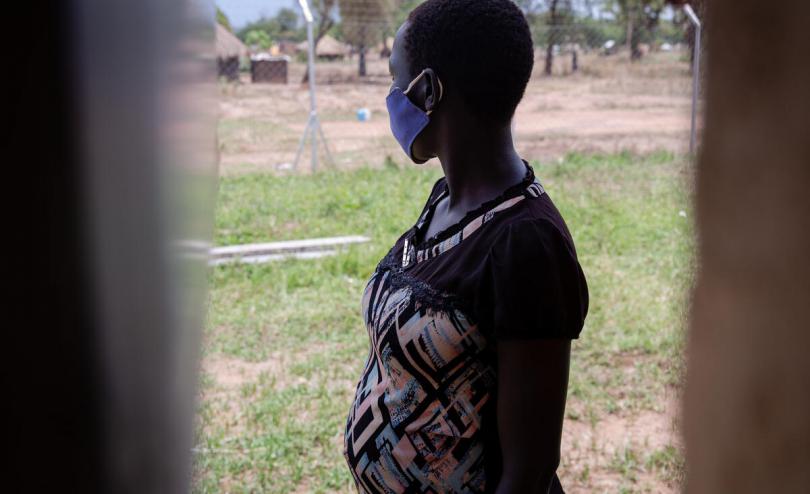 As leaders of the G7 gather this month to discuss the global impact of the COVID-19 pandemic, including plans for getting children safely back into education, a group of teenage mothers and pregnant girls in Uganda have used the power of collective action to ensure they can return to learning. Today thousands of children in more than 50 countries across the world will join them to take action to fight for their education.
In Uganda, girls who fall pregnant often drop out of school, as government guidance requires them to withdraw from when they are three months pregnant until six months after giving birth[i]. Many of them struggle to return to school at all due to barriers like social stigma, lack of childcare or financial support.
Faced with this situation, a group of 52 teenage mothers and pregnant girls have successfully appealed to re-enrol in catch-up learning so that they might get the opportunity to return to school.
16 year old Sunday* is five months pregnant. Along with ten other girls who have fallen pregnant or given birth during the lockdown period, Sunday is getting the education she needs, through Save the Children's 'Accelerated Education Programme' in a refugee settlement in West Nile, Uganda.
Sunday* said: "During the lockdown, some girls got pregnant. Some have got married. And some have not come back to school. Other people say that pregnant girls should not come to school. And that when you're no longer pregnant you shouldn't come [back] to school either.
"After having my baby, I want to come back to school and study because I want to become an accountant. I love our school because it's welcoming. Also I love our teachers because they teach us every day."
Sunday* and other girls in West Nile called to return to their education and asked for better provisions to do so, including: child-friendly spaces for their children to play while they learned; childcare – a major barrier to young mothers returning to education; school provisions such as books and pens. Save the Children supported the girls in their requests, enabling them to return to education in a safe environment and to take control of their own futures.
These girls are just some of the thousands of children in more than 50 countries across the world who are using their platform today to kick off Save the Children's '100 Days of Action'. These 100 days will see children, supported by the child rights organisation, partners and supporters, use the power of collective action to push education to the top of world leaders' agendas.
Save the Children calls on governments, parents and communities to remove barriers for all children, including pregnant girls and young mothers, to return to education, as set out in the UN Convention on the Rights of the Child.
The child rights organisation is also urging G7 leaders to put the future of girls front and centre of their decision-making at the G7 Summit and beyond.
Inger Ashing, CEO of Save the Children said: "The fact that today, thousands of children around the world are demanding their basic right to education must inspire leaders everywhere to prioritise children's learning."
"It is now up to G7 leaders – the world's biggest aid donors – to show they are listening to children, make tangible commitments to turn the targets they signed up to in the G7 Girls' Education Declaration a reality and make ambitious pledges to the Global Partnership for Education. National governments around the world should also increase their education budgets. Children must now be put front and centre."
*names have been changed
Content of teen mothers and pregnant girls in Uganda available here
[i] Revised Guidelines for the Prevention and Management of Teenage Pregnancy in School Settings in Uganda, 2020 Revised-Guidelines-Prevention-Management -Teenage-Pregnancy-School-Settings-Uganda-2020-eng.pdf (ungei.org)