Lives through a lens: New photo series by Delphine Diallo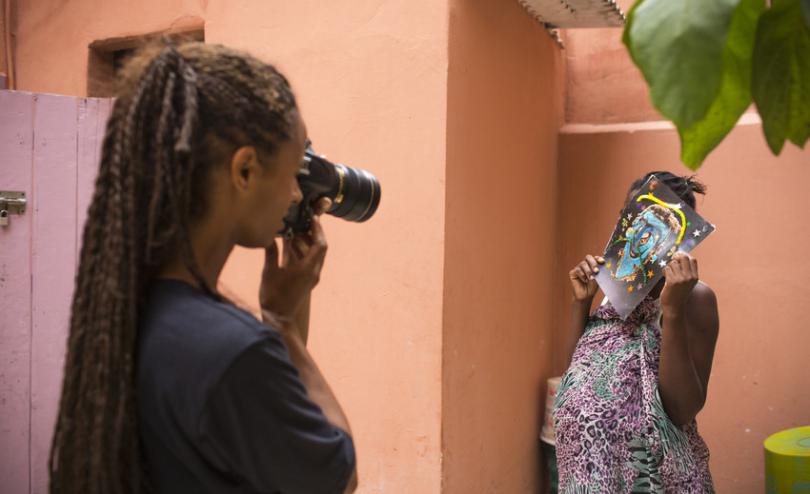 Originally featured on Buzzfeed.
An evocative new photo series by up-and-coming photographer and artist Delphine Diallo depicting stories of female sexual exploitation and abuse has been released to mark International Day of the Girl. The images were captured at La Maison Rose, a safe-house supported by Save the Children in Dakar, Senegal, where the women and girls are currently seeking shelter.
French-Senegalese artist Diallo held workshops at La Maison Rose to encourage girls to express themselves through collage, which she then used to frame each portrait and punctuate elements of their life stories. The final set of images bears witness not only to the abuse experienced personally by the women and girls in the pictures, but by many women around the world on a daily basis.
The project comes as Save the Children releases its new report, Every Last Girl: Free to live, free to learn, free from harm. It highlights the dangers facing girls around the world and includes an index ranking the hardest places to be a girl according to levels of child marriage, schooling, teen pregnancy, maternal deaths and number of female MPs.
Senegal ranks in the bottom third of all countries according to the new index. While great progress has been made for equality – Senegal has the second highest number of women MPs in Africa[i] – a third of all girls are still married before the age of 18[ii], a quarter of girls and women aged 15 to 49 have undergone FGM[iii], and sexual and gender based violence against women and girls continues to be a major problem across the country, according to the UN[iv].
Speaking about the photo series, Delphine Diallo said: "I wanted to combine photography with collage for this project because sometimes photography is too basic to tell a story. The process of collage allowed these women and girls to assume control and identity within the images, making it a very participatory project.
"The energy in the room during the art workshops was intense because a lot of these women have suffered so much and everything they created was super personal. Some of the women incorporated images of death and pain, but also decorated the collages with such beauty. They were very expressive and I hope the process was therapeutic and helps them on their journey to heal.
"The house, La Maison Rose, is so calming. The colours are beautiful, children run around happily, so it really feels like a haven where women and girls can come to relax and heal and create a positive future. It was inspiring for me to see and I hope this comes through in the images. Everywhere I go in the world I am always surprised by women's strength and resilience, and here was no different."
Dr Bonzi Mathurin, Save the Children's Country Director in Senegal, said: "La Maison Rose is doing excellent work supporting and healing incredibly vulnerable women and girls from Dakar and beyond. Many of them have suffered unimaginable violence, abuse and mistreatment simply because they were born a girl. We hope these images will raise awareness for the need to end violations against women and girls, not just across Senegal but around the world."
La Maison Rose supports women and girls who have been victims of domestic and sexual abuse, exploitation, trafficking or have been living on the streets. It provides the young women, many of whom have children, with accommodation, health and psychological support needed to rebuild their lives and reintegrate into society.
While at the house, its residents are given access to essential services including medical care, counselling and legal advice, as well as psychological support through activities such as yoga, art workshops and gardening. The centre also provides career advice and skills training to help them to earn a living once they leave the shelter.
---
[i] World Bank. 43% of national parliament seats are held by women in Senegal (second highest in Africa after Rwanda).
[ii] Save the Children (2016), Every Last Girl: Free to live, free to learn, free from harm.
[iii] UNICEF (2016), Female Genital Mutilation/Cutting: A Global Concern.
Related articles
29 September 2023

- United States
12 October 2021

- Afghanistan