New child-friendly handwashing video launched for communities forgotten by COVID-19 crisis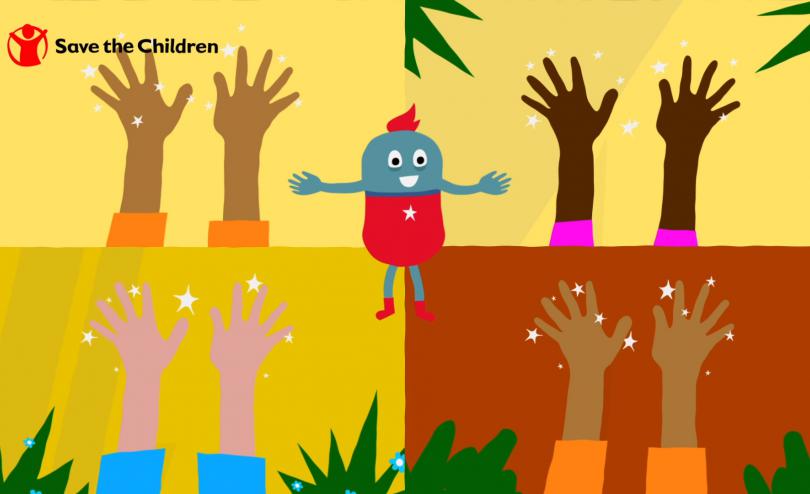 In an effort to slow transmission rates of COVID-19 Save the Children today launched an animated handwashing video, aimed at young children and families in the most vulnerable communities around the world. You can access the video and related content here.
The video, which has no spoken or written text, features a universal character named "Sparkle" demonstrating key steps in handwashing with soap designed to be understood by all children. It is especially aimed at lower income and fragile communities, where children may be taking care of younger children, and where literacy rates are lower, or in refugee and migrant communities, where a child's first language may not be spoken.
The video is part of a range of child-focused interventions rolled out by the agency to help the world's most marginalised communities protect themselves during the Covid-19 pandemic.
Gabriella Waaijman, Global Humanitarian Director: "Children are not immune to COVID-19 and can play a key role in helping reduce transmission rates, not just among themselves, but in informing parents and other younger children too. In general, infectious diseases spread more quickly amongst children who may be more tactile, and less able to understand instructions about hygiene and sanitation. Simple measures, and age appropriate information can be life saving."
As countries impose lockdown restrictions, an estimated 1.5bn learners are now out of school and university. For many children, schools provide a vital link to reliable information. The video will be shared with local media as well as on social media.
Ms. Waaijman continued: "It is vital that all families have access to information such as knowing when and how to wash your hands properly, cleaning and disinfecting surfaces that can become contaminated, and keeping a distance of two metres from anyone outside of your household. COVID-19 has closed down many of the traditional information routes like schools, public buildings and community gatherings. We must use every channel possible to get these messages out as widely as possible."
In poorer and fragile communities where medical resource is limited, slowing the rate of infection of COVID-19 through good personal hygiene and physical distancing will be essential. Almost 800 million people do not have access to safe clean water. In overcrowded communities like refugee or displacement camps, there may be critical challenges in self isolating or regularly accessing clean water.
In efforts to protect a generation from the impacts of COVID-19, Save the Children is calling on governments and donors to invest in health services, social safety nets and community-based strategies to ensure children and their families have the income, support and information they need.
Since the onset of the crisis, Save the Children teams have been working to reach the most vulnerable and marginalised communities, to raise awareness of the risks of COVID-19 and ways to slow its spread. Save the Children is already supporting national governments, health care workers and training community members, including children, through announcements and posters in local communities. The organisation is also setting up extra handwashing stations and distributing hygiene supplies as well as providing clean water in communities through wells and water trucks.
To support Save the Children's global COVID-19 emergency appeal, click here.
Notes to editors:

The video follows step by step guidance on how to handwash, by WHO: https://www.who.int/gpsc/clean_hands_protection/en/

To protect a generation of children from the devastating effects of the COVID-19 outbreak, Save the Children has launched its

Agenda for Action

– a five point plan for a coordinated community, national and global action on five fronts to avert a catastrophe that could affect the lives of millions of children.