One In Every Four Children Being Robbed Of Their Childhood, New Report from Save the Children finds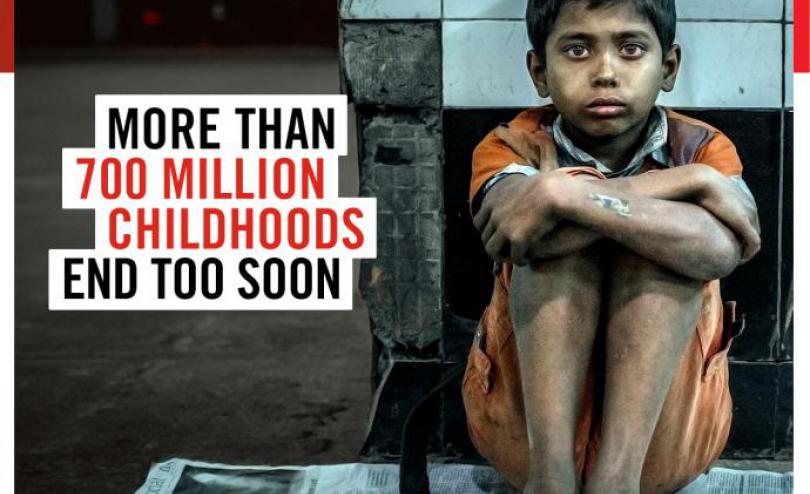 One quarter of the world's children are being denied a childhood, a new report from Save the Children has revealed. The report includes a global index ranking the places where childhood is most and least threatened.
Launched to coincide with International Children's Day, the Stolen Childhoods report has found that at least 700 million children—and possibly hundreds of millions more—have had the promise of a full childhood brought to an early end.
The reasons vary from extreme violence and conflict, often driving families from their homes; early marriage and pregnancy; child labour, poor health and not being able to go to school.
The index finds that childhoods in West and Central Africa are most threatened. Niger is ranked the lowest, followed by Angola, Mali, Central African Republic, and Somalia. The countries where childhood is the least threatened—Norway, Slovenia, Finland, the Netherlands, and Sweden—are all located in Europe.
Helle Thorning-Schmidt, CEO of Save the Children International, said: "Children growing up in war, being targeted by violent groups, suffering and dying from disease, and experiencing harsh discrimination, are being robbed of everything that makes them children. It is unacceptable that in 2017, millions of children around the world still do not have their right to be safe, learn, grow and play. We must, and we can, do better than this."
"Although most of the worst performing countries are located in West and Central Africa, there are signs of hope and progress. In fact, since 1990, the region has cut deaths under the age of five by half. This shows that by making deliberate choices to invest in children's health and well-being change is possible."
For the first time, Save the Children examined the impact of child homicide, and found that every day, more than 200 boys and girls around the world are murdered. Latin American countries -- including Honduras, Venezuela and El Salvador -- have the highest child murder rates globally as a result of rising levels of violence.
Juan*, 13, from El Salvador lost his cousin to gang violence just over a year ago. "He was like my brother (...). I had never known this pain. Sometimes I would see in the news that someone was killed -- that's normal these days. I hope I'm forgiven for saying this, but that's the cruel joke, that every day there are dead people -- young people disappear or they kill them."
The report also found that:
Every day, more than 16,000 children die before reaching their fifth birthday, the vast majority from preventable causes
About one quarter of all children under five (156 million) have their physical growth and mental development stunted as a result of malnutrition
One in six school-aged children worldwide is currently out of school
Conflict has forced nearly one child in 80 from their homes
168 million children in the world are involved in child labour -- 85 million in hazardous work -- which is more than all the children living in Europe (138 million)
One girl under 15 is married every seven seconds
Every two seconds, a girl gives birth
"In 2015, the world made a promise that by 2030, all children be would be in school, protected, and healthy, regardless of who they are, and where they live. Although this is an ambitious target, it's within reach if governments invest in all children to guarantee they have the full childhood they deserve," added Helle Thorning-Schmidt.
In line with its Every Last Child campaign, Save the Children is calling on governments to ensure that no child dies from preventable or treatable causes or is subjected to extreme violence; is robbed of a future as a result of malnutrition, early or forced marriage, early pregnancy, or forced labour; and that they have access to a quality education.
The child rights organisation runs programmes that work with the most marginalised and excluded children in hard-to-reach places around the world, providing them with access to health, shelter, education, vocational programmes and protection from harm.
To donate and sign a petition calling on governments to increase investment in children, please visit endofchildhood.org.
For further information please contact:
Natasha Dos Santos
natasha.dossantos@savethechildren.org
+44 7787 191957
Notes to editors
A child is defined as someone under the age of 18, as per the UN Convention on the Rights of the Child.
An estimated 734 million children are missing out on childhood (i.e., they have experienced one or more 'ender' events).
This number includes three distinct groups of children: children aged 0-17 who have died (159 million), children aged 0-5 who are stunted (186 million) and children 6-17 who are out of primary or secondary school (263 million). It also includes a subset of child refugees and child IDPs (14 million) and a subset of child labourers (112 million) who aren't likely to be already accounted for in the other groups.
To reach this number, a series of reasonable assumptions were made based on evidence of overlap between these groups of children.
Avoiding the problem of double counting leads to undercounting the number of children missing out on childhood. This figure does not, for example, include stunted school-age children who are in school, young wives or mothers who are in school or children who have witnessed or survived extreme violence.