More than 1,100 Afghan children a day expected to drop out of school in 2017, putting them at risk of exploitation, Save the Children warns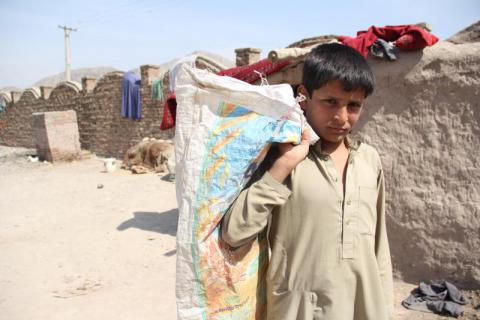 Dire humanitarian situation to deteriorate as up to one million more Afghans are set to return from Pakistan this year
Broll as well as photos and case studies are available
More than 400,000 children in Afghanistan – over 1,100 per day – are expected to drop out of school this year due to growing instability and a spike in forced returns from Pakistan, Save the Children analysis has shown.
The stark projection comes on the first day of the new school year in Afghanistan, when almost a third of all children across the country – 3.7 million – are unable to go to school, leaving them at increased risk of child labour, recruitment by armed groups, trafficking, early marriage and other forms of exploitation.
The crisis is made worse by a tightening of regulations by authorities in Pakistan, which forced more than 610,000 Afghans to return from Pakistan in 2016. This year up to one million more will return, threatening to overwhelm already swamped health and education services.
Over half of all returnee children are currently out of school, often working on the streets because their parents haven't been able to find a job since arriving back in Afghanistan.
On the start of Afghanistan's school year, Save the Children Country Director in Afghanistan, Ana Locsin, said:
"Today should be a happy day in Afghanistan as children go back to class for the first time after a long winter. Instead it is a day cloaked in tragedy for the millions who can't access education and are struggling to survive.
"We know that children who aren't going to school are at increased risk of early marriage, entering the workforce where they can be exploited, or even recruitment into armed groups or being trafficked. And the longer they are out of the education system, the less likely they'll ever go back."
Jawid, 14, was born in Pakistan but was forced to return to Afghanistan with his family last year. He hasn't gone to school since leaving Pakistan because his family is so poor that he needs to work collecting and selling rubbish.
"When I am collecting rubbish I feel really sad and wonder why I'm working at this age when I should be going to school. It is my time to get an education not to work," Jawid said.
Last year also saw major flare ups in fighting across the country, killing 923 children and making 2016 the deadliest year on record for Afghan children. This year, the UN predicts that 450,000 Afghans will be displaced due to fighting, while more than 9.3 million people across the country will need urgent humanitarian assistance, including over 1 million children suffering acute malnutrition.
Even as need spirals, however, the UN's US$550 million humanitarian appeal for Afghanistan is only 15 percent funded.
"Afghanistan is in a precarious situation right now with growing humanitarian needs and we're seeing more attacks by armed groups, more people fleeing their homes and a lack of support from the international community as other crises take precedence," Locsin said.
"Something has to give soon, which is why we are urgently calling for greater investment in aid and education so that the progress made in Afghanistan over the past 10 to 15 years, particularly in girls' schooling, does not come undone."
For media inquiries contact Mariam Atahi on +93 729 904 461 or Evan Schuurman on +93 794 628 829 or +66 989 725 908 evan.schuurman@savethechildren.org in Afghanistan.
For more information contact Simona Sikimic in London simona.sikimic@savethechildren.org +447760221890
Photos and case studies: https://storycentral.savethechildren.org.uk/?c=45417&k=26a05c6803
Broll: https://storycentral.savethechildren.org.uk/?c=45743&k=0637a5af2a
Notes to editors
Save the Children has been working in Afghanistan since 1976, running health, education and child protection programs. It is one of the main aid agencies supporting Afghan returnees, providing food, hygiene kits, warm clothes and blankets for winter, as well as supporting returnee children to go to school. In 2016, Save the Children and its local partners reached more than 7 million people in Afghanistan.
Save the Children projects that 320,705 school-aged returnee and 81,188 school-aged IDP children are expected to fall out of the education system in 2017. The numbers, totalling 401,893, are calculated by using existing data from 2016 and applying these ratios to the UN's projections for 2017. The UN estimates that 941,700 Afghans will return from Pakistan in 2017, and 450,000 more Afghans will become displaced in 2017.