"I want my daughter to live with love…to live with freedom"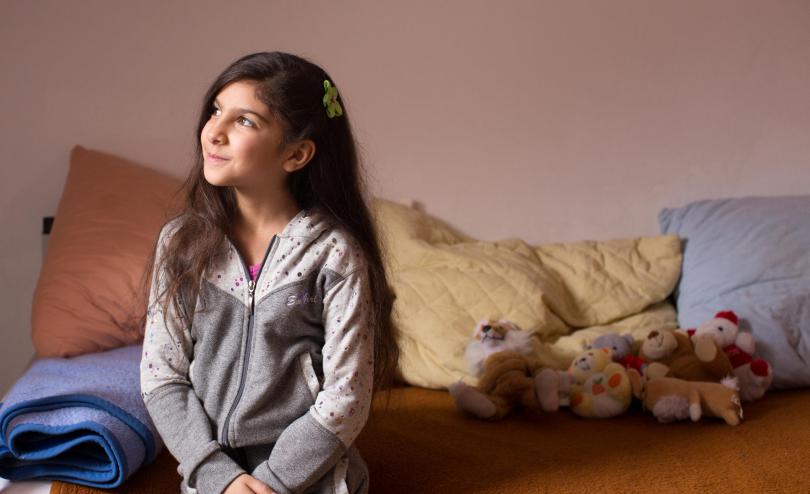 "It's so hard to leave your birthplace and relatives but I will endure it all, so that [my child] does not have the same experience as me. I experienced ... years of fear and flight, and I don't want my [child] to live even one day like me."
Mona* and her husband took the impossible decision to flee their home in Iran with the hope of a better life for their children. They now live in a refugee camp in Bosnia with their son and their nine-year-old daughter, Furugh*.
Furugh explains: "When I was seven years old we were always on the run, but when I got to eight years old we went to Turkey and I was thinking it was just for two days. I was just thinking, we are going just for the holidays and we will come back.
"We were in the aeroplane and I said, 'Daddy, when we will going back to Iran, I have school?' And my father said 'we will not go back any more.'
"I had a doll from Iran; my brother gave it to me for my birthday. It was Anna and Elsa [characters from the film Frozen]. It was in my backpack. I had so many things in my backpack and my father threw it and said; 'you don't need those!'
"One time we went to the Game [when they try to cross the border to Croatia] and we came back, it was so scary for me and for my family. When police caught us I was [very] scared. And my mother was scared because also she doesn't know so many things about the Game. She was so angry and after that she just fell down.
"One time when we were coming back from the Game, in Bosnia, we were all tired, we were hungry, we were thirsty. Outside it was so cold and we made a fire. A girl came and brought us too many sandwiches, so we ate a lot. It was so good- it had ketchup and salad in it."
Crossing the border is extremely dangerous, as Furugh's father explains: "We have tried the "Game" 12 times. It was really difficult. The most difficult part was that children this age need to eat three times per day; in the forest they can only eat once per day. We slept on the floor for 15 nights; there were a lot of animals and mosquitoes there.
"We crossed three rivers. One time, Furugh nearly drowned; one time I nearly did. One time my son fell down from the mountain and his leg was in a really bad way."
Furugh told us how these experiences made her feel scared: "When I sleep I say to myself 'I don't want to be scared at night', but I am scared at night."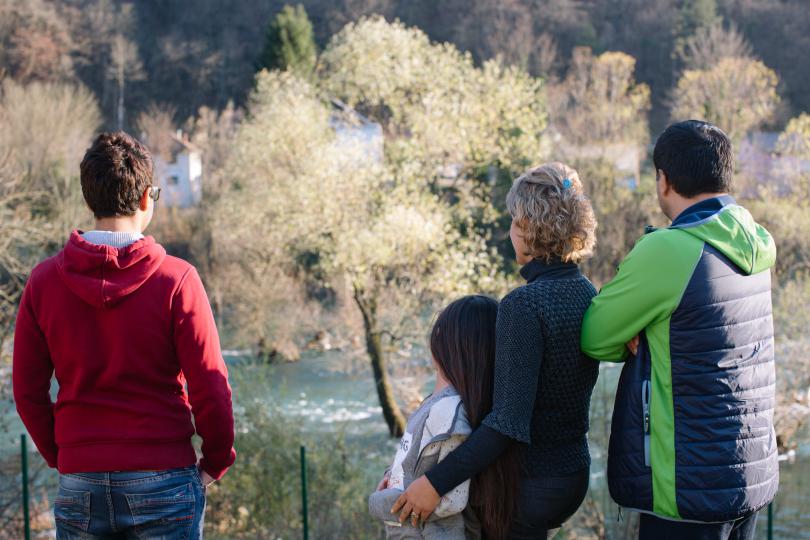 Furugh with her family. Elena Heatherwick / Save the Children
Mona and her family have suffered terribly. But she has sacrificed her home and her life so her daughter can live with freedom: "Lots of people think refugees escape war. War can be a mental and psychological war... We have war but in different ways- we have other types of war and this is one of them.
"I want people to know that whoever immigrants are they have a certain reason, because he/she is ready to leave everything behind and come. I hope my voice will inspire many to bring freedom to Iranian women.
"War means not to let anyone speak, not to let anyone breathe, not to let anyone live the way he or she wants. This is the biggest war because you are dying bit by bit, you are being crushed bit by bit.
"I want my daughter to live with love and experience love. To live with freedom and to achieve what she loves, if she wants to study, to be free to choose the field of study, to be free to experience what she wants, to enjoy life. Nothing forbids her."
Furugh is determined to help others when she grows up: "When I am 21, I will be a dentist...I will share my money with some people, who don't have clothes, who don't have enough food."
How we're supporting Furugh
The refugee camp, known as a Temporary Reception Centre, where Furugh and her family live is run by IOM [International Organisation for Migration, a UN agency], where Save the Children provides the Child Protection teams, and the interpreters and cultural mediators who Furugh has got to know well.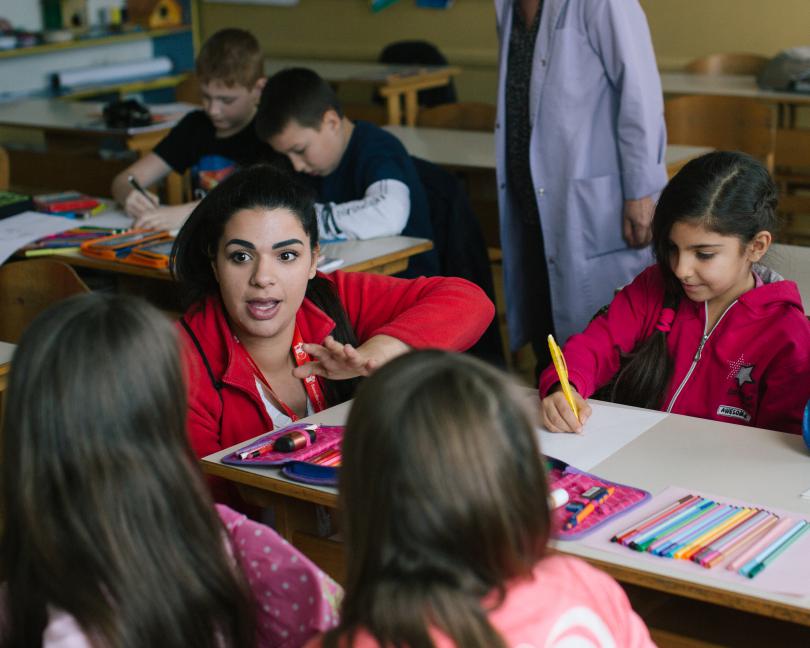 Furugh with Save the Children's cultural mediator Tina. Elena Heatherwick / Save the Children
A school bus provided by IOM picks up Furugh and her friends at the camp and takes her to school and back every day. A Save the Children cultural mediator or Child Protection officer is aboard the bus as well as in the school, and Furugh has developed a trusting relationship with the Save the Children staff who help her.
Save the Children also runs other extra-curricular activities for children in the camp, often in collaboration with partner organisations, such as a Musicians without Borders team of local musicians who run music sessions.
*names changed to protect identity
Related articles
29 September 2023

- United States