A day in the life of Alexa Carreon, Senior Programme Officer, Philippines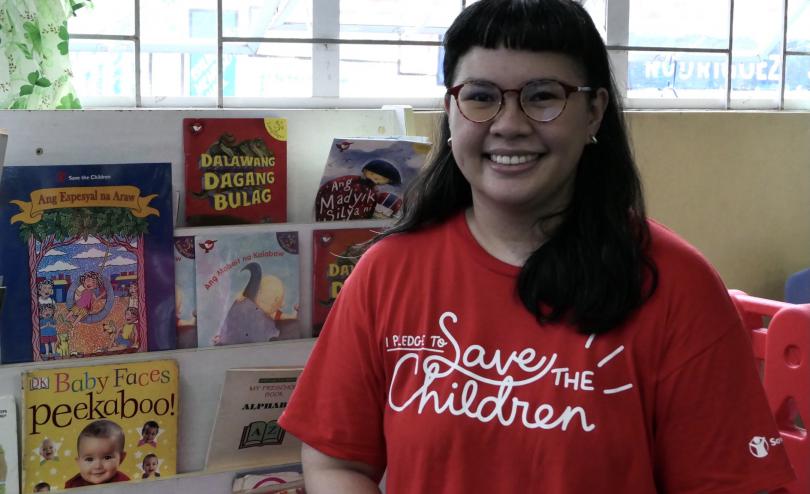 Education protects children from poverty, violence and abuse, and helps them laugh, learn, eat, play and grow. But right now, millions of children living in poorest countries, refugee camps and war-zones have had their basic rights to education snatched away due of the impact of the Covid-19 pandemic.
In the Philippines, over one million children are out of school, deprived of even the most basic education. But your help is bringing hope. Alexa Carreon, our senior programme officer, works closely with out-of-school children in Navotas, Manila, and is dedicated to getting them into education. She shares one of her days…
6:30 am Heavy rain all night and all morning – our wet season has begun. I'm home in Quezon City prepping for my visit to Navotas – a coastal city and an enormous commercial fishing hub – in our National Capital Region.
We run several programmes with trained community volunteers, including Reading Camps, in Navotas' poorest areas to support out-of-school children aged 6 to 12.
Many out-of-school children in Navotas work long days in the fishing industry. The older boys fish with their parents at night until 4am and then the girls clean and sell the fish in the market. Families live in crowded communities in small houses and most of them don't have running water or toilets.
Children's lives are incredibly tough here. I often think of Justin, one of the first out-of-school children I worked with. He started attending our programme in 2018 when he was nine. Justin collects and sells mussels every day to help his six family members. Sometimes he swims deep in the water to collect them. He earns just $4 USD daily. It's no life for a child.
Justin loves reading and learning. He especially likes drawing, which he says makes him happy. At the Reading Camps, the children learn to read, play with other children, and get ready for classroom structure and life. Justin told me he "likes the Reading Camps because they include me".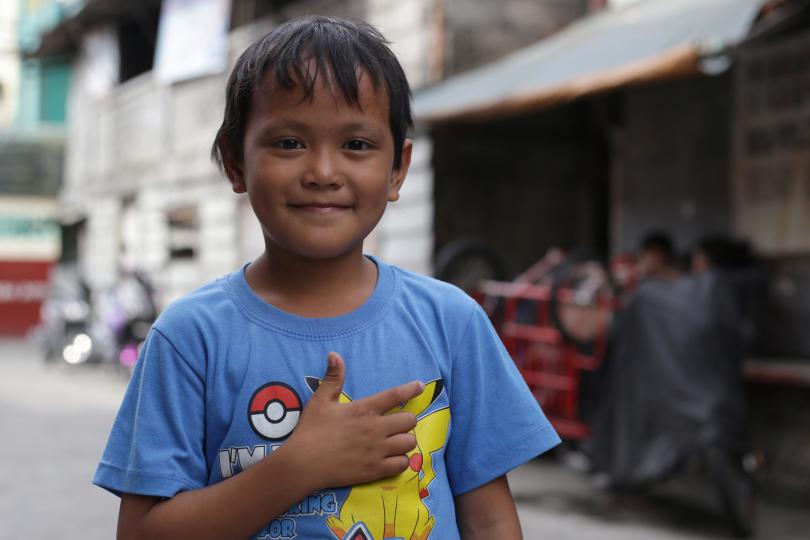 Justin, who loves Reading Camps
It's now raining even harder. I'm hoping there won't be floods in Navotas today. It won't be good for the children we help - the water spreads garbage, releases sewage and clogs drains.
7:30 am Ready to go - I have my umbrella, waterproof jacket, face masks and face shield. COVID-19 is rising again in the Philippines so proper protection is essential.
9:00 am We head north to Navotas. Thankfully the rains haven't flooded the streets. It's good to be going out to communities again. Meeting the children we support and seeing them learn and develop is the greatest part of my job.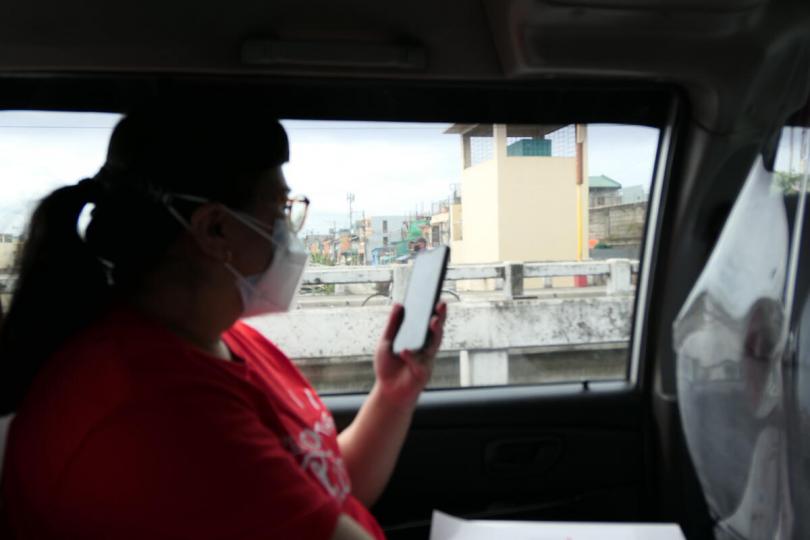 Alexa on her way to community
I've worked with Save the Children for five years and the last year has been the most challenging. COVID-19 has disrupted children's lives and education, and affected how we provide support.
10:00 am We arrive at a community in Navotas. We meet Elvis, a Barangay Captain (community leader), and Judith the Barangay Secretary (local government official). They take us to visit to a house they plan to convert into a child development centre and learning hub for out-of-school children. Our Reading Camps have laid the foundations for this concept.
11:00 am We discuss initial ideas about what we will need for the centre. This includes age-appropriate furniture, areas to store books and other materials to make the space safe and conducive for learning.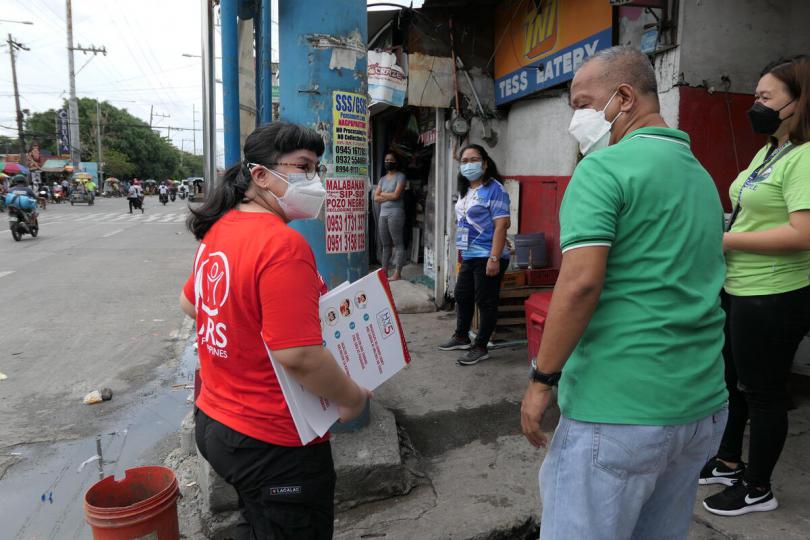 Alexa meets the Community Leader
1:00 pm We meet Jaypee our programme volunteer. She takes us to visit some local families. First, we visit Anna, a mother of three; her youngest child Jonas, 12, attends our Reading Camp. The family live in a one-bedroom house and Anna usually sells bananas for a living, but because of a supply problem, she hasn't sold any for a few weeks. She does her best to tutor her younger children. Their conditions are so difficult – we really admire her commitment.
Then some great news. Anna says she wants to enrol her children in school. We're delighted that our awareness campaigns and education sessions for parents are working.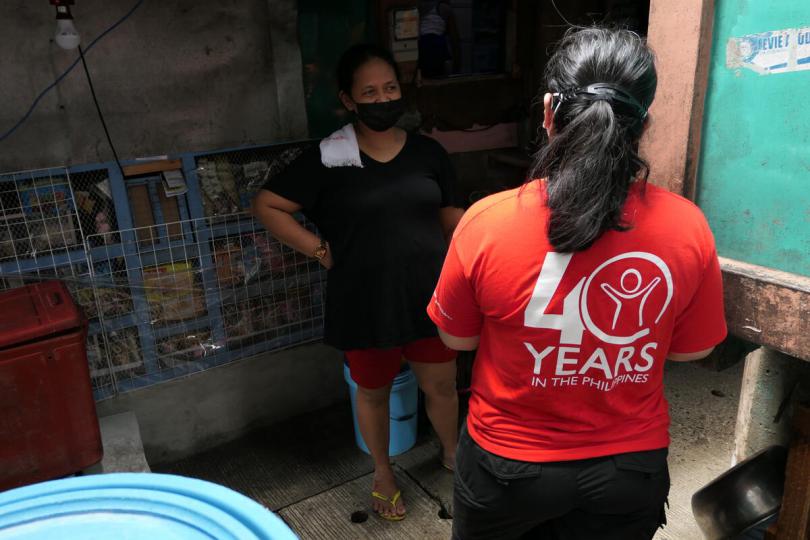 Alexa talks to local families
1:30 pm Next we meet 10-year-old Janelle and her family. Janelle was a keen Reading Camp attendee, before lockdown. Thankfully, our supporters' generosity has helped us provide COVID-19-adapted education materials to support home learning for out-of-school children.
COVID-19 has prompted a boom of online global learning. However, most children don't have access to the necessary gadgets or online platforms. So children in deprived communities, who desperately need an education, are essentially losing their chances for a brighter future. To address this unjust digital divide, Save the Children provides gadgets with pre-loaded educational resources.
We ask Janelle if she has been using the materials. She shyly nods and shows us the mobile phone we gave her last year. She says she uses it so much it's cracked! We tell her not to worry and ask her about her favourite lessons and activities. She says she liked watching the stories, and tries to do the activities afterwards.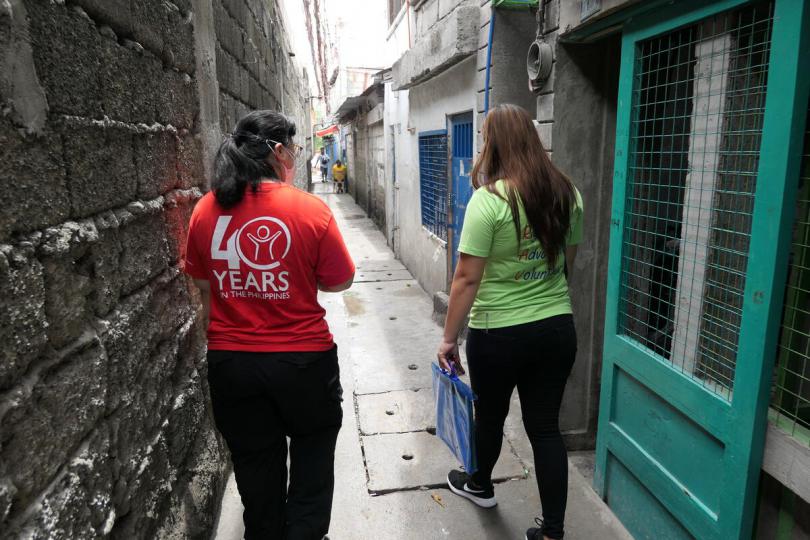 Alexa with the Programme Volunteer
2:00 pm Jaypee gives us questionnaires completed by children who use our services. The questions focus on their thoughts and feelings about COVID-19 and distance-learning. I'm looking forward to reading them; their responses will help us improve the work we do.
4:00 pm Time for the shuttle home. As I look through the window at the heavy rain, I think of Janelle striving to learn with her cracked phone in the poorest of circumstances… And of Jonas, Anna's son, trying his best to learn what he can…
I'm excited for the difference the new learning centre will make to them.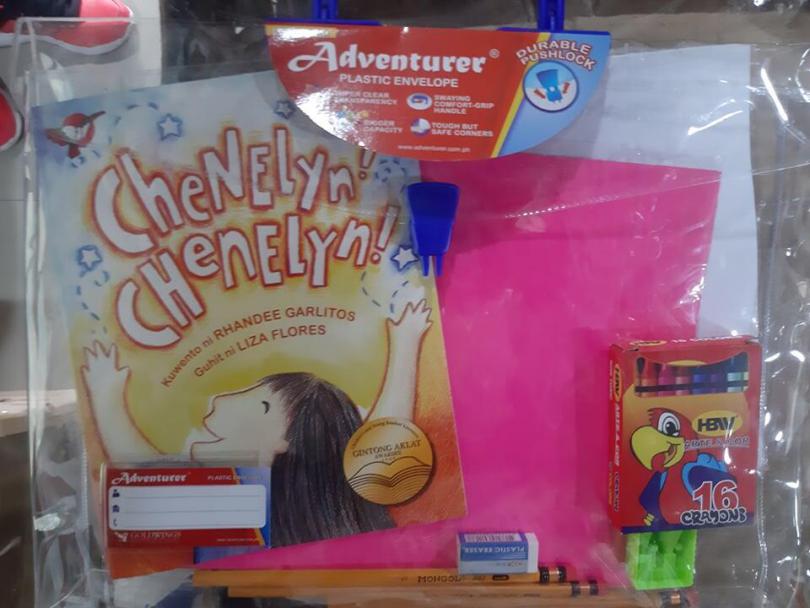 Learning Kits distributed to children in the community where Alexa works