Mary, nurse in Cox's Bazar, tells us why she works for Save the Children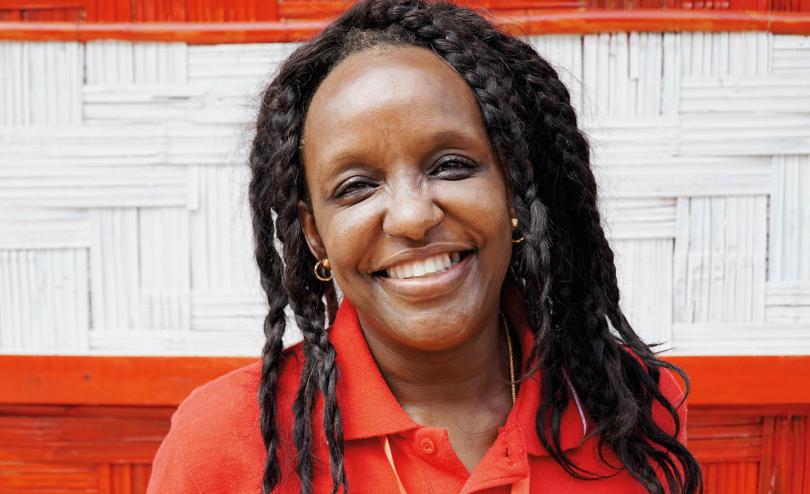 This International Women's Day, we're celebrating our incredible female staff around the world, like Mary Muisyo Syethii. She is a nurse at our COVID-19 Isolation and Treatment Centre in Cox's Bazar.
She works hard to support and treat children in the refugee camp in Cox's Bazar, Bangladesh. It's home to over 800,000 Rohingya Muslims from Myanmar since they started fleeing the violence in their country two years ago.
Mary says that the huge population is what makes the camp vulnerable.
"The water supply, the living population don't have houses that are ventilated. They're semi-permanent and they don't have also proper sanitation places to go into, so this makes the population to be most at risk.
So the facts about (social) distancing, having good ventilation, washing your hands – that will be very tricky because the area is densely populated in a very small piece of land."
She told us, "My personal motivation to work with Save the Children is because they talk to your greatest potential. Most of the time, I mean it's just "here we are". It's a hands-on job so you just have to wade through the uncharted waters and find your way out. So, that's one of the motivation factors."
"Another motivation factor is because [Save the Children's] core value is taking care of the children and that's where we focus most of time, so that encourages me because it enables me also to make these children - who are very vulnerable in our society - to have a life that they could not have. So, that's also one of the values that gives me the motivation."
Since 2020, her job has been made harder by the COVID-19 pandemic. She says, "COVID-19 is not an emergency like any other we've seen in our lifetime, reason being it caught everybody off guard. It has affected all of us – young, old, girls and boys – and that has made the world have this wake-up call knowing that no one is special and no one cannot be affected."
"We really need each other at this moment because at Save the Children we also have a very big responsibility to make sure that the role that we are mandated to do - the role of taking care of these children – that continues. So, we really need our community. We really need our community safe and to make the community safe I need you and I need myself so please join us in this."
"As a humanitarian worker COVID-19 has affected me personally and I can say it has not been easy because I came from Kenya and I'm now in London. I have been in London for the last five weeks.
I've been away from my loved ones it has not been easy staying alone [and] social distancing. A call will never replace a mother. I'm a mother also, so it has really affected me."
Save the Children has deployed its Emergency Health Unit to support the COVID-19 response in the Rohingya refugee camps in Cox's Bazar. The Emergency Health Unit are experts in controlling infectious diseases and have extensive experience responding to deadly outbreaks, such as Ebola, yellow fever, cholera and measles.
Save the Children's response to the COVID-19 outbreak in Cox's Bazar is focused on community-based care and information, a COVID-19 isolation and treatment centre and continuing our existing life-saving health services.
Related articles
27 September 2022

- Ukraine
5 September 2022

- Pakistan