"People are suffering, and we shouldn't turn a blind eye" – Q&A with Young Climate Activist Anuska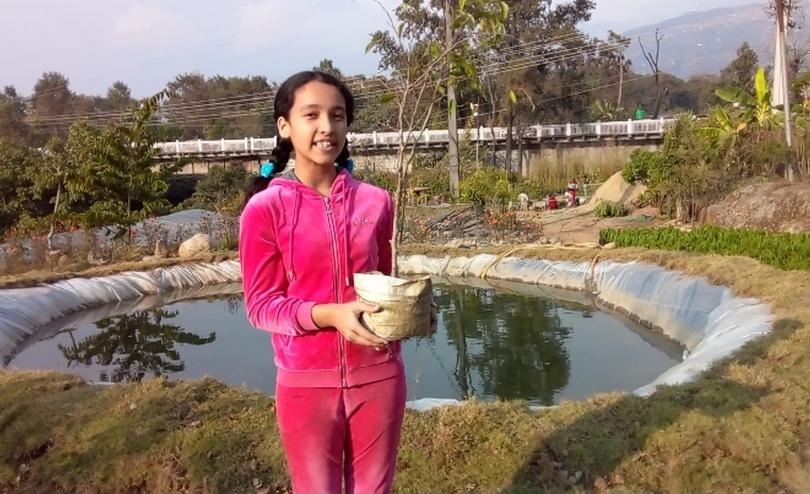 The climate crisis threatens children's lives and futures. Children have contributed the least to it but will be the most affected by its consequences. As the planet continues to get warmer, children face various challenges that could have long-lasting impacts on their health, well-being, and quality of life.
Around the world, children and youth have begun to lead the fight against climate change. From school strikes to online campaigns and habit changes to spreading awareness, young people are making their voices heard and demanding action from governments and communities.
As we stand at the dawn of 2023, it is important to remember that there are still reasons to be hopeful about limiting the impact of climate change, despite all the challenges we are already facing. We spoke to 15-year-old Anuska, a youth climate activist from Nepal who participated in Save the Children's Red Alert on Climate campaign. Anuska shares her climate resolutions, how the crisis has affected her life and her country, and the climate action she wants to see from world leaders.
Tell us a bit about yourself & when you first became passionate about the climate crisis?
Hello, I am Anuska Basnet, a 15-year-old climate activist from Pokhara, Nepal. I am currently in grade 10 and I am both a naturalist and an astrophile.
I am an introvert so I often spend my time reading books under the trees and talking to insects and animals. I have always loved nature, with all of her mystery and beauty. As a naturalist, the sight of trees being cut down breaks my heart, and news of people starving to death, epidemics spreading, forest fires, and the vulnerability of animal species due to climate change makes me even sadder. It is our fault that nature is suffering. So, more than being passionate, I feel obliged to take responsibility for the climate crisis.
Are you involved in climate activism? If so, tell us more about the group and what motivated you to get involved?
I started my climate journey when I was 14 years old. I won a national-level speech competition on the topic "Roles of Children and Youth in Climate Awareness". This was the first milestone I achieved. After that, I have participated in many virtual programmes and have made a number of awareness videos. I have also participated in Climate MUN II as a delegate of Ethiopia, which was my first ever MUN, and it was both fun and enlightening. I learned about the policies made in Ethiopia and also discussed the current issues and strategies other countries have made to eliminate greenhouse gases.
Moreover, I am a volunteer at a non-profit organization called NYCA Pokhara which aims to tackle climate change, and I am also part of Strive2Thrive Edu, where I teach underprivileged students environmental science. As a volunteer with NYCA Pokhara, I am in charge of the Eco-club formation project, which aims to generate environmental consciousness among students.
I also love being a part of Red Alert Climate Activism campaign. It is satisfying to know that our voices are being heard and that my struggle is not going in vain. I believe that one day we can all live happily together with all other living creatures, just like I used to imagine when I was a child.
Do you think climate change has affected you and/or your country? If so, can you tell us how these have impacted children and youth?
Due to climate change, water resources have been affected. Wells drying up have become common in the Terai regions. The flow of rivers has become irregular due to less snowfall in the mountains, and there are times when we run out of water, which has intensely affected our daily life.
Nepal is an agricultural country, so farmers depend on rainwater. When there is acid rain, it affects our health because we have to consume unhealthy food. There is also news about the spread of diarrhoea and cholera due to changes in temperature. Two years ago, my town was infected by dengue, and on top of this, many people have lost their lives due to environmental pollution.
Many lakes have dried out. The silver-white mountains I used to see from my window – Machhapuchhre, Annapurna, Dhaulagiri – have turned into dark grey hill stones. Rainfall in Lomanthang, which is actually a shadow region, is rare. I rarely see house sparrows these days. We have had many floods and landslides, which have submerged and displaced entire communities. This is detrimental for rural people as most of them hold their savings in the form of livestock and land, which are extremely vulnerable to droughts and floods.
What message do you have for governments/leaders regarding their role and responsibility towards addressing the climate crisis?
You are a leader, so be understanding, responsible and kind. We have lives, and you cannot risk our lives for your own greed. Please make wise decisions and follow sustainable development.
There is political instability in my country, and there isn't a constitution that emphasizes on the importance of having sustainable development. I would kindly suggest to the Nepalese government to focus on the just distribution of means and resources. Everyone should be heard, with every minority group, ethnicity, gender, and religion having equal participation when it comes to discussions and decisions around the climate crisis. Leaders should focus on green job opportunities that alleviate poverty and reduce climate change. If possible, education ministers should include environmental science as a separate subject for students of all levels so that we can understand the current situation from a young age.
Developed countries should provide financial support to less developed countries and reduce industrial emissions and invest more in renewable energy sources. They should make electric vehicles tax-free or impose a low tax on their import and export.
What do you see as the role of children and youth in campaigning for climate justice and calling on leaders to take more action on tackling climate crises?
We are the Earth's future. No one can say that we are less than adults. We are fighters, and believers who are doing everything in our power to fight against the climate crisis. We have all heard the name of an 18-year-old climate activist, Greta Thunberg. She has shaken the entire world through her speeches and warnings to politicians, pressuring the government to meet carbon emissions targets in accordance with the Paris Agreement. Not only her but there are also hundreds of other youth and child activists struggling and pressuring their governments to act responsibly.
Our generation is yet to come, and we won't wait for people to snatch our future away from us. We will persuade our parents and elders to adopt lifestyle choices that reduce their own carbon footprint. We will be an inspiration for the upcoming generation, and together with millions of other children and youths, we can actively fight against the biggest challenge of this time – climate change.
What message would you like to share with children and youth globally to inspire them to engage and start taking climate action towards a sustainable lifestyle?
I was once an ordinary child, one who knew nothing about the climate crisis and one who believed that my future was safe. But not anymore. If this situation continues, who knows if we will be able to see future generations, or even ourselves, happily living together. We must demand a secure future for all. We should all be together in this. It is for us, so we should do everything we can to protect it. You all can be superheroes.
Climate change hinders not only our lives but also the lives of other living creatures. Would you want to see your pets or other endangered species die just because they couldn't adapt to the environment? Or see plants dying and drying up in your garden or seeing how your beautiful flowers rotten away? If not, then you must take action towards sustainable living.
It's actually easy.
You just have to avoid plastics and insist that your parents do the same. Using electric vehicles and cycling helps the environment be cleaner and allows you to breathe fresher air. Instead of using devices all the time, you can learn something new or plant some trees. I know kids are really good at demanding things, so they should use this power to push for sustainable living for all of us. As for the youth, we know what's better for us. Even though we are not adults, we know what's good and what's bad for us. The crisis is crystal clear, climate change is not a myth. If not now, then when? And if not us, then who? The best way to predict the future is to create it. So, let's do exactly that!
What are your future plans - how do you think climate crises may impact your future?
The climate crisis is a challenge for all living creatures on Earth. Will we have a future if this continues? I don't think so. Soon, the Earth's temperature will reach a point where we won't be able to handle it. The environmental imbalance will become noticeable when no flora or fauna are left to maintain it.
I am currently trying to live a sustainable life. I use clothes and other alternatives to plastics and encourage my family and friends to do the same. We have a small kitchen garden on the terrace, and we make compost manure from household waste. I have started using ink pens instead of disposable pens made of plastic. I have limited my screen time, and it has been really beneficial. I have been able to read lots of books and stargaze at night. I want to continue living like this and inspire others to do the same.
Felt inspired? Meet other children that are also changing the world - click here
Related articles
5 December 2022

- Afghanistan
24 August 2022

- Poland, Ukraine
15 August 2022

- Afghanistan