Staff Account: "Going outside – every trip could be your last." The story of Olga Shults, Mariupol survivor turned humanitarian.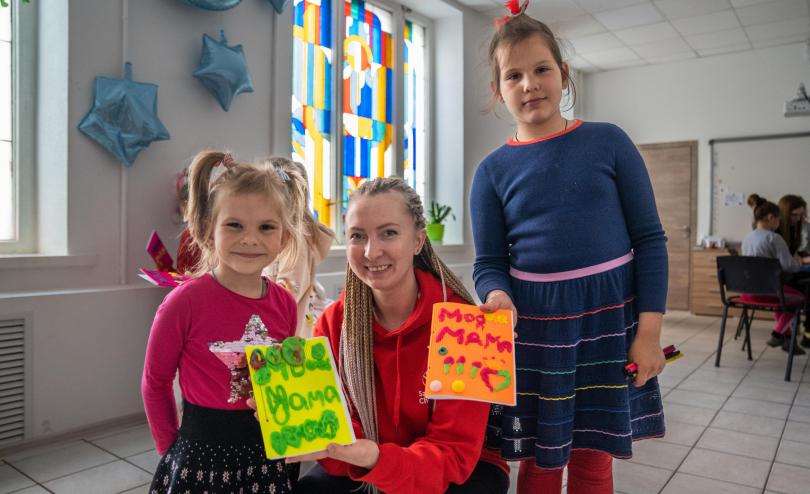 Olga Shults, Save the Children's programme manager, poses for portrait with *Marta (left) and *Lera (right) holding gift cards at Child Friendly Space in Mykolaiv, Ukraine. Oleksandr Khomenko / Save the Children.
Background:
It was probably one of the deadliest places in Ukraine: from April to May last year, the southern seaport of Mariupol was under siege by occupying forces. During the month-long battle, 90% of residential buildings were destroyed, killing over 1,000 people, including 70 children - although the actual numbers are probably much higher.
Save the Children's Olga Shults was one of an estimated 350,000 residents who escaped Mariupol.
Olga's Story
Mariupol used to be a beautiful town before the war, and I was working to make sure it got better every day. As an economist for the city council, I was in charge of a major road reconstruction project and responsible for bringing in more funding to the city, like government grants, so it could develop. 
My colleagues and I had so much confidence that war was not going to escalate – this could not happen in a normal world. On 23 February, we were sitting at the office and joking – what were we going to do if the town ended up under siege?
The following morning, my husband and I were woken up at 5am by explosions. But it was Mariupol – we were 40 kms away from the frontline in eastern Ukraine and you could hear explosions from time to time.
Although it was very noisy outside, my husband went to work anyway. I went back to bed but could not fall asleep. In half an hour my mum called me in tears and said that Kyiv was being bombed. I could not believe it; this could not be so.
I started calling my friends in Kyiv, but no one picked up the phone. At that moment I realised nothing good was going to happen.
I started thinking about how much food I had, and at half past seven, I was in the shop buying produce. It was then when I noticed the situation was spiraling out of control, people were getting anxious. 
Yet, we decided to stay. We had moved into our new house two months before and were reluctant to leave. Also, it was nearly impossible to leave Mariupol from 26 February as people were turned back at checkpoints - it was too dangerous to escape.
So, we brought my husband's mother and sister to my house, where we all stayed.
Initially, unlike many other families in Mariupol, we had enough food to keep going. But then on March 2, the town went back to the Stone Age as everything was cut off – electricity, internet connection, water. On that morning, all the stores were looted, there was hardly anywhere to buy supplies.
The shelling was intensifying by the day. We were living in the cellar, where we would wake up to the sound of explosions. It usually started at 6am - we could check the clock by it. We would hear up to seven explosions at any given hour – bombs, mines, artillery rounds, missiles would not give us a break.  
We tried not to go out of the house at all because we heard rumors that people were getting killed all the time. Going outside – every trip could be your last.  
I remember the night when our street was shelled for the first time - a house 100 metres away burnt to ashes - we never knew if people were still there.  But we realised we had to escape and save ourselves no matter what.
So, on 21 March, 11 cars, including ours, fled the city. As we lined up to the checkpoint on our way out of Mariupol, we saw that the town was on fire. From the top, I saw the entire town burning, literally every building. It turned out that there were more than 2,000 houses destroyed, and all the destruction came within the one month that we were there.
We crossed the checkpoint and there were bodies everywhere. People that were killed. On the road, on the sidewalk, in burned cars; covered or not, buried or not, shot dead. We were driving through a maze of bodies, it felt like it was a driving exam. 
Constant checkpoints and damaged roads meant it took us about two full days to reach Zaporizhzia, which was just 200 kms away.
In the following two months, we stayed in various towns, and finally ended up living in Kyiv. After exactly 21 days in Mariupol, sleeping in a basement without utilities, I was sure we had done the right thing having left because we left hell. No regrets, but I needed something to hold on to, some kind of goal to work on. 
I had no job, but on a sleepless night, I realised I wanted to work for an organisation that helped. I always believed children are our future. All the children are struggling because of war, and children are the least protected. When you see those families and children that Save the Children works with, and that is something that you facilitated, it inspires you. 
There is a story that came very close to my heart. There was a household of two sisters and their elderly father in Mykolaiv. They had lost their jobs and had to bring up two children.
One girl had disabilities, and Save the Children provided the family with cash assistance. With that money, they managed to pay rent, prepare their house for winter, and buy expensive medicine for their daughter.  
One day, I want to have a son or daughter of my own to take care of. My husband and I had been planning to have a baby in 2022, but war spoiled everything. Now, I want to be sure that I have a place to take shelter with my child and feel safe.
Maybe in a year or two I will change my point of view. But I want to feel like I have a home again. Not in Mariupol. Mariupol is the past. Unfortunately.  
Notes:
Olga Shults works as a Food Security and Livelihoods Programme Manager for Save the Children in Ukraine. She is about to launch an initiative in Southern Ukraine that will support the economic recovery of war-affected regions of the country. It will promote social and economic development in areas that have been destroyed during the war.
Support Save the Children's work in Ukraine by donating to our Children's Emergency Fund.