UNCRC@30: Continuing the fight for the rights of every last child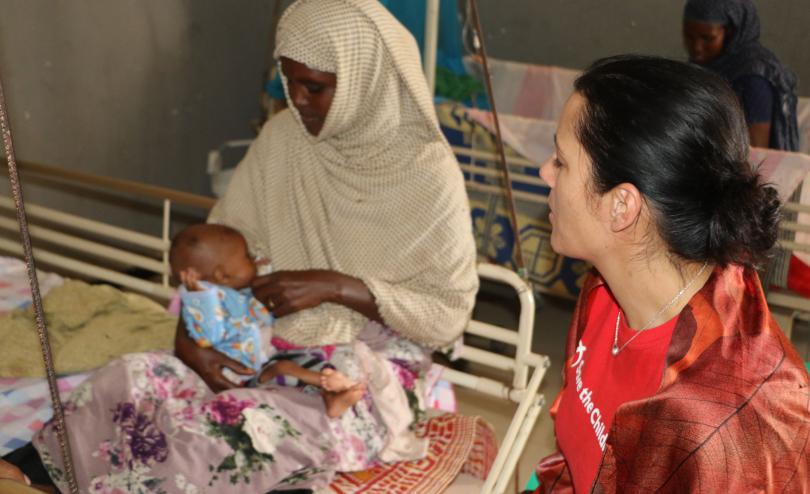 On the thirtieth anniversary of the landmark UN Convention on the Rights of the Child, our CEO, Inger Ashing, reflects on the legacy of our founder and the urgent actions needed to realise the rights of every last child.
I am so glad to be in Geneva today with children from across the world including Bangladesh, Kosovo and the Philippines to mark the thirtieth anniversary of the UN Convention on the Rights of the Child (UNCRC). We know that when children have the space to engage in the processes and policies that affect their lives, they have the power to make change happen. It is their voices, experiences and recommendations for their futures that leaders need to hear most today and every day.
As this anniversary approached, I have been thinking about the example set by our founder, Eglantyne Jebb. Her story is a powerful reminder of the long journey to recognise the rights of children, and an inspiration as we concentrate our efforts to ensure these hard-won rights are upheld.
A hundred years ago - in the shadows of the First World War - over four million children were starving in Central and Eastern Europe. Eglantyne Jebb was appalled and she began handing out leaflets in Trafalgar Square calling for the allied blockade on defeated countries to be lifted. It won't surprise you to learn that she faced resistance. Some people told her to focus on children at home, not abroad. An argument we are all too familiar with today. But she kept going, even after her arrest. Eglantyne went on to found Save the Children and her vision quickly grew beyond emergency responses to making children's rights an essential part of the world order. She argued: "we should claim certain rights for children and labour for their universal recognition".
Eglantyne certainly had impact! She drafted the Geneva Declaration of the Rights of the Child, which was adopted by the League of Nations in 1924. It would later inspire the 1989 UN Convention of the Rights of the Child (UNCRC), which remains the most widely ratified human rights treaty to date.
Adopted at a time of great economic and social change, the UNCRC has spurred on real change for children. We have made so much progress these last 30 years that we can even say that children today are healthier and better educated than at any other point in history. Sadly, this does not tell the full story. Progress has been uneven and unfairly shared. More than five million children every year still die of preventable causes; around 150 million children suffer from malnutrition and 64 million children will not have access to primary education; nearly 1 in 5 children worldwide are living in conflict zones; and 12 million girls under 18 are married each year.
The world in which we live has changed, too. Child rights are under increasing threat. Conflicts are lasting longer. International cooperation is weakening. Aid budgets are shrinking. Space for civil society is diminishing. The climate emergency is at the point of no return. Each of these trends, which we see in the headlines every single day, represents a direct threat to the progress made in championing and protecting the rights of children.
It's a bleak picture, but let us draw on the lessons learned over the last thirty years to prepare for the fight that lies ahead to realise the rights of all children. While there are still gaps, we now have better data than ever before, as well as an incredible wealth of expertise on child survival and a well-established child rights community.
To stop the daily violations of children's rights, we still need governments to act.
While we are encouraged by those governments who will use today's anniversary to pledge to do more at home to progress and deepen their implementation of the UNCRC, it is not enough. We urgently need to see all governments commit to ambitious and concrete actions that will reach those children left furthest behind.
We also need governments to remember that their commitments to the UNCRC go hand in hand with their promise to deliver the Sustainable Development Goals (SDGs) by 2030; the SDGs and our ambition to leave no-one behind will not be met without the implementation of the rights of all children, and vice versa.
Organisations like ours will continue to support governments across the world in their efforts to guarantee and uphold the rights of children. On behalf of Joining Forces - a coalition of the six child-focused agencies - I will set out our joint commitment to child rights at the UN in Geneva today.
We pledge to:
Hold governments accountable to make sure they take concrete steps to implement the UNCRC.
Advocate for the realization of all children's rights, making sure we reach those left furthest behind first.
Increase opportunities for children's direct and meaningful participation from national to global level.
As we mark 30 years of UNCRC, let us face up to the challenge ahead and take the concrete and accelerated actions needed to uphold the rights of every last child.
To find out more, you can read our press release on 'Millions of vulnerable children at risk as governments fail to renew pledges to protect their rights' here.
Related articles
8 December 2023

- occupied Palestinian territory
6 December 2023

- Türkiye