Voices from the frontline: Child survivors of Mozambique cyclones speak of trauma and recovery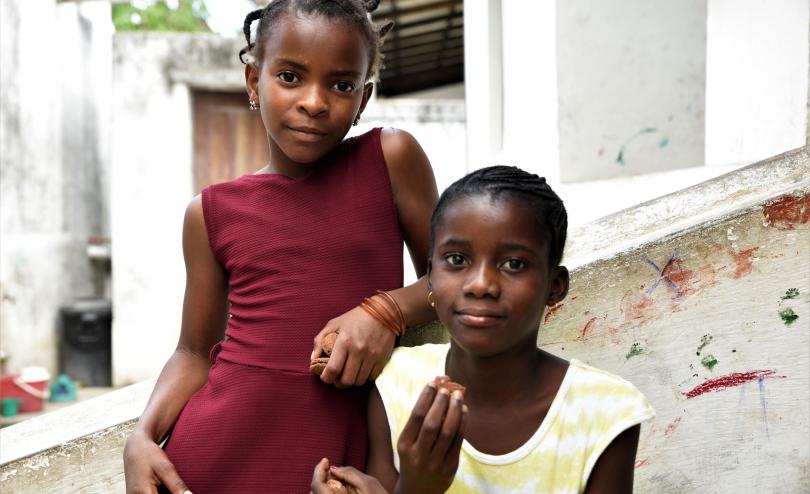 Elina (11), left, and her best friend Faria (12), right, near their homes in Cabo Delgado region in northern Mozambique. Elina's house was badly damaged and Faria's house was completely destroyed when Cyclone Kenneth hit her village in April 2019.
You can find the Podcast on Contenthub, with content on Elina* and Faria*.
The podcast is also available on iTunes and Spotify
Powerful first-person testimonies from 10 child survivors of Mozambique's two devastating cyclones feature in a new podcast launched today by Save the Children.
The 35-minute podcast paints a terrifying picture of the force of the cyclones, vividly describing how children felt their lives swept away – and the ongoing struggle to rebuild them.
The podcast features climate scientist Gunilla Svensson from Stockholm University, who discusses the links between the cyclones and the wider climate crisis, and the likelihood of future climate shocks for Mozambique and the region. According to Svensson, the increased intensity of the cyclones in Mozambique was directly in line with scientific forecasts on climate change.
At least 603 people died and 1.5 million people were affected in Mozambique following Cyclone Idai, which hit Mozambique, Zimbabwe and Malawi in March 2019. Six weeks later, the country was battered by Cyclone Kenneth, which killed an additional 45 people and affected a further 280,000 people in northern Mozambique[i]. The storms were the strongest cyclones ever to hit the African continent. It's also the first time in Mozambique's recorded history that two strong tropical cyclones have occurred in the same season[ii].
For children in the storms' path, the impact on their everyday life was dreadful, as they tell in the podcast by Save the Children.
Faria, 12, was at her home in Ibo Island when Cyclone Kenneth hit:
"My house collapsed pretty much immediately… I saw people running around. Roof sheets flew around in the air. It was dark even though it was during the day. I was sad because I thought everyone would die. At Sandra's house, there were several children and mothers inside. We were all scared and asked each other over and over again: WHY is Cyclone Kenneth here? When the roof started to drop from the house it sounded like gunfire. Then I saw the sky and finally the roof came loose and flew away. It was raining down on us."
Elina, 11, was at home when cyclone Kenneth hit her village. She recalls:
"At two o'clock the winds became stronger and stronger. The clouds were really dark. The water in the sea started to get really high. People started running back and forth. I was in our house. I heard the wind and the roofs breaking outside. My sister lived in the house next door. Her house collapsed."
Ali, 8, lost his home in Cyclone Idai, and is grappling with the prospect of future disasters:
"I'm afraid it will come back. That my house will collapse on top of me and that people will die. I also wish that everyone who had their houses destroyed could have new houses so that they could live as they did before the cyclone."
Save the Children was one of the first agencies on the ground responding to cyclones Idai and Kenneth. It launched a major response which included education support and setting up schools, food distributions, supporting families with rebuilding their lives and livelihood, and child protection through the establishment of dozens of child friendly spaces where children can play, recover and learn. Also, Save the Children helped to make sure families had access to clean water, sanitation and housing. To date, the organisation has supported over 400,000 people, of whom over 240,000 are children.
Related articles
5 December 2022

- Afghanistan
24 August 2022

- Poland, Ukraine
15 August 2022

- Afghanistan