Children may be forced to flee again as Idlib offensive looms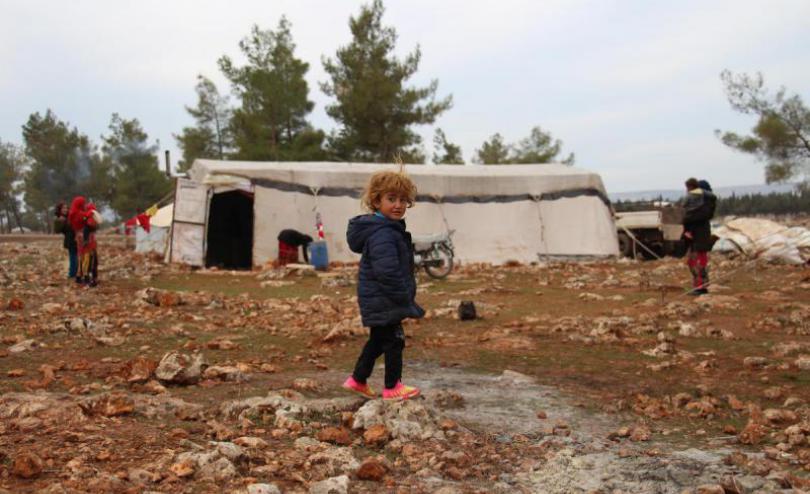 Hundreds of thousands of Syrian children who have already been forced to flee their homes once are facing a second devastating onslaught amid reports that preparations are being made for an offensive on Idlib province.
Many children who suffered loss and trauma during earlier attacks on Eastern Ghouta, East Aleppo and other hot spots sought refuge in Idlib, only to find that they are now at renewed risk from a potentially deadly escalation of the conflict.
A measure of the impact on children came in a recent survey of primary school students in Syria which found that over 80% across the country felt anxious, worried, or stressed. The majority had seen a shelling or bombing and nearly half the students interviewed had seen people wounded in the conflict.*
Children who should be receiving help to recover in the North-West Syrian province of Idlib are instead facing renewed airstrikes and violence in a possible prelude to an offensive.
Humanitarian agencies are already struggling to respond to the needs of the estimated 3.9 million people in Idlib province and surrounding areas. Almost half of them have already been displaced during the brutal seven-year conflict, often arriving from areas such as Eastern Ghouta with almost nothing.
Save the Children International CEO, Helle Thorning-Schmidt, said:
"We are deeply concerned for the hundreds of thousands of children in Idlib. Any offensive there could have devastating consequences for these children, about half of whom have already had to flee their homes in other parts of Syria.
We know that 2017 has been the most deadly year for children in Syria**. In just the first four months of this year, nearly a million people were displaced - the highest level of the conflict. Two out of every three children have lost a loved one, had their house bombed or shelled, or suffered war-related injuries. Many are also suffering from severe 'toxic stress'.***
"During seven years of war these children have seen and experienced things that no child ever should. Places that should be safe like schools, hospitals, houses and playgrounds have all come under attack. We fear that the same will now happen in Idlib if the warring parties do not pull back from the brink.
The lives of Syrian children living in Idlib province must be protected at all costs. We call on all parties to do everything in their power to protect children. They must uphold their obligations to ensure children and other civilians are protected, and work together to reach a negotiated solution to the crisis in North-West Syria that spares further suffering. Schools, hospitals andother civilian spaces must never be targeted. It's time for the suffering of Syrian children to end."
Save the Children's programmes in education, protection, health and nutrition, water, sanitation and hygiene have reached over two million children in Syria and in our responses across the region.
For interviews with spokespeople in the region, contact Miya Tajima Simpson on +962 799662716 /Miya.Tajima-Simpson@savethechildren.org or call the out of hours media phone on +44 7831 650409
Notes to Editors
*Status of Early Primary Education in Syria: War Stressor Survey, September 2017 (DFID)
**UNICEF - https://www.theguardian.com/world/2018/mar/12/2017-deadliest-year-of-syrian-war-for-children-says-unicef-psychological-ruin
***https://www.savethechildren.org.uk/content/dam/global/reports/emergency-humanitarian-response/invisible-wounds.pdf