Children in nearly 30% of households impacted by Türkiye's earthquake miss out as school year starts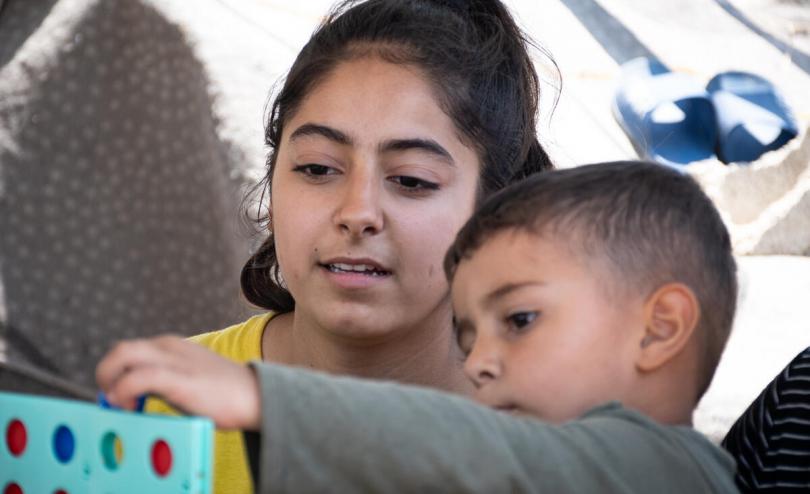 Dilek*15, and Cem*3, playing a board game
ISTANBUL, 11 Sept 2023 – Nearly three in every 10 earthquake-affected households assessed across Türkiye reported having no access to education[1] seven months after February's disaster as classrooms opened for the new school year, said Save the Children.
As the first academic school year kicks off following the devastating earthquake on 6 February, UN data shows that access to education remains a major obstacle with children in 27% of affected households missing out on education.
For Turkish citizens, 21% said that none of their children are attending school and 20% cited financial constraints as the biggest reason.
Even for families whose children are in school, one-third said that tight finances were their biggest challenge after the earthquake. The earthquake disrupted the education of nearly 4 million children in Türkiye - about 1 in 6 - including 350,000 refugee and migrant children[2].
In Türkiye, 1,842 educational facilities were totally destroyed and 637 were damaged[3]. The magnitude 7.8 earthquake killed over 56,000 people in Turkiye and Syria and is likely to be one of the deadliest of the decade. About 138,000 people were also injured - many of whom were children.
Summer school programmes were launched in some areas to help children catch up on crucial learning they missed during the initial months after the earthquakes, but gaps remain.
Dilek*, 15, from Antakya, Hatay Province said:
"Because of the earthquake, we had to take a break from school. If I had a magic wand, I would like to renew this life completely ... where there are no bad events… where I go to school."
Save the Children is supporting children and their families in some of the worst affected provinces in Türkiye to support the national response with existing and new partners. So far, we've reached nearly 330,000 people, including about 170,000 children.
In preparation for the new school year in the earthquake-affected areas, Save the Children has been distributing learning materials for students and teachers, rehabilitating schools, and providing mental health support for children.
*Indicates name has been changed
*******************************************************************************************************************
For further enquiries please contact:
Soraya Ali (based in London): Soraya.ali@savethechildren.org
We have spokespeople available.
Our media out of hours (BST) contact is media@savethechildren.org.uk / +44(0)7831 650409