Children raise funds for Ukraine with carpentry, surfing, virtual concerts and more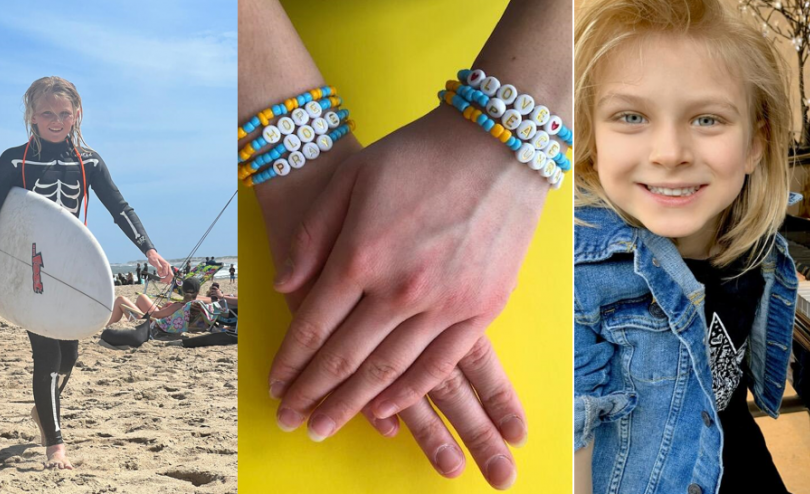 LONDON, 8 June 2022 – From carving wooden bowls to surfing the Atlantic Ocean every day no matter the weather, children are using their passions to raise funds for young people impacted by the war in Ukraine.
Since 24 February, the devastating conflict has dominated the world's headlines and led to an outpouring of generosity, with children using their own initiative to help children in Ukraine and those seeking refuge in other countries.
According to research from Save the Children, children in the UK are wanting to do more to help other children across the world in response to the war in Ukraine and the COVID-19 pandemic, with an 80% increase in young fundraisers this year.
Gabriel, 12, from Cumbria in the UK, used his love of woodworking to raise more than £250,000 (about US$312,600) for children in Ukraine. Gabriel went viral online in March after his dad posted a Tweet asking people to follow his son's woodwork Instagram account, which only had six followers at the time. The young carpenter originally planned to sell his wooden bowls to fund a new mountain bike, but decided to use his newfound fame for good when his Instagram following jumped to a quarter of a million people and he received over 20,000 commissions.
Gabriel explained that he wanted to carve one wooden bowl etched with a blue and yellow ring, the colours of the Ukrainian flag, to raise money for Save the Children's Ukrainian appeal. More than 14,000 entered the raffle to win the wooden bowl.
"When I first got all these followers, I had commissions for over 20,000 bowls! We worked out that would take me about 32 years, but I wanted to do something to respond because everyone had been so supportive and I wanted to share the kindness," said Gabriel. "I thought of making just one special bowl and making a raffle. The war in Ukraine has been worrying me and I wanted to help children which is why we chose Save the Children to support."
Tessa, 11, from Connecticut, USA, raised US$2,000 by baking and selling apple tortes. After hearing about children's hardships in Ukraine, Tessa used the baking business she started during quarantine, T Cakes, to make a difference.
"I saw on the news how children had to hide in bomb shelters, and I found that very heartbreaking," said Tessa. "I thought my baking business would be a good way to raise money. Helping others is a gift, not only to them, but to yourself, knowing that you are doing good for the world."
Max, 8, from Toronto, Canada, raised more than CAD$7,100 (about US$5,640) by hosting two virtual concerts on social media where he sang and played the piano for the children of Ukraine. He explained that he is incredibly proud that so many people from across the country were willing to listen to his music and donate to his fundraiser for Save the Children.
"It is very important to me to help children because I am a child too. It is very unfair and very sad that children have to suffer. Children should always feel safe, especially in their own home," said Max. "To see the images on the news breaks my heart and makes me emotional. This is why I had to help in any way that I could."
Carter, 11, has been surfing waves off the coast of the US state of New Jersey every day since the war escalated in February, raising more than US$1,000. Carter has surfed for more than 740 consecutive days for various charitable causes. The young athlete explained that he decided to raise funds for children in Ukraine after seeing a story on the news about a little girl who was killed in the conflict.
"It made me feel sad that kids my age were getting hurt and had to leave their houses. I told my mom I wanted to raise money for the kids in Ukraine," said Carter. "I would like for the kids in Ukraine to feel safe and be able to go back to their houses and pets and schools."
Grace, a 7th-grader from Minnesota, USA, raised more than US$3,300 for children in Ukraine through her love of jewellery making. She sold handmade bracelets in the colours of the Ukrainian flag with words of inspiration. Within just one week, Grace had made 223 bracelets and raised US$502 for Save the Children.
"My advice to other children who want to help is to do whatever they can," said Grace. "A little can go a long way. They could set a goal and try their best to reach it. Just never give up, and try your best."
Inside Ukraine, Save the Children and local partners are providing shelter, food, cash, fuel, psychological support, and baby and hygiene kits to displaced families. The aid agency is also on the ground, distributing essential household kits to families affected by the conflict.
Save the Children has been operating in Ukraine since 2014, delivering humanitarian aid to children and their families. It is now supporting refugee families across Europe and helping children to access education and other critical services.
ENDS
Notes to Editor
According to a Save the Children survey of 5,171 children aged 7-14 years old based in the UK, conducted by insights consultancy Beano Brain in May 2022, children surveyed have given or raised money for a charity five times in the past two years, with a third (31%) of children becoming more charitable in response to COVID-19 and wider world conflicts. The research also found that almost four in five (79%) of 7–14-year old's wish they could do more to help.
Save the Children UK has seen community fundraising increase tenfold throughout the pandemic and the current Ukraine crisis. Overall, people fundraising for the charity is currently up by 229% compared to 2021 and there has been an 80% increase in young fundraisers wanting to help children across the world.
*******************************************************************************************************************
For further enquiries please contact:
Sam Halyk Samantha.halyk@savethechildren.org
Our media out of hours (BST) contact is media@savethechildren.org.uk / +44(0)7831 650409
Please also check our Twitter account @Save_GlobalNews for news alerts, quotes, statements and location Vlogs.