Children in Yemen face highest risk from landmines and explosive devices in at least five years: Save the Children report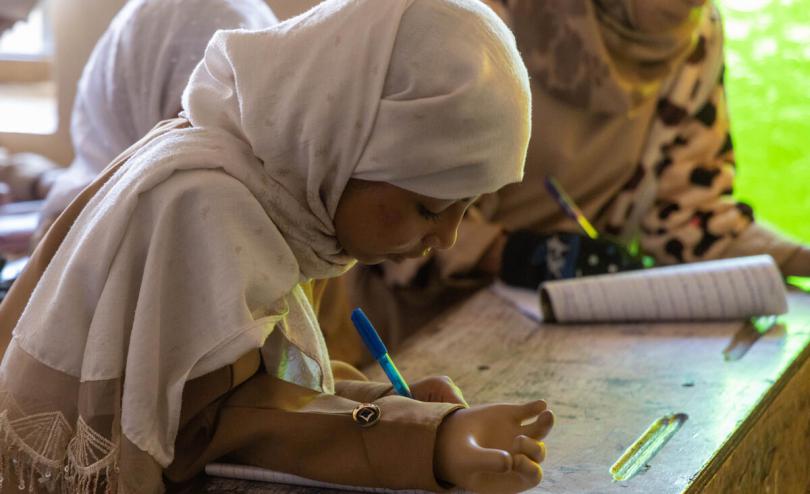 Maha*, 10, pictured at school with her prosthetic hand after being severely injured by a landmine while collecting firewood with her 16-year-old sister, Maya*, in Taiz, Yemen
[Al-Baraa Mansoor / Save the Children]
Child casualties from landmines and explosive devices increased eight-fold in proportion from 2018 to 2022, according to new Save the Children research
One child has been killed or injured on average every three days for the past five years by landmines and other explosive devices
Child casualtiesfrom landmines and other explosive devices increased during the truce in 2022, highlighting the deadly legacy of the conflict
As Yemen enters its ninth year of war, Save the Children calls for immediate action to protect children from these deadly weapons
Full content package, including a case study of Maha and Maya and a VLOG from Jihad, can be found here
SANA'A, 23 March 2023 – One child was killed or injured on average every two days in Yemen last year by landmines or other explosive devices, the highest rate in five years, according to a Save the Children report that calls for immediate action to protect children from these deadly weapons.
A study, titled 'Watching Our Every Step,' analysed data from January 2018 to November 2022 and found that children in Yemen are facing the highest risk in five years of encountering landmines and unexploded ordnance (UXO)—weapons that failed to detonate such as artillery shells, grenades, mortars, rockets and bombs.
For while direct child casualties from armed violence, such as airstrikes, shelling or crossfire, have decreased overall in Yemen since 2018, child casualties caused by explosive devices have risen - from an average of one every five days in 2018 to one every two days in 2022,with years of conflict littering the country with landmines and unexploded ordnance.
Child casualties from landmines or unexploded ordnance rose to 199 in 2022 – or 55% of overall children casualties – compared to 68 in 2018 which was 7% of overall child casualties, rising as families returned home during a six-month UN-brokered truce to contaminated land.
Children in Yemen are at risk of encountering landmines and explosive remnants of war while engaging in everyday activities such as playing, collecting firewood and water, and tending to livestock and they may lack the experience to identify or avoid them.
According to Save the Children's analysis, almost half of all landmine and explosive remnants of war incidents involving children were deadly.
Maha*, 10, from Taiz, stepped on a landmine while collecting firewood with her sister last October. Even though Maha was rushed to the hospital for surgery, she lost her left eye and had her right hand amputated. Her sister Maya*, 16, was covered in shrapnel and badly injured both legs.
"If I could make a drawing about war, I would draw people with amputated hands and legs, injured eyes, injured arms and legs, and people walking with crutches," Maha said.
The report also found the proportion of child injuries and deaths caused by these explosive devices increased during the six-month UN-brokered truce last year As people returned home to areas that had been battlefields.
"As the country enters its ninth year of conflict, this report is a stark reminder of the devastating impact the war is having on children, Yemen's most vulnerable population,"said Save the Children's Deputy Country Director for Yemen, Ashfaq Ahmad."The fact that more and more children are being killed and injured by landmines and other explosive remnants of war is a damning indictment of the parties to the conflict who continue to use these weapons."
Decades of repeated armed conflict since the early 1960s have left behind a deadly legacy of explosive devices in Yemen, posing a constant threat to children's safety, particularly in rural areas.
Yemen is ,however, credible estimates of the exact level are unavailable due to a lack of capacity, funding, equipment, and access for survey teams.
With the health system is on the verge of collapse and few qualified rehabilitation specialists in Yemen, children injured by these deadly weapons do not have access to the long-term care needed to recover their mobility, return to school, and reintegrate into community life.
Children living in displacement camps are more at risk of getting hurt by explosive devices due to a lack of mine risk education and being in areas at high risk of floods. Out of the 194 child victims of landmines and other explosive devices Save the Children supported between 2020 and 2022, nearly one in four were internally displaced.
Jihad, a psychosocial specialist volunteer with Save the Children in Taiz, stepped on a landmine several years ago and now has a prosthetic leg. He uses his own experience to help reassure children like Maha and Miya that they will still be able to do anything they set their mind to.
"We enrolled the sisters in our psychosocial support program," said Jihad. "Throughout the weeks following the incident, I made sure their family was fully aware of the different phases of the physical, emotional, and psychological struggles that the girls would be facing and provided guidance on how to deal with each of them... My work with Save the Children is focused on helping children like Maha and Maya overcome these challenges and restore their confidence."
Most common child injuries treated by Save the Children included amputation of upper or lower limbs and hands, as well as loss of sight and hearing. In some cases, incidents led to permanent disability due to shrapnel and injuries to the spine.
Apart from physical injuries, children also reported the psychological distress they endured following explosive incidents, including trouble sleeping and daily fear and anxiety.
Save the Children is calling on all parties to the conflict to take immediate action to protect children from these deadly weapons. This includes ending the use of mines, clearing mined areas, and raising awareness of the risks among communities to prevent further tragedies.
The child rights organisation is also calling on all parties to the conflict to comply with International Humanitarian Law, avoid the use of explosive devices in populated areas, and guarantee humanitarian access.
"We cannot continue to stand by and watch as children's lives are torn apart by these horrific weapons" said Ashfaq Ahmad. "The situation in Yemen is truly horrific. All parties to the conflict must prioritise the protection of children and ensure that they are no longer exposed to the risks posed by landmines and other explosive devices."
Save the Children is urging donors to fully fund Yemen's Humanitarian Response Plan of US$4.3 billion, resource and mainstream mental health and psychosocial support for child victims and hold perpetrators to account for their actions.
Save the Children has been working in Yemen for 60 years, implementing a wide range of programmes in education, child protection, health and nutrition, water and sanitation, and emergency response across most of the country Save the Children Yemen provides medical care and assistive devices to child victims of explosive devices, including landmines as well as services such as psychosocial support, cash assistance, and referral services.
ENDS
*Names changed to protect privacy
Full content package, including a case study of Maha and Maya and a VLOG from Jihad, can be found here
NOTES TO EDITOR:
Save the Children's analysis shows trends in child casualties from landmines and unexploded ordnance during the period January 2018 to November 2022, including before, during, and after the UN-brokered truce from April to October 2022. The findings rely on original analysis of data collected by the Civilian Impact Monitoring Project (CIMP), interviews with nine humanitarian mine action experts, and surveys conducted with 13 children from Taiz in January 2023. This included nine girls and four boys, aged between seven and 17, who had directly experienced a landmine or explosive ordnance incident. Interviews were conducted by local social workers trained in psychosocial support to ensure the safety and wellbeing of the child.
Unexploded Ordnance (UXO) - Explosive ordnance that has been primed, fuzed, armed or otherwise prepared for use or used. It may have been fired, dropped, launched, or projected yet remains unexploded either through malfunction or design or for any other reason.
Explosive Devices in this PR refers to landmines and remnants of war, such as unexploded ordnance.
We have spokespeople available. For further enquiries and interview requests please contact:
Randa Ghazy: randa.ghazy@savethechildren.org
Our media out of hours (BST) contact is: media@savethechildren.org.uk/ +44(0)7831 650409