Ethiopia: Measles and cholera outbreaks pose deadly threat to already malnourished children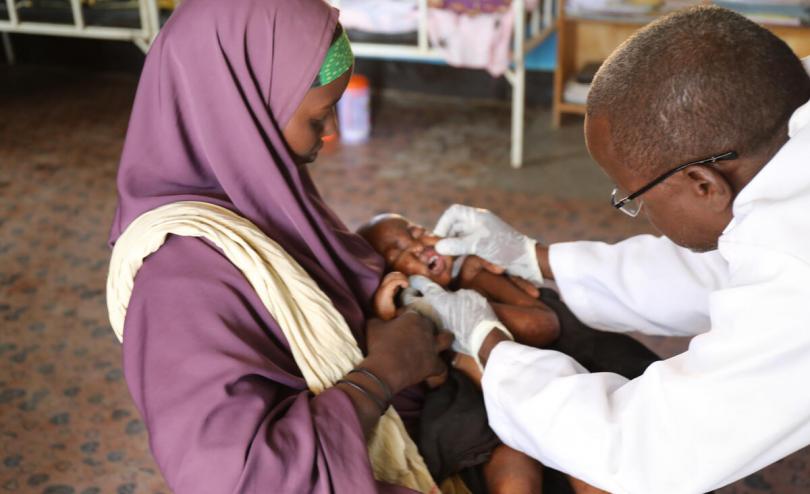 Stabilization Centre Nurse at Kelafo Health Centre examines Ayaan* 19 months, who is suffering from severe malnutrition and other complications, credit Asseged Seifu/ Save the Children
ADDIS ABABA, 2 February 2023 - Children are facing a growing risk of disease as cholera and measles outbreaks tighten their grip on Ethiopia, raising fears for the many vulnerable children already suffering from malnutrition, Save the Children said.
A cholera outbreak is affecting the Oromia and Somali regions, with at least 1,055 cases reported, including 28 deaths, since September 2022. In the past month alone, more than 316 cases have been reported in the two regions, a 30% jump from 739 cases at the end of December 2022, with one million people at risk of the disease in the two regions.
Spikes in measles cases have also been reported with 357 new measles cases and 6 deaths reported in the last week of January alone, according to health authorities.
A deadly combination of severe water shortages, poor hygiene and sanitation services, including open defecation and lack of water treatment options are driving the rapid spread of cholera, with severe drought exacerbating the situation.
As taps run dry, many families struggle to get clean water for use at home. Health authorities have pointed out that more than 80% of patients admitted for cholera were found to have consumed river water. In Ethiopia, more than 13 million people including 6.8 million children are in dire need of safe water. The situation is likely to get worse as the country enters the January-March dry season. Forecasts predict that rainfall in the upcoming rainy season in April will be below average.
Last month Save the Children said back-to-back droughts caused by five failed rainy seasons have left 12 million Ethiopians facing hunger as conflict and forced displacement exacerbate the hunger crisis in the country. This is also causing widespread malnutrition with 3.9 million children in Ethiopia severely malnourished– accounting for around half of people suffering from malnutrition across the whole of the Horn of Africa.
In the Somali and Oromia regions of Ethiopia, distraught mothers are arriving at Save the Children's malnutrition stabilization centres with children showing severe symptoms and complications caused by malnutrition.
Hodan* lives with her husband and four children in the Somali region. Her husband is currently working as a farmhand back in their village after being edged out of his pastoralist lifestyle by the ongoing severe drought.
In the last four months, Hodan* told Save the Children, she has lost 3 goats and 3 camels leaving her family without a source of income and nutrition. This has left her struggling to feed her family including her 19-month-old daughter, Ayaan* who is suffering from the deadliest form of malnutrition. Ayaan* has been admitted to Stabilization Centre at Kelafo Health Centre, where she will receive life-saving therapeutic feeding treatment. Hodan* says:
"I am not able to feed my children because of drought and we don't have any money. We used to keep animals but we have lost all of them. My child has been sick for one month. When I saw the child is getting worse I decided to take her to the nearest health facility where I can get medication. That's why I came here."
By mid-January this year, Kelafo Health Centre had admitted 18 children suffering from severe acute malnutrition, 3 more children than it admitted the whole of January 2022 and pointing to a worsening situation in Ethiopia.
Save the Children's Country Director for Ethiopia, Xavier Joubert, said:
"We know babies like Ayaan* are particularly susceptible to cholera and measles during droughts because malnutrition lowers the body's defences, making children more vulnerable to the diseases and their complications. In Ethiopia, more than two-thirds of cholera patients are children. We are concerned that most of those who have died from cholera are children under the age of 14, with 25% of them under five. We are calling for more funds to provide food, water and health services to affected communities.
"It's clear that the current drought is contributing to these disease outbreaks and we are worried this is going to have severe consequences for children already battling malnutrition. We urgently need to ensure that every child has access to safe drinking water and adequate sanitation."
Save the Children has been operating in Ethiopia for over 60 years and was amongst the first respondents to the humanitarian crisis resulting from the conflict in the northern part of Ethiopia, while continuing humanitarian assistance to the prolonged humanitarian crises in Oromia and Somali regions. The organisation's work is heavily anchored on health and nutrition as well as life-saving water and sanitation assistance, protection services, education support, and cash and in-kind distributions to the most vulnerable children and their families.
In 2022, Save the Children reached 7,574,882 people including 5,140,968 children through lifesaving food, water distribution, treatment for malnutrition among other services.
Notes to Editors
*Names changed to protect identities
Data on measles and cholera cases according to Ethiopian Public Health Institute latest reports.
For further enquiries and media spokespeople please contact: delfhin.mugo@savethechildren.org
Our media out of hours (BST) contact is media@savethechildren.org.uk/ +44(0)7831 650409
Please also check our Twitter account @Save_GlobalNews for news alerts, quotes, statements and location Vlogs.