Europe: Millions welcomed from Ukraine while 1 out of 50 refugees entering via Mediterranean dies or goes missing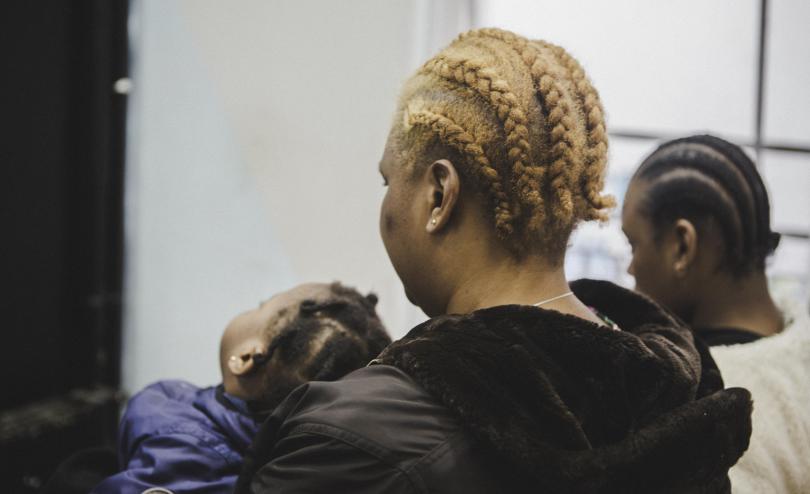 A 35-year-old mother of two from DRC, now living in Greece as a refugee (Anna Pantelia / Save the Children)
BRUSSELS/LONDON, 14 February 2023 – One in 50 refugees and migrants dies or goes missing on Mediterranean routes into Europe and children face violence and inhumane conditions on arrival, according to a new report by Save the Children.
At the same time, European countries and the EU have demonstrated that these deaths and mistreatment of children are not inevitable in the welcome shown to child refugees from Ukraine in the last year.
With safe and legal ways for children to reach Europe and claim asylum closed off, 90%of refugees granted protection in European countries are forced to use precarious routes across land and sea. 
Analysing data from the UN's refugee agency, UNHCR, the report, Safe for Some, finds that since 2019 more than 8,000 people out of about half a million have died or gone missing on the Mediterranean routes into Europe. Of those who made it to Europe, 20% were children.
Save the Children said the deaths of children and family members on the move was a direct result of harsh and draconian measures by EU and European countries determined to prevent refugees from entering their territory, and illegally 'pushing back' those who try. 
Double standards
In contrast, over 8 millionrefugees from Ukraine, 40% of whom are children, entered Europe since February last year.
These children face innumerable challenges: they have fled a devastating war, been separated from family members and loved ones, and must adapt to their countries of refuge. But they have not faced violence, pushbacks, or had to rely on smugglers when fleeing violence in their country.
Governments have made substantial efforts to ensure families from Ukraine can access accommodation, education and medical care under the Temporary Protection Directive. This EU law was triggered for the first time in March 2022 in response to the arrival of large numbers of refugees from Ukraine after the conflict escalated on 24 February.
Almost twice as many refugees from Ukrainehave claimed protection under this directive as those who applied for asylum in 2015 and 2016 when there was a sharp increase in refugee arrivals, particularly from Syria.
"The response to that crisis was dysfunctional at best and cruel at worst. It ushered in and hardened measures that continue to restrict the ability of children to seek asylum in the EU – to contain those who arrived, and deter others from coming," saidDaniel Gorevan, Senior Advocacy Advisor at Save the Children and author of the report. 
"It doesn't need to be this way. The welcome extended to Ukrainian families proves European countries can work together to protect traumatised and vulnerable children escaping war. A new European approach - one which puts the rights of all children at the heart of asylum policies - is possible." 
Closed borders, restricted movement and violence against children
Many children Save the Children spoke to experienced violence during their journeys to Europe. Some were stripped naked, while others were forced to stand in the cold or endure electric shocks.
Perpetrators of violence are most commonly border guards, but also smugglers that children and their families rely on as all safe and legal routes to safety have been closed off.
Recounting his perilous journey to Europe, Abbas*, 10, from Syria, described what happened when they arrived in Greece:
"It was very difficult. We were walking in the woods for hours, without food or water, we were just walking and praying that everything will be fine.
"But 100 metres before the police station a van took us. There I had a mental breakdown and was not doing well … The police asked us to strip naked and I refused to take everything off."
Abbas's* mother, 33-year-old Samah*, told Save the Children: 
"They took us back to the river and they had some really  flimsy boats there… We couldn't see anything and I couldn't see Abbas* [her son]".
"I didn't know where he was and I was screaming to the masked men that I am not going anywhere without my son. On the other side we could see among the trees a man with a gun."
Restrictions on movement mean that refugee children and their families have limited options to move between countries, including to be reunified with their families. It also means they must apply for asylum in a restricted number of places and are often effectively detained in substandard or inhumane conditions.
The fact that family reunification can take many years in some European countries increases the risk of trafficking and exploitation of children as they attempt to reach families on their own.
A chance to create a fair system
Gorevan said the response to refugees from Ukraine must set the standard going forward:
"The EU is negotiating a Pact on Asylum and Migration – it has an opportunity and an obligation to put children's rights at its heart. All children fleeing conflict must be offered safe and legal routes to safety, protection and support to rebuild their lives."
Across 13 European countries, Save the Children has been assisting children from Ukraine who have fled the escalation of conflict in the country in unprecedented numbers. The organisation has also been assisting refugee children from other countries, in particular since 2015.
Editor's notes:
· Names of Abbas* and Samah* have been changed to protect their identity.
· Under the TPD (Temporary Protection Directorate) refugees from Ukraine who come to the EU have the right to a residence permit, access to education, free movement, medical care, access to the labour market and accommodation. Reference: Temporary protection (europa.eu)
· Around 4.9 millionpeople from Ukraine have registered for temporary protection, which is twice as high as the 2.5 million people who have applied for asylum in the EU in 2015 and 2016
Multimedia Content available here: www.contenthubsavethechildren.org/Package/2O4C2SDNF2RJ
For further enquiries and interview requests please contact:
Nina Teggarty, Global Media Manager, Ukraine & Eastern Europe (based in London): nina.teggarty@savethechildren.org
Our media out-of-hours (BST) contact is media@savethechildren.org.uk / +44(0)7831 650409
Please also check our Twitter account @Save_GlobalNews for news alerts, quotes, statements and location Vlogs.