Fears for thousands of children as torrential rain hampers aid efforts in Mozambique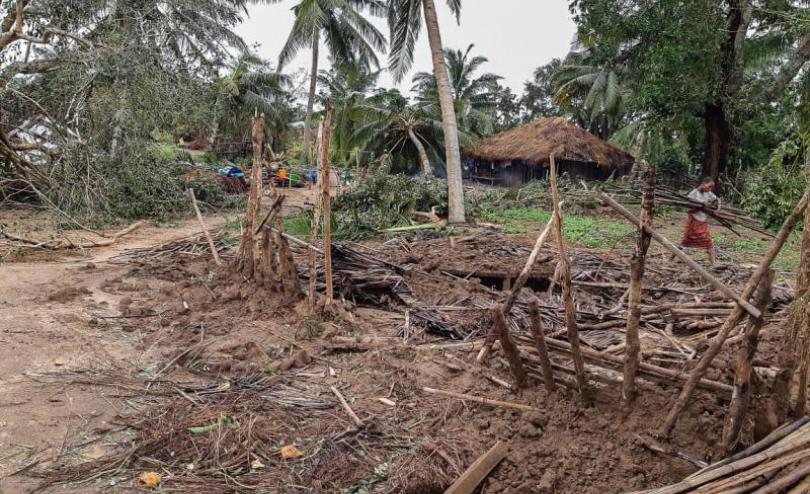 In the wake of Cyclone Kenneth, torrential rain continues to lash Cabo Delgado in northern Mozambique causing flash flooding and leaving thousands of children and adults without access to desperately needed emergency supplies, Save the Children said today.
Cyclone Kenneth, the strongest storm to ever to hit northern Mozambique, has caused extensive damage, ripping homes apart and wiping out entire communities. Initial reports indicate the islands of Matemo, Ibo and Quirimba have taken the full force of the storm and have been totally destroyed.

"We have grave fears for the thousands of families currently taking shelter under the wreckage of their homes. They urgently need food, water and shelter to survive the coming days," said Nicholas Finney, Save the Children's Response Team Leader in Mozambique.

"Today Save the Children tried to reach families affected by Cyclone Kenneth but we had to turn back because rivers had burst their banks and the roads were under water. Flights and helicopters have also been grounded and this means humanitarian access is virtually impossible. We are desperately trying to look for ways to deliver emergency supplies.

"There was a small break in the weather yesterday when COSACA, a consortium including Save the Children, Oxfam and CARE, managed to deliver 1,200 tarpaulins in Macomia district to families who have lost their homes. But today we can no longer reach these locations due to the flooding and we fear people will be forced to fend for themselves."

Cyclone Kenneth comes just over a month since Cyclone Idai tore through central Mozambique. Idai caused widespread damaged impacting 1.85 million people, including almost 1 million children, and killing more than 600 people.

"It's an awful sense of déjà vu. Just six weeks ago we faced a similar situation in central Mozambique when Cyclone Idai hit the region and floods cut off communities for days," Mr Finney said.

"The response for Cyclone Idai is already chronically under-funded and resources are stretched to the limit. With people in northern Mozambique also now needing assistance, Save the Children is calling on the international community to urgently provide funds to support both responses."

Approximately 700,000 people in northern Mozambique were in the path of Cyclone Kenneth. It is also the first time in recorded history that Mozambique has experienced two cyclones of this magnitude in the one season.

NOTES TO EDITORS:

Save the Children has been working in Mozambique since 1986. We are part of the COSACA consortium with CARE International and Oxfam, which was among the first to respond in the aftermath of the cyclone.

Save the Children was one of the first to respond to Cyclone Idai and is providing emergency assistance in the four affected provinces of Manica, Sofala, Tete and Zambezia. The organisation has distributed relief items such as tents, tarpaulins, mosquito nets and jerry cans; established Child Friendly Spaces and Temporary Learning Centres to ensure that children have a safe place to play, learn and receive psychosocial support; and set-up mobile clinics to provide life-saving healthcare to children and their families.