Following back-to-back tropical cyclones families in Vanuatu in significant need of assistance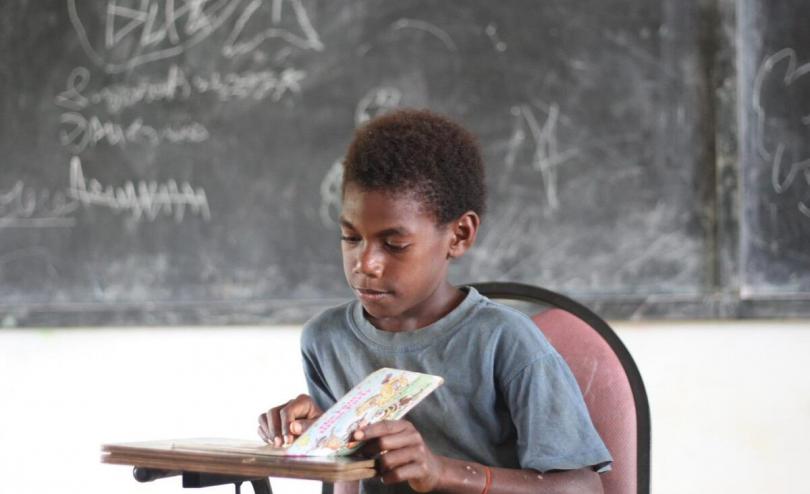 Roseh (10) is reading books at an evacuation centre in Vanuatu. Photo by: Elisa Mondou/Save the Children Vanuatu
More multimedia content here: Save the Children - Search Result (contenthubsavethechildren.org)

Port Vila, 10 March 2023: Access to power, consistent water supply for households, and safe drinking water all remain challenges for children and their families after two severe tropical cyclones hit Vanuatu earlier this month, said Save the Children.

During the height of Cyclone Kevin, which made landfall on 3 March, 10-year-old Roseh and his family hurriedly left their home and sought shelter at his school.
He said: "The wind came, the trees fell, and we ran into the classrooms and slept in the classrooms until morning. When we went to check our house in the morning, everything was badly damaged.".

"When the winds were strong and loud, I was scared and some babies were crying, but we all stayed inside the classroom."

During the cyclone, the family lost their entire home including most of their belongings. Roseh's mother, Rose, said when the cyclone approached her first instinct was to take her family to safety.
She said: "When the cyclone and the winds started getting stronger, I carried my kids and we ran to the safe house, our whole house was destroyed".

Roseh and his family are now living at one of the many evacuation centres that have been set up and have received hygiene kits, shelter kits and basic household items from Save the Children.

Save the Children has been supporting families such as Roseh's by distributing relief kits and shelter materials to families in evacuation centres and by supporting the Government of Vanuatu.
The outer islands in Shefa and Tafea Province are still not fully accessible with charter flights only partially operational, and many boats were damaged from the storm resulting in issues accessing critical support for families.

An estimated 48,818 students will experience disruption to their education as a result of the twin disasters.
Save the Children Pacific Regional Director, Kim Koch said:
"The last week has been incredibly difficult for many families in Vanuatu. While they are receiving support from the Government and partner organisations like ours, the needs are great, and the logistics are challenging."

"Children and their families have had to experience more than anyone should – on top of everything else, the psychological and emotional impact on children of two category four cyclones in one week will be immense. The climate crisis is a child rights crisis, and the people of Vanuatu are incredibly resilient, but they shouldn't have to be."
"The current situation in Vanuatu should send a strong signal to the international community on climate action, including urgently limiting warming temperatures to below 1.5 degrees C, and tangible progress on the agreement at last year's COP27 climate summit to establish a Loss and Damage fund for communities that are most vulnerable to the impacts of the climate crisis."
Save the Children has a long history of responding to emergencies in the Pacific and Vanuatu, ensuring we work alongside the Government of Vanuatu in the coordination of the response.

ENDS
For further enquiries and media spokespeople please contact Joshua McDonald on +61 478 010 972 or media.team@savethechildren.org.au
Emily.Wight@savethechildren.org
Please also check our Twitter account @Save_GlobalNews for news alerts, quotes, statements and location Vlogs.
NOTES TO EDITORS:
Multimedia content from the cyclones, including additional images of Roseh and his family can be accessed here: Save the Children - Search Result (contenthubsavethechildren.org)