Philippines: Statement as one of world's longest COVID-19 related school closures ends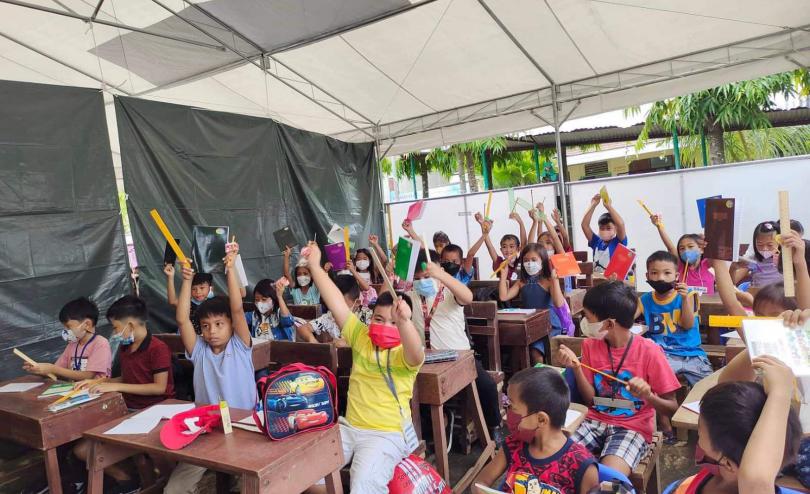 Children attend a Save the Children space in Abra province, Philippines [Alvin Claudio / Save the Children]
MANILA, 22 August - Millions of students returned to classrooms across the Philippines today, for the first time in more than two years. The Philippines was one of the last few countries to transition back to face-to-face learning after the COVID-19 pandemic disrupted education across the world.
Around 24,000 of the country's public schools - or just less than half - will resume five days of face-to-face classes this week. The rest will hold a mix of in-person and online classes until November 2nd, when all 27 million registered students are expected to head back to the classroom full-time.
In response to the reopening of schools across the Philippines, Save the Children Philippines CEO, Atty. Alberto Jesus Muyot, said today:
"After two and a half years, the impact of the pandemic-induced school closure in the country has become more evident than ever. More than 90 percent of Filipino children now struggle with reading and understanding simple texts at age 10.
"Our conviction is clear – the closures that have harmed children's education across this country must be a thing of the past. Education can no longer be treated as an optional extra – children's learning must be prioritised. Every Filipino child, regardless of who, and where they are, or whatever their circumstances may be, deserves the right to a solid education.
"We call on the government to commit to giving children the future they deserve by working to ensure our children are not only safely back in school, but are able to stay and complete their education. We are deeply concerned that the impacts of the pandemic now could cross over to the next generation, setting them back for life.
"The Philippines has a lot of work to do to make up for this lost learning. We need things like catch-up programs and remedial education, especially in marginalised communities. We need proactive approaches to reintegrate out-of-school children. And we need to re-engage with teachers so they too are up to speed and in the best position to educate our children."
Save the Children Philippines will continue to work with stakeholders, including parents and children, to improve learning outcomes of students, and ensure that children who have dropped out of school, and the learning gaps and inequality they have experienced, will be addressed.
Save the Children Philippines supports the mandate on the formal reopening of schools for the school year 2022-2023, provided that face-to-face classes can be delivered safely for both children and school staff; that children's mental health and well-being is prioritised; and education systems are further strengthened.
For further enquiries please contact:
Daphnee Cook daphnee.cook@savethechildren.org / +254 717 524 904
Our media out of hours (BST) contact is media@savethechildren.org.uk / +44(0)7831 650409