Save the Children helps relocate lone children from freezing forest camp in Bosnia and Herzegovina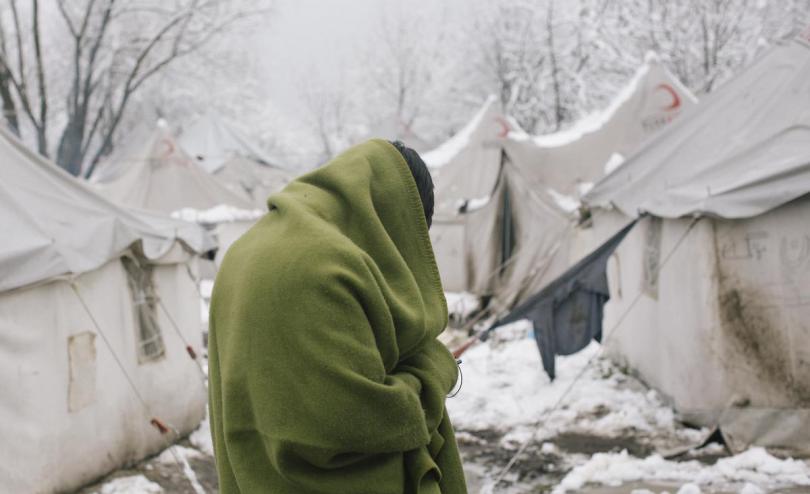 Hundreds[1] remain in other camps with no solution in sight as winter descends on the country
Hundreds of refugee and migrant children travelling on their own through the Balkans remain stuck in deplorable situations in Bosnia and Herzegovina, Save the Children warned today, as it took action to relocate 15 lone children from Vucjak camp bringing the total to around 250 children evacuated since the summer.
Vucjak, which was emptied on Tuesday is set to be demolished on Wednesday. Prior to this, the camp hosted up to 2,000 men and 60 unaccompanied children at the peak of its activity[2]. The former waste site, which is surrounded by minefields in a forest, had been converted into a camp in June 2019 but offered no proper shelter, clean water, or clothes to the dozens of children who lived in it, trying to make their way to Europe.
Save the children teams supported an estimated 2,000 unaccompanied migrant and refugee children in Bosnia in 2019. Our teams on the ground confirmed that new arrivals continued to enter the camps in the last few weeks.
Aazar*, 14, had been living in Vucjak for a few weeks, after leaving Afghanistan 18 months ago to come to Europe: "We felt scared in the mountains. [We were with] three or four people and there were also wolves. That's the scary part. We are also scared of the police.
"We want the people who are here to get to Europe. I want to go to France."
Between June and end of November 2019, Save the Children and Bosnian social services evacuated around 250 children from Vucjak and brought them to safe shelters in the area, one of which has an area providing specialised care for unaccompanied children. On Tuesday, 15 children were relocated from Vucjak before the camp's closure.
Save the Children staff on the ground confirmed several cases of children traveling with single men who were not their relatives, exposing them to a series of protection related risks.
Jakey* from Afghanistan, 15, is staying in one of the other camps. From Turkey, he travelled onwards to Serbia and ended up in Bosnia and Herzegovina.
"There is a really difficult situation [in my country] for boys of 15, 16. The Taliban can just come and say you have to be a soldier. If you say no, they can kill you."
"When we were at the border [from Iran] with Turkey, two people died. One was from Iran, one from Afghanistan."
After arriving in Bosnia and Herzegovina:
"I had a friend here, [we travelled by] train but 50 kilometres before arriving here, they threw us off the train. Someone showed on GPS where [the camp] was, it took me one day to get here (on foot).
Andrea Zeravcic, Country Director for Save the Children in Bosnia and Herzegovina, said:
"Vucjak camp is now closing, as it should. The children who were in Vucjak are now in safer spots, but they still face risks. The national government and the EU must act and find suitable solutions, including adequate shelter for refugees and migrants, especially for children and other vulnerable groups. Unaccompanied children need specialised care and protection. The EU cannot look away from this issue - it must ensure children have access to protection and legal pathways such as resettlement, family reunification and a well-functioning asylum system. Border guards should be trained to protect children, instead of pushing them back."
In the north of the country, people trying to cross the border into Croatia are facing pushback from Croatian authorities, with numerous incidents reported by refugee and migrant children, adults and humanitarian agencies on the ground. Many children report mistreatment and violence or witnessing violence during pushbacks, including theft, extortion or destruction of property, threats, humiliation and physical abuse.
*name changed
Notes to editors:
On Tuesday eight buses were sent to Vucjak as planned to relocate approximately 370 men to Usivak Temporary Reception Centre, in Sarajevo. An additional six buses were then sent to evacuate the remaining 280 refugees in Vucjak to take them to another camp in Blazuj.
Save the Children works in Una Sana and in Tuzla, which are two of the most affected Cantons in Bosnia and Herzegovina, supporting the most vulnerable children and families, particularly unaccompanied minors, in and out of camp settings.
Save the children has 24/7 Child Protection Teams in reception centres, which provide (legal) assistance to unaccompanied and separated children and families with children. It also runs mobile teams supported by to facilitate access to accommodation, registration, legal advice and other services to new arrivals, people who are out of shelters, or people who were pushed back from Croatia.
Save the Children, also facilitates school enrolment for refugee and migrant children by providing school escorts, cultural mediators, school meals and other support to local schools.
Multimedia content available here: https://www.contenthubsavethechildren.org/Package/2O4C2SQFMS30
Spokespeople are available. To arrange an interview, please reach out to:
Randa Ghazy in London: r.ghazy@savethechildren.org.uk , +44 74 29980 655
Out-of-hours: Media@savethechildren.org.uk, +44 7831 650409 (London)