Stockholm one year on: 33 children killed or injured every month in deadliest Yemeni towns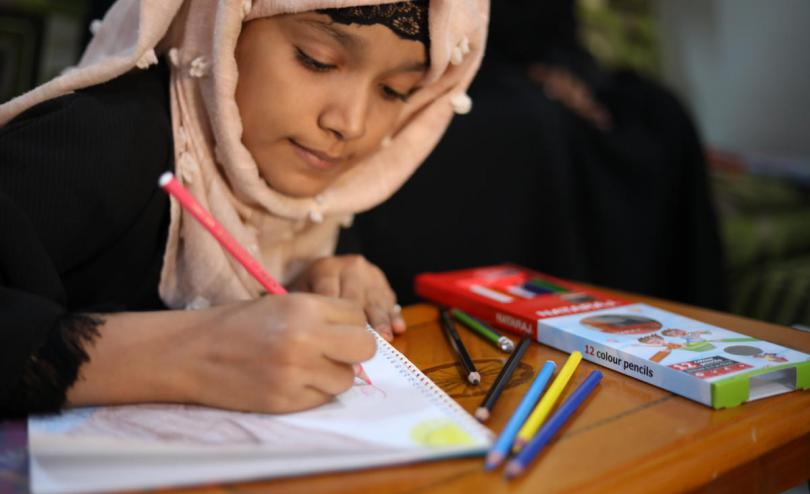 One year after the Stockholm agreement, which should have brought stability to Hodeidah and Taiz in Yemen, children there are still victims of conflict
Hodeidah and Taiz are the two deadliest areas for children in Yemen, Save the Children said today, one year after the signing of the Stockholm agreement which should have brought stability to these hotspots.
Between January and October 2019, 33 children have been killed or injured[i] every month in the western port city of Hodeidah and Taiz in the southwest, despite the signing of the Stockholm agreement on December 13 2018 aimed at stopping the fighting in the Red Sea area. Nationwide, almost half the children who died as a direct result of the conflict in Yemen, were killed in Hodeidah and Taiz.[ii]
Although there was a reduction in the number of casualties compared to 2018, between January and October 2019 some 56 children were killed and 170 injured as a direct result of fighting in Hodeidah. In Taiz, child fatalities have more than doubled since the agreement[iii]. Parties committed to opening up a humanitarian corridor in Taiz so families can safely leave and humanitarian support can get in, but so far this has not materialized.
Doctor Mariam Aldogani, Save the Children field manager for Hodeidah, said:
"The Stockholm Agreement brought a glimmer of hope to civilians in the area, but the fighting is far from over. Every day we receive wounded children in Save the Children supported hospitals needing our care. In 2019 our team has given medical care to more than 500 children who have been caught up in this conflict, some with life threatening injuries.
"At one point this year we supported six children from two families - it was sad, some of the children had broken legs and shrapnel wounds all over their bodies. I cannot forget the youngest girl, just three-year-old, with burns all over her hands. We need to stop this war on children."
Children in Hodeidah remain trapped in the port city with constant fighting threatening their lives. Humanitarian operations continue to be challenging. Earlier this year Save the Children had to close some of its children's centres for three months, owing to security fears as a result of shelling from warring parties. Their closures deprived more than 700 children from a safe space and respite from the chaos of war.
Sarah*, (13) from Hodeidah told Save the Children that her friend was killed in 2018 by shrapnel while in school:
"Before the conflict, we used to come out peacefully and take walks in the parks."
"I remember one day at school one of my classmates was leaving the bathroom and she was hit by shrapnel. My father refused to let us to go to school anymore and the school was shut down."
Lina* (15), also from Hodeida said:
"The war affected us when an airstrike hit right beside our house [in 2019]. We were really terrified.
"Our house was on fire as well, and we had to leave it until the fire was extinguished. You know, we have no other shelter except our house."
"When I went to visit my friend, her family had left because their house was destroyed."
"That made us worry more, and after that day, I felt like I might die anytime from the war."
Taha* (12) said:
"My feeling about Hodeidah is just full of fear.""Before [the war], we did not have such feeling of fear.""Wherever you go, there is fear. While you are going to or coming back from school, while playing outside, or going somewhere! Fear of an airstrike, bullets. We are trying to tell them to stop the war…because we do not want to live in fear!"
Dr. Mariam Aldogani continued:
"Children of Hodeidah and all across Yemen deserve peace and a chance to enjoy their childhood. But we still hear fighting within the city and we keep receiving injured children. Children are still suffering, even after the signing of the agreement."
Hodeidah is the gateway to the country, with 70% of all imports arriving through the port. Even a temporary closure or disruption could decrease the availability of food, pushing prices up even further, and triggering famine. Save the Children is calling upon all parties to agree to a full cessation of hostilities and work towards a comprehensive and lasting ceasefire in Hodeidah and across the country.
*names changed
Notes to Editors:
On December 13th 2018, a UN-brokered deal was signed in Stockholm, encompassing three sub-agreements in which warring parties committed themselves to:
an agreement on the situation in Hodeidah city and the ports of Hodeidah, Salif and Ras Issa;
a prisoner exchange;
and a "statement of understanding" on the situation in Taiz.
All three agreements include a range of steps to de-escalate the military situation and improve the humanitarian situation. Averting further escalation in Hodeidah – and the devastating humanitarian impact this would have, given Hodeidah port's critical role in bringing food and fuel into the country – was a key aspect of the Stockholm deal.
You can find content to go with this story here:
https://www.contenthubsavethechildren.org/Package/2O4C2SQ8CF9W
For spokespeople or questions, please reach out to:
Walter Mawere, walter.mawere@savethechildren.org or +967736003385
Randa Ghazy, R.Ghazy@savethechildren.org.uk / +44 7429 980655
Out off office hours: media@savethechildren.org.uk / +44 7831 650409
---
[i] Data from the Civilian Impact Monitoring Project (CIMP) between January to October 2019. According to the CIMP-data, a total of 226 children were injured or killed in Hodeidah between January and October 2019. In Taiz, 57 children were killed and 49 were injured due to violence during that same period
The CIMP is a mechanism for the collection, analysis and dissemination of open source data on the civilian impact from armed violence in Yemen, in order to inform and complement protection programming. It's run as a service under the United Nations Protection Cluster.
[ii] According to the CIMP data, a total of 239 children have been killed in 22 governorates of Yemen between January and October 2019, of whom 113 were killed in Hodeidah and Taiz.
[iii] According to the CIMP data there were 28 fatalities among children in Taiz over the whole of 2018. In the first ten months of 2019, the number had risen to 57.