Yazidi children with disabilities face bullying, loneliness, nine years after genocide - report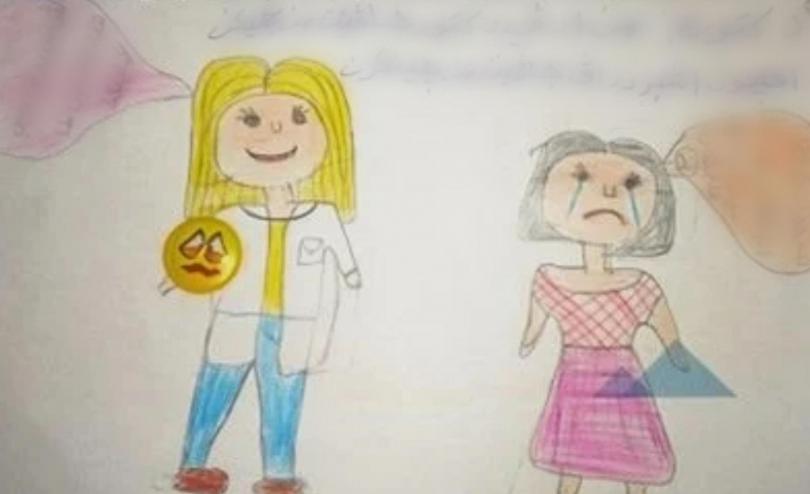 ERBIL, 9 October 2023 - Yazidi children living with disabilities in Iraq face exclusion, bullying, and suicidal thoughts nine years after the Islamic State (IS) genocide, reveals a new report by Save the Children launched ahead of World Mental Health Day.
Children as young as eight years old shared their experiences of loneliness and unhappiness, stemming from being confined indoors for extended periods.
Many reported challenges in being able to access basic services like schools and medical care, with some considering travelling as far as India and Turkey for treatment.
The report, involving conversations with 57 caregivers and 20 children, some with multiple forms of disabilities, asked participants to share their experiences through many ways like drawing pictures.
Amani*, a 13-year-old girl living with vision disability in Mount Sinjar, said:
"I drew this picture because we went to an ophthalmologist in Mosul for an eye operation and my father did not have enough money for it. I drew the picture of a doctor because I dream of becoming a doctor when I grow up."
Samira*, a 12-year-old girl living with physical disability, said:
"I am unhappy when I cannot visit my friends and play with them, and I cannot go to school when the other kids go."
Yazidis, an ethno-religious minority from the Kurdish region of Iraq, have been historically persecuted for their faith. The 2014 ISIS attack on Sinjar, recognized as genocide, had catastrophic impacts, particularly on children, who were forced to fight, convert, or were subjected to extreme violence and exploitation.
The impact on children's mental health is immense, but rarely discussed. Caregivers in the study reported increased suicide risks among their children.
Farida*, the mother of a child with a disability, in Sinjar centre, said:
"Children are currently threatening their parents with suicide. My child's condition worsened when we were confined to the mountain and until now, he has not become like before."
Malik*, the father of a child living with disability, Sinjar centre, said:
"Sometimes they are thinking about suicide because they are not feeling mentally okay. Sometimes when he feels sick, he cries and says I will die."
Save the Children calls for urgent action to strengthen disability-inclusive public services in Iraq. The lack of accessible community spaces, rampant bullying, and community stigma are major distress drivers among children with disabilities.
Izaat*, the guardian of a child living with disability in Mount Sinjar, said:
"We call on humanitarian organisations to help people with disabilities, register their cases, and decide to help them according to their needs because government's support for people with disabilities exists only in name."
Humanitarian organisations and the global community must advocate for and support Yazidi children and their families, ensuring their inclusion, well-being, and access to essential services. The ongoing struggles and mental health crises faced by these children underscore the importance of sustained and inclusive support.
Operational in Iraq since 1991, Save the Children is among the largest international non-governmental organizations (INGOs) responding to multi-sectorial humanitarian, recovery, and development needs of children, youth, and their families – including Iraqis displaced by conflict, Syrian refugees, host communities and returnees. Save the Children is operational in six governorates across Federal Iraq (FI) and the Kurdistan Region of Iraq (KRI).
ENDS
Notes to Editors
*indicates that names have been changed
*******************************************************************************************************************
For further enquiries please contact:
Our media out of hours (BST) contact is media@savethechildren.org.uk / +44(0)7831 650409
Please also check our Twitter account @Save_GlobalNews for news alerts, quotes, statements and location Vlogs.