CHILDREN STILL AFRAID ONE YEAR ON FROM VOLCANIC ERUPTION IN TONGA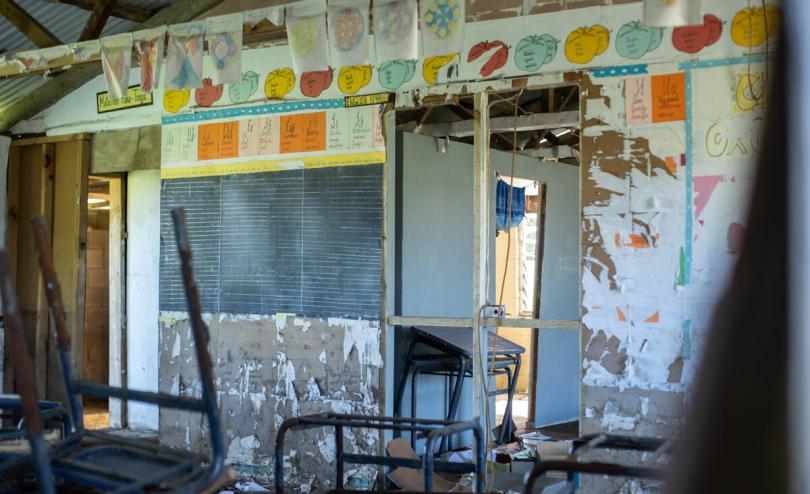 Multimedia content is available to download here
TONGA, 14 January 2023 - Children are still displaced, afraid and have faced significant disruptions to their education, one year on from a volcanic eruption and subsequent tsunami that damaged or destroyed hundreds of homes and schools across Tonga, Save the Children said.
The Hunga Tonga-Hunga Ha'apai volcano violently erupted on 15 January 2022, blanketing much of Tonga in ash and triggering a tsunami that reached a height of up to 15 metres.
More than 80,000 people – or about 75% of the country's population – were affected by the disaster, including at least 28,000 children.
As children head into the new school year, and with many schools still badly damaged, some have had to relocate just to access education while hundreds more are in temporary housing after being relocated from the worst-impacted areas. Children continue to show signs of distress, with some children experiencing nightmares and struggling to sleep at night.
The disaster, which caused an estimated US$187 million in damages – approximately 36.4% of Tonga's GDP – occurred while the country was still recovering from the impacts of 2020's Tropical Cyclone Harold and the economic losses caused by the Covid-19 pandemic.
Lose, 10, who lived in a small coastal village in Tonga said her family fled for their lives when the volcano erupted.
"I was at home together with my grandparents. The first rumble of the eruption, I thought it was just workers in the area," said Lose. "The second rumble we quickly got in our van and fled."
"We did not take anything with us. We did not take any food or any other necessities," she said. "We drove and saw families standing by the side of the road, so we stopped and gave them a ride. We dropped them off far from where they were, safe from the volcano's reach."
Lose's home was inundated by the subsequent tsunami, with the family losing most of their possessions. A year later, the family's field remains covered in debris, including fallen coconut trees and electric wires, rendering farming, and therefore the family livelihood, impossible.
Her grandfather, Sunia, 72, said not a single house in their village was spared by the tsunami.
"If a house was left still standing, there was a great amount of sea water and ash inside that particular house, [and] that left us with nothing of importance or usefulness.
"But when you came and distributed the resources, that was a huge blessing to us parents and also the children. Some children might not have had any school materials or even a backpack," he said of Save the Children's support.
Maa'imoa Mafile'o, Tonga Country Lead for Save the Children, said Tongan children have endured multiple disasters in recent years.
"It's been one year since the volcanic eruption occurred, and children are still having nightmares and are struggling to sleep at night. For anyone, let alone a child, the experience of losing your home, your belongings and fearing for your life can have significant negative impacts on your wellbeing and mental health, well into the future.
"For children, going to school and being surrounded by friends can help them cope with the impacts of experiencing a disaster, but the first cases of Covid-19 arrived just weeks after the tsunami hit and so children were forced to stay at home instead, prolonging their recovery.
"Children are also living with the fear of another disaster occurring, and unfortunately, in November 2022, this fear was realised when there was another earthquake followed by a tsunami warning, forcing thousands of families to flee their homes in the middle of the night once again.
"Tongans are resilient but these kinds of traumatic events can seriously impact a child's wellbeing and mental health, so we need to make sure that recovery efforts are long-term, community led and put children at their centre."
In partnership with the Tongan Ministry of Education and Training, and the Australian High Commission in Tonga, Save the Children dispatched and distributed classroom kits, toys, chalkboards, face masks, hand sanitiser and school bags to disaster-impacted schools in Tonga.
In November 2022, Save the Children and Tonga's Ministry of Education and Training partnered to launch the AHP Hunga Tonga-Hunga Ha'apai and COVID-19 Recovery and Resilience Activation program, which will train representatives at all schools in Tonga to better prepare for risks and emergencies, establish a Safe Schools Committee to coordinate resilience and disaster risk reduction activities and drills, and improve policy planning and guidance.