Theresa Lola runs poetry workshop for girls from conflict-affected parts of Nigeria for International Day of the Girl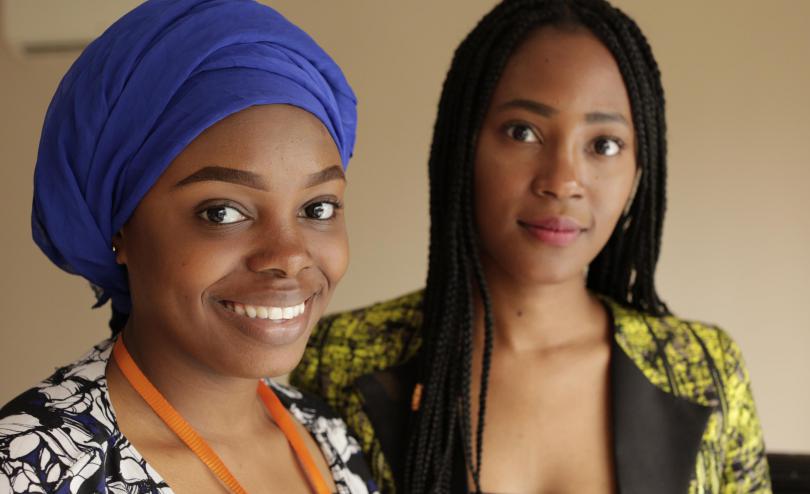 During a three-day workshop in Abuja, 12 girls from North Central and North Eastern Nigeria used poetry to share their views on how conflict, violence and gender discrimination leave them unprotected and put their education at risk.
In 2015, an estimated 6 million Nigerian girls were married by age 15 nationwide[1].
Northern Nigeria has some of the highest rates of child marriage in the world[2] In the Northwest and Northeast regions in Nigeria, almost half of all girls are married by age 15.
10.5m children in Nigeria are out of school with 53% of them in the Northern states. In the North East and North West more than half of all girls are not in school[3].
Over the course of a few days, twelve girls aged 14 - 17 worked on individual and group poems, using metaphor, simile and personification to explore themes of gender discrimination and violence, conflict and education. The workshops were led by British/ Nigerian poet Theresa Lola and supported by Save the Children's girl champion for Nigeria, Maryam Ahmed. Theresa's poem 'They thought they could stop us' was inspired by the girls she met who despite gender disparity, remain insistent that their education should be prioritised.
Theresa Lola, who was born and raised in Nigeria before moving to the UK aged 13, said:
'I thought it was really important to shed a light on the issues effecting young women particularly conflict, gender inequality and poverty and it was also important to offer poetry as a tool of expression to talk about these issues in a different way than they may have done previously.'
Several girls came from states in North Eastern Nigeria that have been plagued by conflict throughout most of their childhoods, placing them at increased risk of early marriage and blighting their formative years and future prospects of education.
Zainab*, 14 from Northern Nigeria, said:
"The conflict caused many problems in society and girls were taken as hostage. People are praying they won't come to them. Some parents are afraid to take their girls to school. One of my friends' parents stopped her from going to school. Now she is married and living in a marital home. She felt sad but she had to endure it. She is pregnant now. It makes me sad because every child has the right to freedom and education."
Sexual violence is prevalent in Nigeria and is a defining characteristic of the ongoing conflict. A 2019 report[4] by Save the Children found that with six out of 10 women surveyed in the North-East had experienced one or more forms of gender-based violence. Among the survivors seeking assistance, 44 % were children, of whom 98 % were girls.[5]
During the workshops, Best*, 14 spoke about the limitations on girls lives and the ways they have been trying to protect themselves:
'What I want to be protected from is sexual abuse harassment and all those things that hurt me emotionally and physically. I try to protect myself by limiting my movements.
Most girls who have been abused are afraid of telling people and fear that they are gong to be discriminated against. It's because they feel ashamed. In these cases they are worried they won't believe the girl and they will think she's lying. Having female professionals is important for women because they feel free to talk about these problems.'
Over 1m Nigerian schoolchildren have been forced to flee their homes since conflict escalated in 2009. An estimated 1900 teachers have fled the country from North East Nigerian[6]. As a result schools were closed for two years. Whilst several schools have now reopened, poverty and fears for safety are among the key challenges which remain in keeping girls in school.
Theresa Lola's poem was inspired by the resilience shown by the girls she met: 'What surprised me most is that they were to offer solutions to the issues girls face in Nigeria. You can tell they are constantly thinking of these issues and they know they are valid in the world. As someone who is proudly Nigerian and brought up in Nigeria I know we are starting to have female women in leadership and that's inspiring, but we have a long way to go.'
Despite being ranked as one of the most powerful African countries in the world[7] Nigeria has some of the worst rates of child marriage and poverty in the world. Girls cited protection issues and early marriage as the key barriers to education which they felt was exacerbated by a lack of female leadership in girls education and protection services.
Dierdre Keogh, Country Director for Save the Children Nigeria said:
"Girls face on-going vicious cycle of discrimination and protection issues. Girls are excluded from education because of gender discrimination and fears of sexual violence or harassment, and when they suffer these issues there are not enough protection services available to children, let alone enough women there that they feel comfortable to confide in. They do not see themselves reflected in governments or policies, and they are determined to stay in school to change this. We need more women in government, and we need both men and women in these positions to advocate for stronger policies around girls education and ensure girls views are represented and heard. They have a lot to say"
NOTES TO EDITORS:
Nigerian/ British poet Theresa Lola is Young People's Laureate for London 2019, a scheme run by Spread the Word.
Save the Children has been working in Nigeria since 2001 to fulfil our mission to inspire breakthroughs in the way the world treats children and to achieve immediate and lasting change in their lives. Save the Children works across Nigeria to meet the needs of children and their families through programs in 20 out of 36 states. In 2018, our programs in Nigeria directly reached 15.75 million children and families.
We are working with communities, girls and parents to change norms and to prevent early marriage.
Conflict has displaced over 2 million people. We are providing life-saving assistance to families and children to meet their immediate needs for food and nutrition, and working to ensure that children are protected from harm and have access to education.
---