ASEAN members should champion for human rights, starting with Myanmar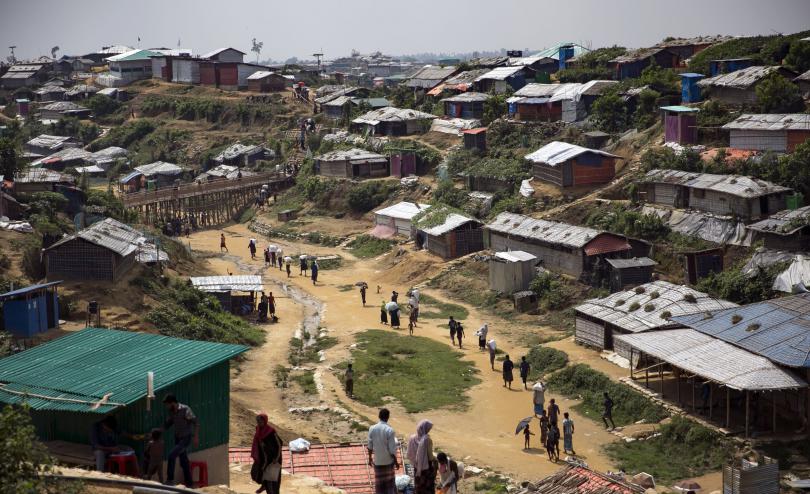 As regional leaders arrive in Bangkok this week to attend the Summit of the Association of Southeast Asian Nations (ASEAN), there will yet again be an elephant in the room: the crisis in Myanmar's Rakhine State.
Just over two years ago, the Myanmar military launched a vicious clearance operation, killing thousands of mainly Muslim Rohingya and driving almost 800,000 to flee across the border into Bangladesh. Yet despite a mounting body of evidence implicating the Tatmadaw (the Myanmar army) in atrocity crimes – part of what the UN has called an "ongoing genocide" - ASEAN has not been able to decisively address the situation in Myanmar.
Today, Rohingya on both sides of the Naf, the river dividing Bangladesh and Myanmar, face desperate conditions.
In Bangladesh, close to a million refugees are huddled together in cramped and overcrowded camps where they are wholly dependent on aid. More than half of them are children who are unable to have a quality education, robbing them of a future.
In Rakhine State, the 600,000 Rohingya who remain live under a cruel and dehumanizing system of apartheid-like discrimination, where they are denied citizenship and every aspect of their lives is controlled by the state. Leaving one's village to attend school, go to a hospital or to make a living often requires a permit, a bribe, or both.
Some 128,000 Rohingya and Kaman Muslims have also remained confined to de facto detention camps since violence swept Rakhine State in 2012. Rohingya families we speak to share a profound sense of hopelessness, not least among children. As one boy told us: "Life is just passing us by. There is no joy in whatever we do. If I think of that my head spins round and round."
Blocks on aid across large parts of the region have further compounded a desperate situation. Humanitarian agencies like our own do what we can; not just for Rohingya, but also for other communities suffering from conflict and underdevelopment in one of the poorest parts of Southeast Asia. But official restrictions on access mean that we are working with one hand tied behind our backs, unable to reach many of those who need aid the most.
In light of this, ASEAN's collective lack of response has been disappointing. The bloc's "non-interference" principle means it is extremely reluctant to criticize the internal affairs of a member state. While the UN has called for Myanmar's military leaders to be tried for crimes against humanity and genocide, ASEAN has so far remained silent.
In 2018, ASEAN did start playing a more formal role in the crisis response, specifically by helping Myanmar prepare for the eventual return of refugees from Bangladesh. This is potentially a positive development, but only if the regional bloc takes an approach that genuinely consults Rohingya and tackles the underlying drivers of the crisis. In July this year, a report from ASEAN's humanitarian wing the AHA-Centre was criticized for not grappling with the Tatmadaw's human rights violations and the widespread system of discrimination in place in Rakhine State. There is a real concern that ASEAN could play a role in facilitating a premature return of refugees to a place where they would be unsafe.
Some ASEAN countries have been more outspoken than others, however. At the UN General Assembly in September, the Malaysian Prime Minister Mahathir Mohamad criticized the UN Security Council's "deafening" silence on the crisis in light of the Tatmadaw's "systematic killings". At a summit of regional parliamentarians in Bangkok in August, the Indonesian delegation tried to add the Rohingya crisis to the agenda. Although the effort was ultimately thwarted, it points to serious disagreements behind the scenes.
Looking back even further, when the devastating Cyclone Nargis struck Myanmar in 2008, ASEAN used creative diplomacy to ultimately enable international agencies to deliver life-saving aid. During the same decade, the regional bloc played an important role in pushing Myanmar to open up to the world, usher in democratic reforms and free political prisoners.
As regional leaders from Phnom Penh to Manila arrive in Bangkok this week, we urge them to channel this spirit. ASEAN should engage Myanmar constructively but forthrightly to address the crisis in Rakhine State. In the short term, this needs to include removing blocks on humanitarian aid, consulting with refugees, and ensuring that the refugee repatriation process is not rushed through in a harmful way. In the longer term, the root causes of the crisis must be addressed. This should include granting Rohingya citizenship in the country of their birth, dismantling the apartheid-like system of segregation facing them, and holding those responsible for atrocity crimes to account.
Only a comprehensive and holistic approach can break the cycle of abuse in Rakhine State. ASEAN has an opportunity to make this a reality, starting with this week's Summit – it is one that must not be missed.
Related articles
27 September 2022

- Ukraine
24 August 2022

- Poland, Ukraine