CHILDHOOD UNDER LOCKDOWN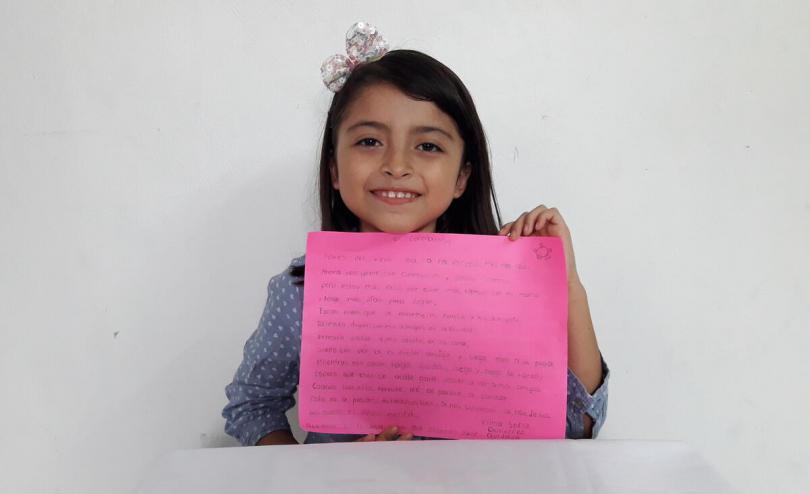 Poems from children across the world capture life during Covid-19.
"Five letters, two numbers and one deadly microbe" from 17-year-old Lavannya's poem, USA.
15 children form 15 countries have shared their experiences of life under lockdown through poetry.
At the height of the lockdown, Covid-19 forced an estimated 1.6 billion[1] children out of school.
The number of children living in household poverty could soar by up to 86 million by end of the year [2].
Crisis risks turning back the clock on children's rights, unless world Leaders act.
Stories of hope from children in the hardest hit countries including the USA, Italy, South Sudan, Nigeria, Yemen, Mexico and Peru.
This week marks three months since the Coronavirus pandemic was announced. Billions of children's lives have been turned upside down and never before have so many children been forced out of school.
To capture their experiences, Save the Children invited 15 children from all four continents to write a poem about life under lockdown, sharing their hopes, fears and how the pandemic has changed their lives.
From the US, Italy, Peru and Colombia to Gaza, Yemen, South Sudan and the Democratic Republic of Congo, their poems bring to life the experiences of children living through this pandemic. Despite their differences, their struggles are shared and they remain united in their hope for a brighter future.
Maya*,14, from Zataari refugee camp, Jordan
Where's the school? Where are the classes?

And my friends, and the teacher asking us about our homework.

Empty and sad streets.

And the playgrounds are as if they're asking about us.

Corona, tomorrow you will see.

Our dreams, our awareness and our will, shall bring us victory over you."
Gradi, 14, from the Democratic Republic of Congo
We can call it a war, because this pandemic has wreaked havoc.

What scares me is that a family member, or myself, could catch the disease.

That is what scares me."
Lincoln*, 11, from the United Kingdom
When it is safe, I'll hold my arms open wide,

and shout to the world we can all go outside!

Don't give up hope the end is in sight,

if we all stick together, we'll all win this fight!"
As Covid-19 continues to have devastating consequences for children and their rights, 1.6 billion children have been out of school during the pandemic and temporary closures have impacted over 90 percent of students worldwide. Never before have so many children been out of school at the same time.[3] Recent joint Save the Children and UNICEF analysis estimated the number of children living in household poverty could soar by up to 86 million by end of the year.
Following Save the Children surveys of over 6000 children and parents globally, the agency has warned that children are at risk of experiencing lasting psychological distress from lockdown. Furthermore, almost one in four children living under Covid-19 lockdowns, social restrictions and school closures, were found to be dealing with feelings of anxiety.
Yolande Wright, Save the Children's Director of Inclusion:
"These powerful poems show the enormous impact Coronavirus has had on children's lives, as well as their strength, resilience and hopes for the future. It is so important we listen to children directly during these unprecedented times – we are not all affected equally, and children can be particularly vulnerable."
"This is not just a health crisis, but a threat to children's rights. Over 1.5 billion of the world's children have been out of school for significant periods of time and millions are being driven into extreme poverty and face a very uncertain future. We've made huge progress in the last twenty years on children's rights and Covid-19 risks reversing this progress."
Save the Children is working to help vulnerable children affected by the Coronavirus in around 120 countries around the world with their access to education, health, their economic situation and security.
To support Save the Children's Global Covid-19 Emergency Appeal, click here.
---
[1] https://www.unicef.org/coronavirus/keeping-worlds-children-learning-through-covid-19
[2] https://www.savethechildren.net/news/covid-19-number-children-living-household-poverty-soar-86-million-end-year

[3] https://www.unicef.org/coronavirus/keeping-worlds-children-learning-through-covid-19