Youth and Future Generations Day at COP27: Cambodian child climate activists battling pollution from their floating schools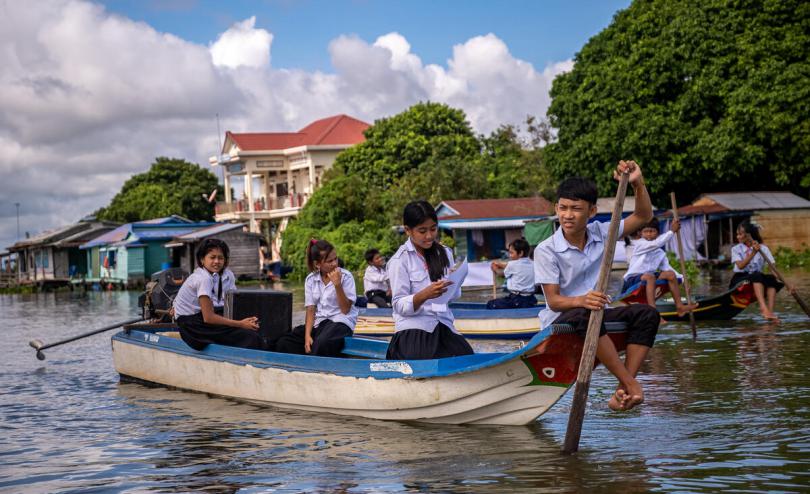 Children on Tonle Sap, Cambodia. Photo by Linh Pham/Save the Children
Media edit of photography: https://www.contenthubsavethechildren.org/Share/2c7848xww0s056gay80141eg4lk126t5
PHNOM PENH, 10 November 2022 – With Youth and Future Generations Day at COP27, one group of child climate activists from Cambodia who attend floating schools on Tonle Sap Lake hope that their work to combat pollution and environmental damage will show how children can be the leaders of change.
Save the Children and Norton Rose Fulbright commissioned renowned photographer Linh Pham to document Cambodian floating schools that have become a frontline in the fight against a spiralling climate crisis.
The photo series is accompanied by compelling testimonies from child climate activists, stating how the climate crisis has affected their education and their demands for change. Ensuring that the voice of youth and future generations is heard is one of the objectives of the COP27.
Young climate activists attending Tonle Sap's floating schools study climate change in the classroom and take to boats with banners and microphones demanding villagers take action to protect the environment and clear their lake of litter.
Cambodia's high exposure and vulnerability to climate shocks has blighted the country's education system over the last decade. Last month flash floods battered over 200 schools across 11 provinces in Cambodia, with many forced into lengthy closures. Twice in the last six years the country has been forced to reduce school hours as record heat waves threatened students and teacher's health
For children like 14-year-old Sreyvatey, who lives in a floating house on Cambodia's Tonle Sap Lake, the threat is very real. She and her classmates have to travel to their floating school by boat. Now, as the weather on the lake becomes ever more extreme, Sreyvatey's schooling – and her future – is at risk.
Sreyvatey said:
"When the weather changes drastically, when the sun is really hot, I cannot study. And when I'm at home I can't sleep or rest. In my community, the climate is dry and hot. Sometimes, there is drought, floods, storms, thunder and lightning. My house shakes when there are storms. There are loud noises when it rains. When the big storms arrived, it made me scared and fearful."
Every morning, 12-year-old Ratana sets off from her home on Cambodia's Tonle Sap Lake by boat. She's heading for her floating school– but on the way Ratana and her friends work to clear the rubbish that litters the lake. Ratana said:
"When we row the boat to school, we pick up the trash. I do not like trash because it ruins the environment and pollutes the water. I am concerned that when we drink this water, we'll get sick."
Ratana's newfound knowledge inspired her to join a campaign led by the President of the Student Council, to educate villagers in their community on environmental awareness and climate change.
With boats, banners and microphones they demand villagers stop throwing their trash in the water and reuse bottles to grow vegetables.
Ratana adds:
"The elderly and adults should listen to children because we are now aware of the environment .. I joined the campaign to spread information about the environment. I was on a boat doing it in the village and in the district. We use a speaker and key messages on the banner. Our key message – Do not throw trash into the water."
Mr. Reaksmey Hong, Save the Children's Country Director in Cambodia said:
"It is not surprising that the floating schools of Tonle Sap Lake have become a training ground for the next generation of young climate activists. Children here have witnessed first-hand their schools destroyed by storms. Their water becomes too polluted to bathe in. They are taking matters into their own hands to call for a greener, fairer future. It's now time for adults to listen, be inspired and take action."
Some children attending Tonle Sap's floating schools have tragically witnessed the precariousness of daily life on the lake first hand. Kanha, 12, lost her sister Sreyka three years ago, aged five, after she fell through an untied net fence at the edge of their home and drowned.They found her body in the water. Kanha said:
"When I got up, I didn't see my sister. My mum had gone to buy some rice. When she came back and saw her daughter like that, she was so shocked. And after that she prayed to everything. [Our neighbours] changed her clothes and took the gas cooker to light fire to warm her hands. But she still did not survive. So, they took my sister to be buried. In the past, the weather here didn't have any rain. But the weather now has rain and thunders, storms, severe storms. And at night I feel so cold."
Cambodia's Tonle Sap is the largest freshwater lake in Southeast Asia and home to more than one million people. But higher temperatures, drought, pollution, overfishing by commercial trawlers and environmental damage have led to a dramatic fall in the fish stocks many people rely on to earn a living.
Hai Vanak, local fisherman and father of Sreyvatey, said:
"When the water stinks and is dirty, we cannot live well. We cannot use it for bathing and boil it for drinking. The fish are also affected. They've developed diseases and many types of fish have disappeared because of climate change. Up to 400 or 500 fish died in a day. Our income has reduced significantly. Sometimes we cannot not afford all our expenses."
Save the Children is at COP27 in Egypt and is asking leaders there to:
Ensure a focus on children's rights and equity, especially children impacted by inequality and discrimination and based on children's own views and recommendations, in climate negotiations, policies and financing.
Increase financial commitments to help communities and children impacted by inequality and discrimination deal with and recover from climate impacts and shocks. This includes going beyond the unmet pledge to provide at least $100 billion climate finance annually and to spread it 50/50 between adaptation and mitigation.
Provide new, additional and ambitious funding to address rapidly escalating loss and damage, and support the creation of a new climate finance mechanism to help address the cost of the irreversible impacts of the climate crisis to children's rights. This includes supporting communities already hit by irreversible climate impacts.
Act urgently to limit warming to 1.5 degrees Celsius in the best interests of children and rapidly phase out the use and subsidy of fossil fuels. Delayed actions will literally cost lives.
Recognise the crucial stake children have in addressing the climate and environmental crisis, and make provisions for the safe and meaningful participation of children at COP 27 and in other climate related decision-making forums and summits and act on their recommendations.
ENDS
Notes to editors
Save the Children's GREEN project, part funded by legal firm Norton Rose Fulbright, is repairing schools that have been damaged by storms and installing fans powered by solar panels to keep children cool during the dry season.
The GREEN Project is helping families on the lake diversify their income away from fishing, training and funding families to start 'green livelihoods, like making and selling non-polluting washing up liquid.
Working with local social enterprises it has also introduced climate smart health, sanitation and hygiene technologies like clay-based household water purification systems.
We have multimedia content for this release, available here: https://www.contenthubsavethechildren.org/Share/2c7848xww0s056gay80141eg4lk126t5
***************************************************************************
For further enquiries please contact:
Ruby Wright, Ruby.Wright@savethechildren.org (works Wednesday and Thursday)
Emily Wight, Emily.Wight@savethechildren.org
Charlotte Rose, Charlotte.Rose@savethechildren.org
Our media out of hours (BST) contact is media@savethechildren.org.uk / +44(0)7831 650409
Please also check our Twitter account @Save_GlobalNews for news alerts, quotes, statements and location Vlogs.